Here we have shared the Top 15 Best Action Camera of 2018!
Now let us be honest we don't want to carry those professional bulky cameras when we are going hiking or skating or skydiving.
Boy, we definitely don't want to strap them to ourselves. So one might wonder what the solution can be and the answer is very simple.
Action cameras these cute little marvelous of the tech world. Action cameras bring you ultimate video and image quality in a very small form factor.
Now it won't be professional-level quality but it will be pretty good for the form factor.
Now there are a couple of things you need to consider before you go out and buy an action camera or in the case of this pandemic order it online. 
The first thing to look at would be the lens the action camera is featuring. If the lens is bad the image will be distorted and very fisheye type. 
The second would be the image sensor the action camera is featuring if the image sensor is not good you will see a lot of noise and lack of detail. 
If the sensor is below 8MP it means the sensor is not supporting true 4k. The third would be the chipset the action camera is featuring.
If the chipset is from Ambarella if is generally considered high-end the older models of go pros featured chipsets from this company however later go pro started making their own chipsets.
Chipsets by Hisilicon and Sunplus are generally considered mid-range or low-end. Chipsets by nova tech Novatech are usually considered entry-level and budget-friendly.
 So you get a general idea now let's jump into some product reviews.
Here are the 15 best action cameras we think are perfect for almost anyone: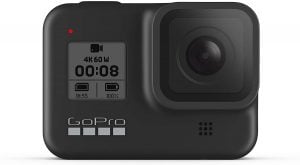 This was obviously coming without a doubt go pros have most of the market share in the action camera market.
The reason primarily being they are so good at almost everything there are 3 models in every gro pro series except the 4 series.
The base model is white, above that, is the silver and over that is the black, top of the range with all the bells and whistles to blow the competition away. 
Equipped with a 12-megapixel sensor, 4K enabled lots of accessories right out of the box the image quality is crisp and sharp.
One of the best parts about this action camera is that it comes out of the box waterproof and is very very rugged and it is just small you can place it anywhere. 
We suggest you only buy it if you are doing some professional work or if you are very serious about the content you create and have a large enough audience to compensate for the price for this action camera as at $400 this action camera comes at a price of many professional ones.
What We Like:
Waterproof.

4k capable at 60fps

rugged 
If you want a great action camera just for everyday use like recording your kid's soccer game or first summersault or you are an amateur blogger starting your own Media company this action camera should be perfect for you.
As you can find it in the used market at some pretty inexpensive prices it also almost has all the bells and whistles. 
The only major difference in the 7 series and the 8 series is that it is equipped with a front display has some better image processing software.
A few other stuff but it does not make the 7 series any inferior. It still has 4k, good image stabilization, and just an awesome overall result.
What We Like:
Waterproof.

Rugged

Compact.
If you are a blogger well you are in for a treat this action camera features a full-color LCD display which makes taking shots very easy.
Shooting at 30 FPS 4K this action camera will make sure you can provide your audience with quality content no matter where you are. The build of this action camera is quite rugged. 
The camera is waterproof till 10 meters of depth. This performance can be increased to 60 meters of depth by the addition of a waterproof case.
Making it perfect to shoot a nice shot of waves on the beach or just take it down a water slide with you.
If you have ever used a DJI drone you must be well aware of how good the camera stabilization is on the drones.
DJI has perfected camera stabilization across many of the products and has applied its success on this camera. 
This will be beneficial to you as bloggers always tend to shoot a lot of moving video footage, the stabilization will make sure your shot is never ruined.
The DJI Osmo action shares a lot of technology with its Drone cousins making it a very refined product.
This action camera also has support for lots of accessories by its producer and third-party manufacturers.
What We Like:
Amazing stabilization.

4k capable with 60fps. 

Rugged. 

Colour LCD display.
You like doing Parkour, skating, running, or you just want to record your daughter's soccer game but you want to keep up with her and keep her in the frame. Well, this action camera has got you covered.
This camera's pocketable design makes it a true on the go-anywhere camera but it is noteworthy that you only use this camera for photography or silent video recording as the audio on this camera is not particularly good in any situation.
However, stabilization is bonkers. DJI is usually known for its awesome drones, its drones usually use a gimbal to stabilize the camera mid-air and they have used the very same gimbal tech they have perfected on the drones in this camera.
The stabilization just looks unreal and combine with the awesome colors this camera just blows the competition away in many factors.
This camera is true 4K capable at 60fps but it is not as durable as its counterparts and this camera is not waterproof.
This camera is however a good choice if you want to do a timelapse of a hike or a bike ride or just an off-road journey.
What We Like:
The

best

stabilization.

4k capable with 60fps. 

Pocketable. 
This is probably the world's smallest 4K capable camera boasting a solid 1-inch 15.3-megapixel sensor action camera that really puts others to the sidelines.
The fact that this action camera is from Sony, ensures the photo and video quality will be great. Not only is this camera waterproof it is also crushproof.
Honestly, we don't know how but somehow Sony managed to squeeze in a tilt-able display in this camera the tilt-able display is capable of tilting up to 180 degrees and down to 90 degrees. 
This camera sure is waterproof but we would not suggest taking it diving with you since this camera is only waterproof till the depth of 1 meter. 
This camera has a lot of aftermarket accessories available and many third party accessories making it very easy to use. Oh and I forgot to mention the stabilization on this camera is just awesome. 
What We Like:
Amazing stabilization.

4k capable with 60fps. 

Rugged. 

Colour LCD display.

Very compact.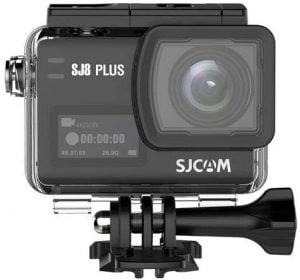 Well, we bring you another budget-friendly camera. This camera offers amazing 60fps 4K footage at a reasonable price point.
This camera is not really well known but it does the job just fine with 6 Axis stabilization the footage is ultra-smooth. 
This action camera is 30 meter waterproof but it does not come out of the box. The waterproof housing is a bit clunky and a bit tricky to use but once you get a hang of it, it's all good and dandy. 
You can also record some pretty decent slow-mo footage if you drop the resolution down to 1080 p 720 p.
The camera is equipped with a quality touch screen that is very responsive and vibrant the universal mount on the camera almost makes it compatible with all aftermarket and third-party accessories.
What We Like:
Amazing stabilization.

4k capable with 60fps. 

Waterproof. 
Well, this one is a bit of a blast to the past with retro design cue but not so much of retro-tech.
Sony never disappoints its fans in the camera section with built-in protection to wind the audio on this camera is spectacular.  A ZEISS lens makes sure the video is sharp and free from glare.
With many built-in ports, this camera is ready to run right out of the box this camera is perfect for people looking to take it on a climb as the lens is very stable and this camera allows you to record at 4K with electronic stabilization. 
This action camera, however, has its down points. This camera is not equipped with the screen so selfies can be quite awkward and you might find it difficult to put the subject into the frame. 
The out of the box accessories are pretty limited however third party and aftermarket accessories are available. This action camera is 60 meters waterproof with the included case which is pretty impressive.
What We Like:
Amazing stabilization.

4k capable. 

Rugged.

Waterproof. 
Now we all know that virtual reality technology is on the rise and one of the main hurdles for action cameras was to keep the action in the frame.
Now, however, that problem is solved with the help of 360-degree cameras. Let's be honest 360-degree cameras do give a lot more field of view and make the viewing experience realistic, interactive and immersive. 
The best part about this camera is that it essentially gives two cameras for the price of one and let's be honest that's bonkers this camera is modular which means you can make quite a lot of changes according to comfort. 
There are three modules available 4K wide Angle lens 360-degree lens and one-inch 5.7k lens developed with Leica which gives you the highest resolution action camera on the market. 
This action camera, however, does have its down points. The camera is equipped with only a tiny 1.3-inch touch screen however you have the option to flip that screen to yourself
What We Like:
Amazing stabilization.

4k capable with 60fps. 

Rugged. 

Colour LCD display.

3 different lenses available.

Modular.

Compact.

360-degree recording capable.  
This is also a 360-degree camera and quite a bulky one. Equipped with 2 fisheye lenses the camera is able to shoot wide-angle video from 2 sides of the camera and that stitch it together providing a really good immersive experience. 
As this camera is from go pro it can utilize all your standard accessories from the company. This action camera is waterproof right out of the box but it does have an aftermarket case available to increase the depth. 
The best part is you can even record 2d footage by using only a single lens and that cropping it but do bear in mind that these videos or images will be nothing compared to standard go pros. 
This camera has to crop a sizable chunk of its resolution in order to achieve the proper 2d view.
What We Like:
This is a real budget-friendly coming at $140 you can't go wrong with this camera. It is perfect for beginners, comes with a lot of accessories, and competes with the big boys like go pro. 
Equipped with many shooting modes and great video stabilization for the price point this action camera offers 4k video recording at 30 fps and full HD video recording at 240 FPS. 
One of the best parts about this camera is the built-in drive mode which enables you to use this camera as a dashcam. 
Waterproof housing included with several mounts and two batteries and charger right out of the box the best battery life of one cell is 90 minutes however the charger powers both packs simultaneously. 
This camera also features built-in Wi-Fi so you can use the cameras app to transfer your shots and control the camera from a distance which makes it really handy.
What We Like:
Inexpensive. 

4k capable. 

Rugged. 
This camera cannot be a hard sell because this camera is literally a brick. This camera is best for people who are looking to abuse the cameras as much as possible. 
This action camera is true 4K capable. One of the best parts however is the fact that this camera has all kinds of protection you can think of.
It is shockproof, freezeproof, dustproof, fall-proof, crushproof, anti-fog, waterproof up to 60 feet. This camera also does the tasks of a normal camera effectively as the build is just like a handheld camera.
This camera features many photography and videography shooting modes including multiple macro moves underwater modes and 8 x zoom. 
The camera features an integrated flash which makes low light photos a lot better. Some of the best features an adventurer could want are the cameras built-in, compass, thermometer, manometer, altimeter, and much more combined.
That with the in-build GPS you can know where a picture was taken and what was the temperature your exact depth or altitude which comes very handy if you do a lot of on-field research work.
What We Like:
Amazing stabilization.

4k capable. 

 Very Rugged. 

Colour LCD display.

Waterproof. 
If you want the latest go pro on the budget this action camera is for you featuring 4k video footage at 30fps with electronic stabilization.
Many shooting modes same as the GoPro it really offers the same experience at almost half the price just to be honest is pretty decent. 
The camera produces sharp and colorful JPEG and RAW photos. The camera features a built-in 2.19 inches LCD designed with Gorilla Glass the screen is very scratch-resistant. 
The Ambarelle A9SE75 chipset really makes your images and videos stunning.
The ultra-wide lens means you can fit everything you want in the frame and the built-in wifi really helps with remote operation of the camera and editing. 
 However, the downside of this camera is that it does not offer a stand or pod inside the box and you have to buy aftermarket accessories.
What We Like:
Amazing stabilization.

4k capable. 

Rugged. 

Colour LCD display.
Now we all know that no camera list is complete without the entry of Nikon. So ladies and gentlemen we present you this spectacular action camera by Nikon. 
Using 2 fisheye lenses this camera stitches the video together to make a full 360-degree field of view this camera comes 30 meters waterproof right out the box, 2 meters shockproof, and freezeproof which really helps justify the 500 dollar price point. 
This camera can shoot in 4K with wonderful image quality and the built-in Wi-Fi and Bluetooth really helps with the usability and long-distance operation of this camera.
The overall build of this camera is strong and durable but at this price point, we would suggest only professionals buy this camera. 
What We Like:
Amazing stabilization.

4k capable.  

Rugged.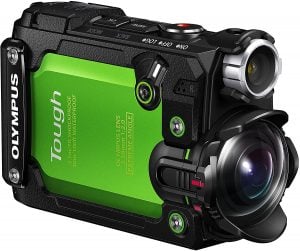 Now, this action camera is really special because it takes us to the time of handheld camcorders with a similar design cue but a much more rugged body.
A 204-degree wide-angle lens and all the latest bells and whistles make this action camera becomes really hard to beat. If you are able to get over the odd looks you have an effective go pro competitor for a much cheaper price. 
This action camera does feature a touch screen but it is embedded in the side and does flip open but you can not use it to take selfies certainly because you can not flip the display. 
The camera however is perfect for diving as it is waterproof to 100 feet with its case. The action camera is also equipped with a 60-lumen flash so it really does help illuminate dark scenes or shots.
What We Like:
Amazing stabilization.

4k capable with 60fps. 

Rugged. 
Go pro hero 7 is the perfect budget camera if you are a die-hard go pro fan it is not much different than the black version. 
As it can not record at 4k 60 fps and does not have a removable battery. It shares almost the same stabilization and other features as its elder brother.
But one very notable difference is the absence of a 12-megapixel sensor. Like the elder brother in the black series has access to a 12-megapixel sensor on the silver series you only get a 10-megapixel sensor.
But if you don't plan on using it professionally we think you will be just fine.
What We Like:
Amazing stabilization.

4k capable. 

Rugged. 
Best Action Camera – Buyer's Guide: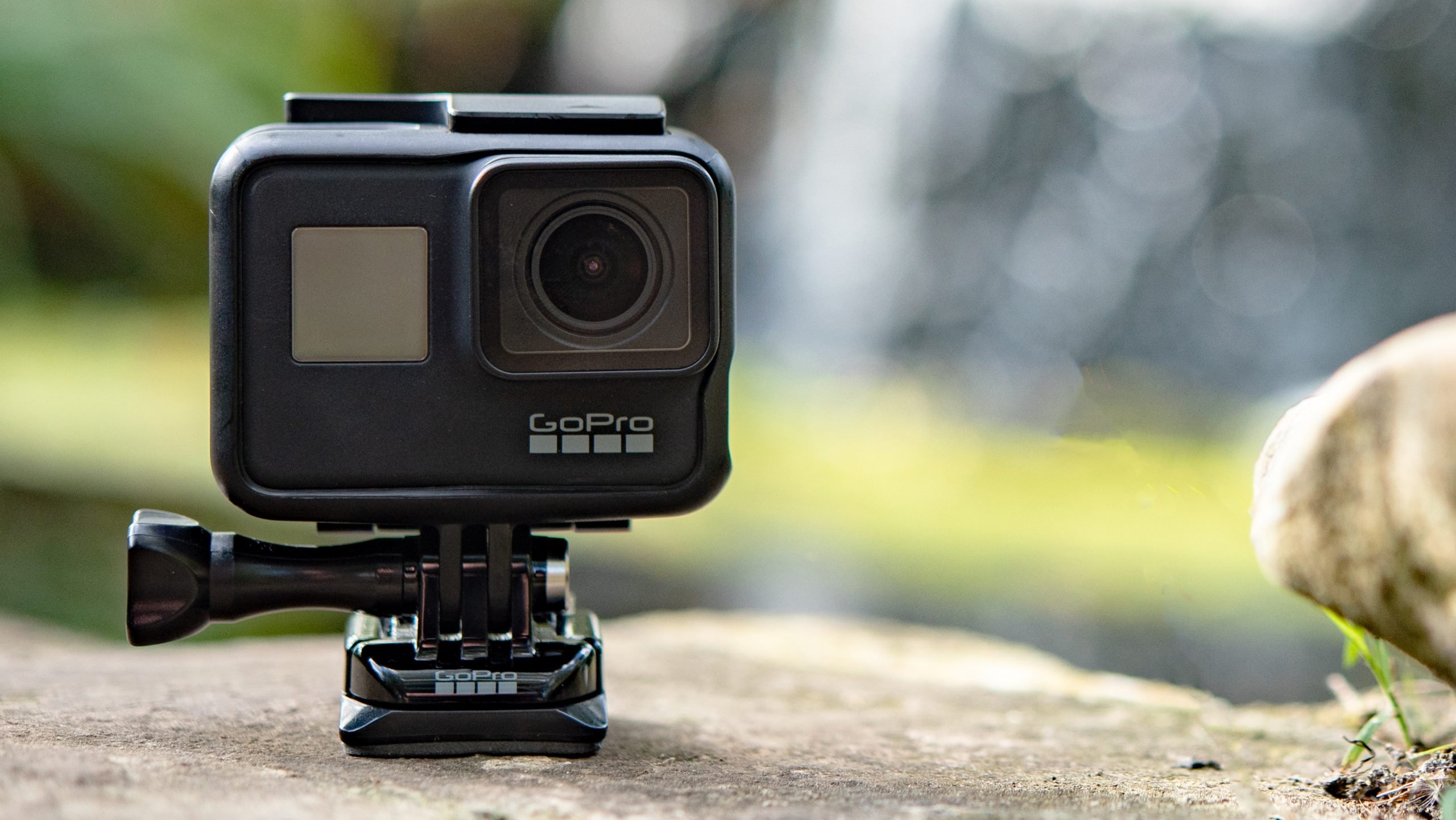 Our first suggestion would be that you list down what you actually need because if you just play around with a

camera

or just use it for family events every once in a while.

We think you should save yourself money by buying a

camera

for your needs.

Later using the rest to get some good accessories as those come in handy quite often than not.

Buy your

camera

as a bundle. Many retailers and online stores often put up offers for multiple accessories battery packs or other useful stuff with the

cameras.

Which can save you a lot of money on aftermarket accessories and you can probably put that extra buck to some good use.

Check the used market first. More often than not you will find some pretty good and capable stuff on the used market.

But we advise you to so only if you know a lot about the product you want to buy or you are a professional.

Always lookout for any faults or issues with the waterproofing. It is always smart to use a used

camera

with a case.

One thing to note about buying a used product is that you might not get aftermarket support and you most probably won't have a warranty.

Buy around the holiday season as during that period there are a lot of sales that can help you snag the

camera

of your dream for cheap.

Always do your homework whatever product you are buying familiarize yourself with it know the specs make sure the product is not faulty.

Inquire about any questions that you might have before making the purchase. 
Frequently Asked Questions:
Final Verdict!
Almost all cameras mentioned in this list are unique in their own way and form no camera on this list will let you down.
We have made sure you always get your perfect shot.
We tested and put these cameras through quite some rough abuse before suggesting them to you.
So play by our buyer's guide and you should get a good camera while saving a lot of money.