We all know that the most important piece of equipment you need is a camera.
We also know that finding the right camera is time-consuming and sometimes annoying.
At A Glance: Our Top 8 Camcorders For YouTube and Vlogging
That's why we reviewed 8 of the best camcorders for YouTube, in 3 different price ranges:
Budget ($150 – $500)
Mid-Range ($500 – $1000)
Pro ($1000+)
But wait, why would you even get a camcorder?
3 Advantages of Camcorders:
Being purpose-built for registering video makes camcorders a much better choice than other offerings on the market, but some of the specifics include battery life, storage room, and more.
Top 8 Camcorders for Vlogging & YouTube Reviews:

If you're wondering why we've opted for such a wide range of camcorders on this list, it's because they make it easier for all of our readers to find something that suits their needs.
Everyone has a different budget and various preferences when it comes to electronics, and the same is the case for camcorders.
Budget Camcorders For YouTube:
WINNER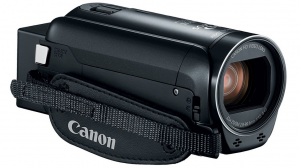 Quality = 92%
Affordability = 98%
Why I Like It:
Easy to Learn How To Use
Portable and Compact
Affordable
Positive User Experience
Review:
The VIXIA HF R800 is one of Canon's most popular camcorders, and with good reason.
This model is relatively affordable when compared to every other product we've looked at so far.
If you don't mind a video recorder that's a little simpler than others for a much better price, this one's for you.
Video Quality: First off, you don't have to give up full HD video recording, as this model has no problems taking video in 1080p.
Noise Reduction: While you'll obviously notice a little bit more noise in unfavorable conditions when compared to models that cost five times more, this camera stands up well to competitors at the same price.
Distance Range: The minimum distance can range from about 50 to 60 cm depending on the model that you're in, which means that you won't have to position the camera unreasonably far away.
Image Stabilization: This camera is also equipped with an optical stabilization system, which makes it much easier to record on the move.
If you vlog on your channel, then you'll need a camera that's as compact and convenient as this one.
Something that surprised us about this camera was the touch display, which isn't something that you'll usually find on cameras in this price range. The touchscreen helps make the UI much easier to interact with.
Features:
57x Zoom


CMOS Image Sensor.

Digic DV 4 image processor.

Short focal length
Familiar user interface
Drawbacks:
Poor microphone quality
No manual audio control for input mic
The Verdict:
Overall, this camera may be affordable, but it gives up surprisingly little in the realm of capabilities.
Definitely the best cheap camcorder for vlogging.
UNDER $200
Quality = 90%
Affordability = 99%
Why I Like It:
Records 1080p at 60 fps
Small and Portable
SteadyShot stabilization
Good low-light performance
Review:
This model from Sony is another more affordable option for customers who want to save money when setting up their YouTube channel.
It can record in 1080p at 60 fps without any problems, and it also features a wide-angle lens to give you the best field of view possible.
Sensor: The sensor on this camera is designed to make the most of the small amount of space that is available to it.
Portable: As with many folding camcorders, this model from Sony is meant to be as portable as it is capable.
Image Stabilization: SteadyShot technology ensures that you won't have to deal with camera shake and other factors while you're recording.
Light Conditions: The Intelligent Auto system also automatically matches the camera settings to the ambient light conditions.
Reduce Noise: The face detection system helps reduce noise around your face so that you look clearer and the voice enhancement technology ensures that the camera's mic can pick you up loud and clear.
The most significant disadvantage to this camera is that it doesn't feature an external microphone connection, so you won't be able to benefit from using your own mic unless you edit the audio later.
Features:
26.8mm wide angle Zeiss Lens

Automatically creates highlight video in MP4 from multiple clips.

Face detection with voice Enhancement and noise reduction.
Drawbacks:
No mic jack
Can't record while charging
The Verdict:
In the end, this camera is meant to be an affordable option for YouTubers who are just getting started, and its features are more than sufficient for that task.
UNDER $300
Quality = 91%
Affordability = 98%
Why I Like It:
Full HD at 60 fps
Good low-light performance
Long battery life
Touch display
Review:
This is the predecessor to the VIXIA HF R800, so you may be wondering why you see it on this list as well.
While the model that we previously reviewed may be newer, many believe that the R700 was more reliable and wasn't as loaded with unnecessary features like the newer one.
Video Quality: The R700 can still record 1080p at 60 fps, so you won't have to worry about the quality of your videos.
Noise Reduction: The CMOS image sensor that's used on this model provides excellent performance when it comes to color definition and noise reduction.
Low Light Conditions: This model also uses the same Digic DV 4 image processor as the R800, so you won't lose out when it comes to filming in the dark.
Battery: The battery on this camera is designed to operate for an extended period of time, but it isn't the only impressive part of the power system.
Image Stabilization: You also have access to four different forms of IS (image stabilization), you can either choose your stabilization mode manually if you know best or you can go with Intelligent IS. The Intelligent IS system will examine how you're shooting and select the ideal stabilization system to use.
Touchscreen: Makes it easier to use since you won't have to worry about a wonky user interface getting between you and your filming. Focusing, changing exposure, and much more becomes far simpler with a touch screen than it would be with buttons or knobs.
Features:
Intelligent IS

SuperRange Optical Image Stabilizer

DIGIC DV 4 Image Processor
Drawbacks:
Poor sound quality from the built-in mic
Overexposure issues
The Verdict:
Overall, great stable budget choice.
ZOOM BEAST
Quality = 89%
Affordability = 99%
Why I Like It:
Super-sharp Full HD 1080p
Insane 90x Zoom
Compact design
Low Price
Review:
This Panasonic video camera manages to combine a low price point with advanced capabilities that you wouldn't expect to see in such an affordable camcorder.
The first thing that you'll notice is the impressive video quality for the price point, as this model can register full HD 1080p video.
Of course, full HD is something to be expected at this point, but an aspect that surprised us was the inclusion of a touchscreen instead of the usual buttons.
Touchscreen: If you typically have trouble with your camera because of the overcomplicated user interface, the touchscreen should help you out immensely.
Image Stabilization: If you're worried about your video getting distorted or shaky on the move, the five-axis image stabilization system will keep things steady.
Microphone: The microphone on this camera is also surprisingly capable, as it can detect voices at a longer range and it also features 2-channel capabilities.
Level Shot: There is also the Level Shot functionality which ensures that your video won't get tilted while you're shooting on angled ground.
Compact Size: The small size of this camcorder also helps make it a more convenient option for outdoor channels and other kinds of broadcasts where you bring your camera along with you.
Low Light Conditions: The BSI sensors on this camera help reduce the noise when you're filming with this camera at night, giving you more versatile conditions in which you can shoot.
Zoom: While zoom won't come in handy in many situations if you're a vlogger, the 50x optical zoom is one of the main selling points of this model. Intelligent zoom will stretch that range up to 90x, giving you extreme long-range filming capabilities.
You also have access to a variety of editing tools on the camera that can help you out if you're just getting started and you don't have all of the required software to make your channel a success.
While this camera may be one of the more affordable options on the market, it has some surprisingly unique features that put it a cut above many competitors at the same price point.
Features:
1080p recording
Long-range zoom capability (up to 90x)
Touchscreen display
BSI improves low-light performance
Drawbacks:
No microphone input
Menu layout needs work
Not great in dark
The Verdict:
If your specific needs align with what this camera offers, then it is great choice for you.
Mid-Range Camcorders for YouTube:
UNDER $600
Quality = 95%
Affordability = 89%
Why I Like It:
Good sound quality for in-built mic!
Slow-motion performance
Compact and portable
Great in low light
Review:
If you need a YouTube camera that can take slow-motion HD video and doesn't cost an arm and a leg, you may love this one from Panasonic.
The Panasonic HC-V770 is available in a few different quality levels.
You can record full HD at 120 fps, but you can also register video at 240 fps thanks to the Crystal Engine chip interpolating the frames so that it becomes possible.
Smooth Video: The Crystal Engine is also responsible for reducing the noise in your video, keeping the quality as clear as possible. If you aren't sure what settings to use when shooting, you can also use it (intelligent Auto) mode to detect the ambient conditions and choose the best settings for them.
NFC: The use of NFC means that connecting smart devices is easier than ever, requiring little more than a single touch on your part. The app gives you access to remote shooting and remote view so that you can get started recording without having to reach the camera.
Low Light Performance: Thanks to the BSI (backside illumination) sensor, this camera is also ideally suited for low-light conditions, making it a better choice for those who record at night.
Compact: If you need a camcorder that's as compact as possible, then there aren't many better choices than this Panasonic model.
Thanks to the 4-drive lens system, there aren't too many bulky components to make this camera inconvenient to carry around.
Features:
Crystal Engine is versatile and capable
BSI sensor
Full HD at 60 fps
Drawbacks:
Customer service quality
No loop for a neck strap
The Verdict:
Overall, this is an impressive mid-range camcorder for YouTubers.
UNDER $800
Quality = 96%
Affordability = 85%
Why I Like It:
Records in 4K and 1080p
Amazing Image Stabilization
Fast Auto Focus
Great In-Built Microphone
Review:
As you would imagine, the most significant difference between this Sony model and the other products that we've looked at so far is that this one can record in Ultra HD.
Of course, when in 4K mode, you're limited to shooting at 24 fps or 30 fps, though the quality more than makes up for it.
You can even film in 60 fps when you lower the quality to 1080p, so you have the option at your disposal.
AutoFocus: As a YouTuber, one of the most important features to look for is AF (auto-focus), and this camera features the Fast Intelligent AF system. This technology ensures that your focus shifts are much quicker than on other models, this ensures that you won't have to edit out long moments where the camera refocuses.
Microphone: If you don't have a microphone yet, you probably won't be disappointed by this camcorder, which comes equipped with a five-directional mic by default. Of course, you can't expect it to match the quality of high-end recording mics, but you'll get some use out of it if you're just starting off.
Touch LCD: The LCD on this camcorder uses a touch panel to make it easier to interact with.
WiFi: Speaking of convenience, you can also use wifi and NFC to connect to other devices and transfer files, record remotely, and much more.
Features:
Touchscreen display
Fast Intelligent AF
Five-directional mic built-in
Drawbacks:
Interface is obtrusive
The display is vulnerable to glare
The Verdict:
Overall, if you need an 4K video recording for YouTube, this may be the best choice.
Also a good camcorder for vlogging.
Professional Camcorders for YouTube:
PEWDIEPIE'S CAMERA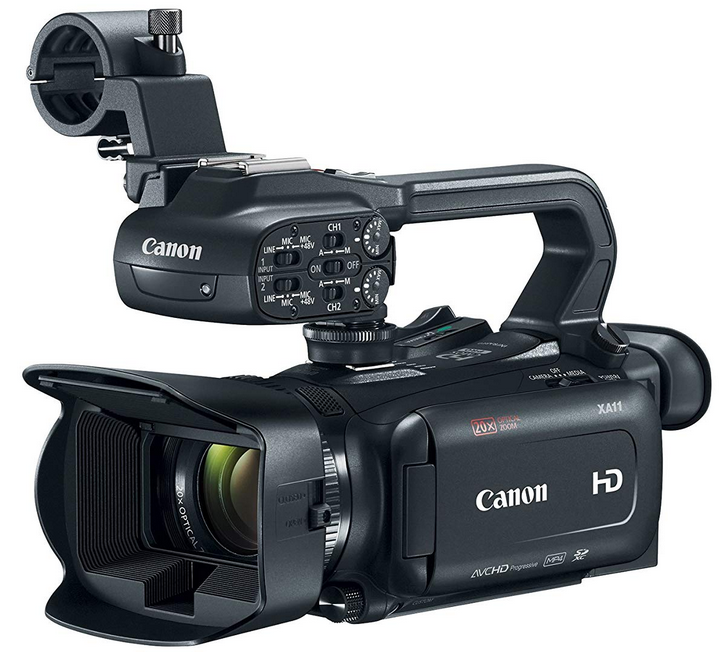 Quality = 99%
Affordability = 78%
Why I Like It:
Used by most popular YouTuber!
Ergonomic design improves handheld use
Small compared to other pro camcorders
Super smooth quality video
Review:
If you want to take things a step further and you need an even more advanced camcorder to start off your YouTube career, choosing a camera that the most popular YouTubers use is a safe choice.
First off, this model doesn't face the interface issues of the previous one because of the implementation of a touchscreen.
Navigating the menus and adjusting settings or viewing clips on the camcorder isn't a problem thanks to this intuitive way of interacting with the camera.
As you would expect from such an advanced camcorder, the XA11 can shoot in full 1080p HD at either 24 fps or 60 fps, depending on your upload speed and preferences.
You'll find that there's a mic holder as well as one that's built into it.
This camera also uses twin XLR channels, so you won't have to rely on a single mic when you're recording.
While you may not end up getting much use out of this feature early on in your YouTube career, you'll find it invaluable later on when you need better audio recording quality.
Another benefit is the five-axis image stabilization, which may be invaluable if you need to take the camera around with you for a vlog or something similar.
The relatively short minimum focal length also means that the camera won't have problems when the device is filming closer to you.
Features:
Five-axis stabilization
1080p recording at 60 frames per second
Dual XLR ports for audio recording
Touchscreen interface
Drawbacks:
An expensive choice
Low light clarity needs some work
The Verdict:
If you have the money, this is the best camcorder for YouTube you can get.
UNDER $1000
Quality = 98%
Affordability = 76%
Why I Like It:
Two SD card slots improve storage room
Can record 1080p at 60 fps
Long battery life allows longer videos
Works well in the dark
Review:
The Canon VIXIA HF G40 is a high-end model that is an excellent choice for aspiring YouTubers that want longevity out of their new camcorder.
The HF G40 won't be obsolete any time soon thanks to its wide range of features that make it ideally suited for YouTubers.
Video Quality: It can maintain full HD recording while also outputting 60 frames per second for smooth video recording.
Sensor: Of course, none of this would be possible without the use of an advanced CMOS Pro sensor, which is top of the line for camcorders in this price range. In addition to excellent quality and image sharpness, this sensor is capable of recording in low light conditions without too many problems.
Storage Space: A feature that distinctly helps with recording your videos is the inclusion of a couple of SD card slots instead of the one you'll typically find on other models. If you use two high-capacity SD cards on this model, you usually won't have too much trouble with storage space, and the cards can always be swapped out.
Image Stabilization: When it comes to keeping your image clear, this camera comes equipped with an image stabilization system that will ensure there's no blurring or any other similar problems. You'll find that you can operate this system in either powered or dynamic mode, depending on how much battery life you have left.
There aren't many downsides to this camera, but the only significant one we can think of is that the user interface is unnecessarily complicated, making it a daunting camcorder for beginners.
Features:
CMOS Image Sensor with Improved Low-light Performance

1080/60p


Built-in Wi-Fi
Drawbacks:
Pricier than most alternatives
The user interface can use some work
The Verdict:
Overall, the Canon VIXIA HF G40 is one of the most well-rounded camcorders for YouTubers, if not a little expensive.
We also reviewed HF G30 in our guide to cameras for music videos.
What to Look for in a Camcorder for YouTube and Vlogging:

Now that we've covered the eight camcorder models for bloggers out there, you may be wondering about which features you should prioritize in your search.
Knowing which aspects will help you expand your channel further is one of the best ways to find a camera that will work for you.
To consider the best camera for your needs, you'll have to account for the style of videos that you're going to be creating.
For Example: If you're going to be on the move, you'll need a different type of camera than if you were going to take stationary vlogs, so think of your needs.
1.

Video Quality:
Of course, the first thing that you're going to need to account for is the quality of your video camera.
You'll typically want to opt for one of two standards when you're choosing a camera for YouTube, and you won't want to let the quality drop below 1080p, as the high resolution is essential.
The first of your two options is a 1080p camcorder, which will typically be more affordable than the 4K alternatives.
These cameras will also record videos that take up less storage space.
If you have a low-capacity flash card or if your internet is slow, then you may not be able to take full advantage of 4K.
4K, on the other hand, features exceptional quality, but you'll also lose out on some convenience.
2.

Optical Image Stabilization:
There are two forms of image stabilization that are frequently used in camcorders, and the more common option is digital stabilization because it's more affordable.
Optical image stabilization, on the other hand, offers superior stability because the lens itself is stabilized instead of it being tacked on digitally.
If you're going to take your camera along with you and film from the hand, then you'll need superior stabilization.
In the end, this feature will vastly improve the viewer's experience of fast-paced action shots and other scenes where there's a lot of movement.
3.

Auto-Focus:
Another feature you'll want to account for is auto-focus, which ensures that your camera will automatically remain focused on the subject.
If you're a blogger and you'll constantly be facing the camera, you'll want it to stay focused on your face without any input from you, which would disrupt the video.
Things to look for are focus speed and the camera's detection capabilities, both of which will help the device focus on you faster.
If you're going to be behind the camera, auto-focus becomes less integral because you'll be able to use the controls to focus on your subject manually, eliminating the need for auto-focus.
4.

User-Friendliness and Size:
You'll also want to look at how easy the camera is for you to use since that will make you more likely to utilize it in the first place.
Nobody wants to have to deal with a camera that takes more work to start than it does to film, so do yourself a favor and get one with a workable user interface.
Of course, the UI of your camera is only part of your experience, and you'll also want it to be relatively easy to handle.
Smaller cameras will obviously be less cumbersome, but they'll also be less capable than their larger counterparts, so you have to strike the right balance between size and ability.
If you need professional video quality in a stationary setting, a larger camera is the right choice.
For those that need adequate quality but the ability to remain highly mobile while filming, opt for something smaller.
5.

Microphone and Mic Input:
Another integral feature for YouTubers is the quality of the microphone that comes mounted on the camera.
If you're getting started off, you may not have the money to invest in a dedicated microphone, so you'll want a camera that can register your voice with some degree of fidelity.
Keep in mind that many camcorders also come equipped with a microphone input, into which you can plug a separate mic so that you can benefit from the professional sound quality.
One of the primary mistakes that new YouTubers make is that they focus on video quality and neglect their sound quality.
It doesn't matter if your image is crystal clear when you still sound like you're coming out of radio from 70 years ago in your video, so put sound quality higher on your list of priorities.
Limitations of Camcorders:

Another thing you'll have to account for is that camcorders have a few downsides when compared to other mirrorless and point and shoot cameras
Less Versatility:
One of the main issues with camcorders is that they are less versatile than digital cameras at a similar price point.
While digital cameras can typically take images and video to a somewhat similar extent, you'll find that most camcorders feature-poor image quality in exchange for excellent video performance.
In the end, your decision to buy a camcorder or a digital camera will come down to what you intend to do with the device.
If you don't have another camera, you'll probably want to choose a digital camera over a camcorder since you'll be able to record video as well as taking pictures.
Also, you can't vlog with a camcorder easily because it doesn't have a flip-out screen and it's not comfortable on the hand.
Fewer Accessories:
Another downside to camcorders, particularly compact models that aren't made for professional use, is that they aren't optimized for a wide range of accessories.
In fact, some of the smallest camcorders out there at lower price ranges won't even have mounts for add-ons like lights and microphones.
If you want to improve your audio quality, a spot to mount your microphone on your camcorder will come in handy since you won't need a bracket or arm mount for it.
For those that plan to record videos on the move, a mounting point for a microphone will be more of a necessity.
On the other hand, digital cameras are usually meant to be compatible with a vast range of accessories that can even make up for some of their downsides when shooting video.
Conclusion!
With the right model, your channel can expand much faster than if you were stuck using your phone or a simple point-and-shoot.
We hope that this guide has been able to help you find the best camcorder for your YouTube channel!