Let's start our 4k vlogging camera talk with a little test.
At A Glance:

Our Top 5 Best 4k Vlogging Cameras for YouTube
Take your smartphone (or a camera) and make a video in 720p.
Then watch that video on a 1080p screen.
How does it look?
Not great we can assume.
Well, the same is going to become the case with 1080p videos once everyone starts using the 4k displays.
But no worries, with major platforms like YouTube just recently starting to allowing 4k videos, I don't think 4k is going to become "the standard" anytime soon.
Although, we do think having a 4k camera for YouTube certainly has advantages if your budget allows for it, but that shouldn't be the main strength of the camera for vlogging, it should just be an added bonus.
4k vs. Normal Resolution Vlogging Camera
As we've already mentioned, 4k cameras are the future of vlogging, a video camera and/ or camcorder is of the past. Lets be honest, most of you that are even reading this have never seen a camcorder.
That being said, 1080p are the present and 720p are the past.
But should you really rush ahead to the future by getting a 4k cam right away?
No not necessarily.
But if your budget allows for it, then the 4k cameras certainly do provide lots of other great advantages that are listed below:
Higher Resolution Equals Better-Looking Videos
This is actually pretty straightforward, as everyone knows that the rule of thumb in video shooting is that the higher the resolution, the better the video will be created.
So obviously, the videos shot in a four-times-higher definition are bound to look better than a video on a webcam.
There are 2 options you can do:
Upload your 4k video straight to YouTube
Compress your 4k video to 1080p to reduce the size
So what happens when you have to turn your 4k video into a 1080p product for some reason? To reduce its size, for one example. Well, even if you do that, your video will still have a better quality than a normal resolution. After all, four times more information was used to create it.
That's really useful for YouTubers, because even if most people can't see 4k because they view your videos on smartphones or normal monitors, people say that there is a difference in detail quality and even the video has less background noise.
Close-Ups in Post Production
Shooting in 4k means that your making videos with a resolution that is several times higher than a regular video.
In turn, this means that you will be able to make close-ups in ultra hd and in the post-production without taking a toll on the quality of the video.
Stabilize Self-Shot Videos Better
If you are holding the camera while you are video recording, then it might get shaky at some points. The good news is that if the definition is good enough, you will be able to solve this problem very easily.
Sure, you may argue that you can use the autofocus system with lower-res videos as well.
However, in the case of 4k videos, the stabilization won't mess up their quality to the point that it will be hardly noticeable from the viewers side on the youtube channel.
It is a good idea to get stability with a dynamic range such as using a vlog tripod for this situation.
Less Color Banding
Although this is something that depends on how good the camera is, it is fair to say that 4k cameras have fewer problems with color banding than their 2k, 1080p, or 720p counterparts.
The reason is that cameras record 4k videos at a higher bitrate, meaning that more color gets captured.
4k Cameras are relatively new
Because 4k is a technology that has not been around for too long, the chance is high that you will end up purchasing a camera that was made fairly recently.
And newer cameras tend to produce better quality videos than the old models, not to mention that they also come with plenty of features (hdmi output, dslr optics, hdr feature to name a few) that make your job easier.
4k Isn't As Expensive As You Think

If you are looking to buy a best camera for YouTube, you're probably having doubts whether to go with a 4k camera or a normal resolution camera. Our advice is to go with the 4k option, as these cameras aren't that expensive anymore.
And some of them are even cheaper than those that don't shoot in 4k.
Of course, resolution isn't the only thing you need to pay attention to when shopping for a new vlogging camera, so make sure that you do your research before buying one.
So, to make a recap, here are the main benefits of 4k in vlogging:

You can shoot ultra-high definition videos
You can compress to 1080p and mostly keep the image quality
4k will open you lots of doors in terms of editing
4k will save you from color banding
4k will allow you to easier stabilize your videos
Buying a 4k vlog camera will be a long-term investment
We're now going to help you find best 4k vlogging camera that give you the high-quality product that pleases your budget.
YouTube Videos in 4K
Here are a few examples that we found that were filmed in 4K by famous vloggers
Because filming and using 4k videos is not the easiest task for the camera to handle, as well as to edit after filming, vloggers usually don't film fully in 4k, but instead film certain shots in 4k and the rest in hd video mode and use them intermixed in their videos.
Top 5 Best 4k Vlogging Cameras for YouTube
Here are five best of the best vlogging cameras which we believe might be a good choice for you. Whichever you pick, you won't make a bad choice, so don't stress yourself out in the decision processes. But, we can not tell you exactly which one is the best. That's a decision you will have to bring on your own based on your circumstances and your video and camera needs.
So, get yourself comfortable and let's dive in!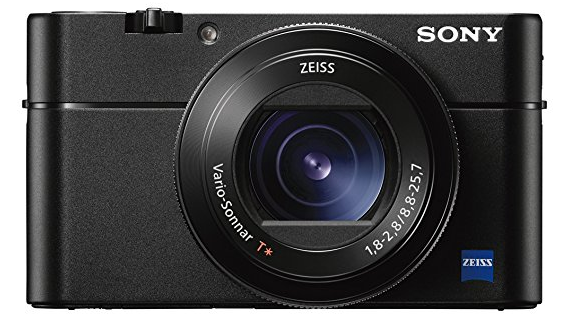 [nectar_btn size="large" open_new_tab="true" button_style="regular" button_color_2="extra-color-gradient-2″ icon_family="fontawesome" text="VIEW LATEST PRICE" icon_fontawesome="fa fa-amazon" url="https://www.amazon.com/Sony-Cyber-shot-DSC-RX100-Digital-DSCRX100M5/dp/B01MCRBY4X/ref=as_li_ss_tl?ie=UTF8&linkCode=sl1&tag=looxcie17-20&linkId=b1f65c2abe8496b3fc4eef351c852248&language=en_US" css_animation="slideInDown"]
Sony RX100 comes with a 1-inch CMOS Exmor sensor and same as many other large-sensor cameras, it also has high-definition video capture mode. A large sensor means that more light will be captured, so videos will be sharper and more colorful.
Apart from allowing you to shoot super-quality videos, this camera will also help you out with many other things. For example, there's a feature for image stabilization, which will prevent the videos from getting too "shaky" if you're keeping the cam in your hands while making vlogs.
Another reason why Sony RX100 is great for making videos on the move is that it's pretty small and lightweight. Actually, its dimensions are 4 x 2.38 x 1.63 inches, while the weight of this cam is only 0.6 lb. This means that you won't have any problems keeping it in only one hand.
It's also our recommendation for a travel instagram camera due to it's ability to point and shoot great videos with high end sound quality and superb photos. Typically cameras are 30fps, however this camera is very fast and is 24 fps.
And if you go with RX100 V, you will get a camera with a flip touchscreen. This way, you will be able to shoot selfie videos without worrying that your face might be out of focus. Apart from the LCD screen, there's also a set of control buttons at the back, which you won't have any problems to reach.
Sony RX100 seems like a good camera for vlogging for those who often make videos on the go. Video quality-wise, this is one of the best compact cameras on the market.

Check the price of Sony RX100 V
Pros:
Shoots superb videos in full frame
Great at image stabilizing
Compact, thus easy to hold in one hand
Easy to control
optical zoom and slow motion capabilities
Cons:
Its memory card allows you to shoot in 4k for only about 5 minutes
No mic input
[nectar_btn size="large" open_new_tab="true" button_style="regular" button_color_2="extra-color-gradient-2″ icon_family="fontawesome" text="VIEW LATEST PRICE" icon_fontawesome="fa fa-amazon" url="https://www.amazon.com/PANASONIC-Mirrorless-12-60mm-Megapixels-DMC-G85MK/dp/B01M050N05/ref=as_li_ss_tl?s=electronics&ie=UTF8&qid=1529508579&sr=1-1-spons&keywords=PANASONIC+LUMIX+G85&psc=1&linkCode=sl1&tag=looxcie17-20&linkId=5eacb355905b397da49b0b27592cc741&language=en_US" css_animation="slideInDown"]
It seems that Panasonic engineers had vloggers in mind when they designed this camera. The reasons why it's great for vlogging are numerous.
This camera features an image stabilization feature, which is essential if you're planning to make videos outside your room/studio. The camera also has a microphone port and a flip screen, which will come in very handy when you make videos on your own.
The size of the camera is 2.9 x 5.1 x 3.5 inches, which makes it pretty compact and easy to carry even in one hand. Not to mention that it has a grip for your fingers, so the chance that you would drop it is very low.
And even if you drop it, it probably won't break. Not only are Panasonic cameras famously sturdy, but this one is also weather sealed. What this means is that rain, snow and dirt can't harm it.
Same as Sony RX100, this one also doesn't have a too impressive internal memory. Let's put it this way – unless you get a good memory card or external memory storage, you won't be able to make 4k videos that are longer than only a couple of minutes.
Panasonic G85 is a decently priced camera, and the value you get for that price is amazing. Surely, there are some improvement that could've been made, but no vlogger will have any major problems with this camera's performance.
Check the price of Panasonic G85
Pros:
Superb video quality
Easy to use
Convenient to handle
Sturdy and durable
Cons:
Not the best low-light performance
Not enough memory for 4k videos
[nectar_btn size="large" open_new_tab="true" button_style="regular" button_color_2="extra-color-gradient-2″ icon_family="fontawesome" text="VIEW LATEST PRICE" icon_fontawesome="fa fa-amazon" url="https://www.amazon.com/Sony-Alpha-Mirrorless-Digital-Camera/dp/B01M586Y9R/ref=as_li_ss_tl?ie=UTF8&linkCode=sl1&tag=looxcie17-20&linkId=bc4b63bfb90a14197f5a2ce79118ed27&language=en_US" css_animation="slideInDown"]
Some argue that Sony a6500 is the one of the best mirrorless cameras on today's market. We're not going to get too deep in that discussion; we'll just say that this APS-C sensor camera makes 4k videos that are truly breathtaking.
So, if you're looking for a vlogging camera that will create impressive footage, Sony a6500 is the one to go with. It's true that Sony a6500 is a bit pricey, but if you are really serious about, then buying this camera is definitely a wise investment.
Another great thing about this camera is that its autofocus is one of it's strongest points. You will have no problems making action videos for your vlog. You will also be able to make awesome outdoor videos while keeping the camera inside your hand.
But, there's one downside here. This camera doesn't have a flip screen, so making selfie videos is not going to be easy. Of course, you can solve that problem with a tripod, but not many vloggers are too keen on using such an item when being in action.
Another issue we have with it is that it's not very cheap. And you will also have to get a large-capacity memory card if you plan to record 4k videos for more than just a few minutes. The same goes for its battery, as Sony a6500's lithium-ion battery won't keep it running for too long.
If video quality if your biggest concern, buying Sony a6500 will give you a peace of mind. This camera really is capable of creating superb videos.
Pros:
Amazing video quality
Superb autofocus
Lots of advanced options: low light performance, mic port and image stabilization
Cons:
Not very affordable
No flip screen
No memory card in the base configuration
[nectar_btn size="large" open_new_tab="true" button_style="regular" button_color_2="extra-color-gradient-2″ icon_family="fontawesome" text="VIEW LATEST PRICE" icon_fontawesome="fa fa-amazon" url="https://www.amazon.com/PANASONIC-Mirrorless-14-42mm-Megapixels-DMC-G7KS/dp/B00X409O6O/ref=as_li_ss_tl?ie=UTF8&linkCode=sl1&tag=looxcie17-20&linkId=265828b3931860fe885f0c658c17bd0d&language=en_US" css_animation="slideInDown"]
If you got scared that all the 4k vlogging cameras on our list are expensive, we have some good news for you. Panasonic G7 is a very affordable camera, especially compared to the other from this list.
Truth be told, you will have to invest a bit more money to get a memory card, as it doesn't come with one. And you'll also have to lens because it doesn't have image stabilization which we need for vlogging.
And now let's discuss the things you're probably very eager to hear about:
How good Panasonic G7 is for vlogging?
Well, although you can't compare its video performances with those of the previously discussed cameras, the video quality it makes is more than sufficient for vlogging.
Unless your YouTube followers are video aficionados who use 75-inch TVs to watch your videos, they will be perfectly satisfied with the content made with Panasonic G7.
Apart from decent video shooting, this camera also provides the vlogger with many features that will make their job easier. For instance, it has a good autofocus, with lots of autofocus modes to pick from.
It isn't the lightest camera ever, and it's build is mostly plastic, some people don't like that, but honestly that shouldn't determine the quality of this camera as a whole, so if you are fine with this, you'll be able to enjoy amazing vlogging features on a budget.
It also has a flip screen, which some video makers can't work without. There's also a Wi-Fi feature, as well as a port for an external microphone.
So, if you're new to the world of vlogging, Panasonic G7 seems like an ideal entry-level 4k camera for you. It's cheap, but has all the features you need to make superb YouTube videos.
Check the price of Panasonic G7
Pros:
Reasonable price
Easy to use
Very decent vlogging features
zoom lens / interchangeable lens
Cons:
No image stabilization
Not too impressive battery life
[nectar_btn size="large" open_new_tab="true" button_style="regular" button_color_2="extra-color-gradient-2″ icon_family="fontawesome" text="VIEW LATEST PRICE" icon_fontawesome="fa fa-amazon" url="https://www.amazon.com/GoPro-CHDHX-601-HERO6-Black/dp/B074X5WPC5/ref=as_li_ss_tl?ie=UTF8&linkCode=sl1&tag=looxcie17-20&linkId=49cf1f152a26bb5ec566e8af7e6d623c&language=en_US" css_animation="slideInDown"]
GoPro is an undisputed champion when it comes to manufacturing action cameras. That said, you can't go much wrong whichever GoPro cam you buy. It's guaranteed to do a fantastic work, as they are all made for the outdoors and a #1 camera for sports.
But, what about vlogging? Is there a GoPro camera that can be used for making 4k vlogging videos? Of course there is! And the cam in question is GoPro Hero 6, GoPro Hero 7 is similar just newer!
Not only can this cam shoot great-quality 4k videos, but its image stabilization is also sensational. Of course, that's not a surprise considering that Hero 6 is an action camera, but nevertheless, it's really awesome.
Another great thing about it is its one-touch zoom, as well as a technology that enhances the quality of videos shot in low-light conditions.
The good things about GoPro Hero 6 don't end there. This camera comes with all kinds of additional features and accessories, including a helmet strap, wrist strap, chest strap, floating handle grip, bicycle handlebar, tripod, and so on.
Go Pro Hero 6 also has a rechargeable battery with pretty decent life and even comes with a 32GB memory card (MicroSDHC Class 10), which is really a nice surprise considering the camera's fairly reasonable price.
So, is everything perfect about this camera? Well, not quite. Go Pro Hero 6 doesn't have a flip display, so you might find it impractical to make selfies with it. And overall usability isn't as great as for the cameras above.
If you're a vlogger who makes lots of action-packed outdoor videos, Go Pro Hero 6 seems like your ideal choice.

Check the price of GoPro HERO6
Pros:
Great autofocus and great for time-lapse videos
Comes with all kinds of accessories
Sturdy and durable
Comes with a 32GB memory card
Cons:
Overall not the best outside of outdoor videos
No flip screen
need an sd card
Negatives of 4k for YouTube

As of 2018, most people still don't care about whether a YouTube video is 1080p or 4k. It's not that they're indifferent to video quality; it's just that they can't notice the difference. The reason is that most YouTube users use regular-sized monitors, so the difference in the video resolution can't be noticed that easily.
And shooting vids in a higher resolution has basically no impact on your YouTube ranking.
Now that we're on the subject of YouTube, up until a few years ago, this site didn't allow 4k video uploads. The same is still the case with some other video-sharing platforms, so even if you make a video in 4k, you might be forced to upload it in some other definition.
Another reason why shooting 4k videos might not be such an amazing option after all is that these vids take too much space. We're talking about gigabytes here. So, unless you buy an extra memory card or external memory storage, you may get yourself in a problem with your 4k videos.
Shooting 4k videos also requires the camera to work harder, which in turn means that it needs more energy. The result is that the battery will get spent sooner.
Furthermore, relying too much on modern tech to make your YouTube videos cool might take away their gist. A top-quality 4k vlogging camera won't do you any good if you're not creative when making videos for your channel.
Of course, all of this doesn't mean you shouldn't buy yourself a top-quality 4k camera. You can always use that Cam to shoot footage in 2k or 1080p if needed.
Conclusion
If you already own an awesome 1080p camera, getting a 4k might be an unnecessary expense. But, if you are in a need of a strong vlogging camera, and you have the budget, getting a amazing vlogging camera that also possess 4k is a great choice.
Of course, you need to take many things into consideration when choosing a great camera starting with your shooting preferences, whether you make most of the videos in-home or outdoors, high-resolution, dual pixel, wide angle lens, image sensor, slow motion, live view, bluetooth, cmos sensor, full hd, waterproof and the list goes on..
After all, these days, the cameras that can make ultra-high definition videos do not cost much more than their lower-definition counterparts. The price difference is often less than a hundred dollars, well worth getting it now.
And if you decide to get yourself a good 4k youtube camera, the easiest way to pick the right one is to make your choice based on the reviews you've read here!