Audio is important.
At A Glance:

Best Shotgun Camera Microphones for Filmmaking
If you want your videos to have professional quality, getting a external microphone for your camera is a must.
In today's article, we'll be looking at some of the best shotgun microphones for DSLR video cameras in [year].
The Benefits of Using an External Mic for DSLR:
Before we get to our review guide, we're going to look at some of the benefits of using an directional microphone on your DSLR instead of the built-in microphone.
Many beginners assume that the included mic on their camera is sufficient for filming, but you'll find that most of them can't be compared to external models.
There are a few key differences between external mics and those which are mounted in cameras, and shotgun mics, in particular, have a few unique advantages of their own.
While most external mics will be able to record with better fidelity, shotgun mics can also cancel out noise from out of the shot.
Top 8 DSLR Shotgun Mics for Video:
You may be wondering why we're presenting such a wide range of DSLR camera microphones instead of just showing you which one of these is the best.
Keep in mind that everyone has different needs, and the best video mic for you may not work for someone else.
With a wide variety, there is a greater chance that everyone will be satisfied. Without a further ado, let's get into shotgun mic reviews:
BEST
Why I Like It:
Reduces wind noise
Comes included with a rechargeable battery
Redesigned battery door
Rycote Lyre suspension
Review:
The Rode VideoMic Pro+ is the most impressive model in the company's VideoMic series, and it is designed for those who are serious about their sound quality. This product is available for around 300 dollars, and while it may be pricey, it will be sure to provide you with improved audio quality.
When compared to other VideoMic models, there are a few features that stand out on the Pro+ and improve your sound further. For example, the windshield on this model has been changed, and it now features a larger design which sacrifices a bit of compactness in exchange for superior wind resistance.
The Rycote Lyre suspension that is used on all of Rode's VideoMics is as effective as ever, eliminating sounds emanating from vibrations so that the camera can be manipulated while filming. Unlike other models which require separate batteries, the Pro+ comes included with a rechargeable LB-1 lithium-ion cell.
When the time comes to recharge the battery, you'll also have an easier time of things because Rode has changed the design of the battery door. Previous products required that the door be removed entirely before swapping out batteries, but now it's mounted on a hinge for simpler battery hot-swaps.
Auto on/off also helps make this microphone more convenient, as it will now turn on and off alongside your camera, provided that it is connected with the audio cable that it comes with.
The inclusion of a high pass filter, gain control, and high-frequency boost modes also means that you'll be able to record a wide range of sounds, even when conditions aren't ideal.
Often combined with canon cameras, it's also known as best canon dslr shotgun mic
Overall, this microphone combines an intuitive design with a host of helpful features
Audio Test:
Drawbacks:
Expensive
A little larger
POPULAR
Why I Like It:
Resistance to RF devices and smartphones
Improved sensitivity
Supercardioid design decreases off-axis noise
Low-cut filter and gain controls
Review:
The Shure VP83 is a little more pricey than some of the other options on this list, and that's due to its excellent performance. A high degree of electromagnetic resistance coupled with surprising sound fidelity makes this microphone an attractive choice for advanced users.
One of the few downsides to this shotgun mic is that it isn't as compact as some of your other choices, though it makes up for it when it comes to sound quality. Even though this microphone is physically larger than a lot of competing products, it only weighs 133 grams.
Moving on to performance, this shotgun mic employs an enhanced super-cardioid design so that it can focus on sounds coming from the subject. In practice, this model can block out moderately loud noises coming from the periphery of the scene, growing less reliable as the sound source gets closer to the subject.
This microphone is also highly resistant to RF interference, so you won't have to worry about electronics in the area interfering with the sound being registered. Despite its RF resistance, this is a highly sensitive microphone that can pick up relatively quiet sounds without too much trouble.
You'll also have access to gain controls for events that are too quiet or too loud, with -10 dB pad, 0 dB, and +20 dB boost options. This microphone also implements the Rycote Lyre mounting to prevent any vibrations from affecting the recording.
This model also features excellent build quality, mainly due to its all-metal construction, so you can rest assured that it is reliable. Even though the price is a bit high, this is still one of the best shotgun mics you'll find available for a DSLR.
Audio Test:
Drawbacks:
SMALL AND QUALITY
Why I Like It:
Compact and portable design
Excellent build quality
Off-axis rejection
Simple controls
300-hour battery life
Review:
Sennheiser is known for their quality audio products, and that reputation is upheld by their excellent MKE 400 compact shotgun mic for DSLR. This is one of the smaller shotgun mics on this list (though it's still not as tiny as the Rode VideoMicro), making it ideal for filming on the go.
Everything about this mic is designed to be as small as possible, with a small integrated shock mount and tiny switch controls. This mic also features a durable design, with a housing that is made out of metal for improved impact resistance and excellent quality in its final assembly.
One of the more notable aspects of this mic is that it will reject sounds that are off-axis more reliably than even larger models. This is also a versatile design, as you can customize the sensitivity based on the distance you are from the subject by sliding a switch on the side of the housing.
This model runs using a single AAA battery, and that will provide a battery life of over 300 hours, ensuring that you won't need to carry around a pack of batteries just in case. You'll also find that AAA batteries are somewhat more common than the 9V cells that many other microphones run on.
This mic also comes included with a windshield that is made out of foam, but if the wind gets too strong for it, you can also turn on the active wind filter, which will work to eliminate the sound. If you plan on recording when you're on the go, then this shotgun mic from Sennheiser is one of the best around.
Audio Test:
Drawbacks:
Less capable than a full-sized model
Pricey for a small mic
UNDER $70
Why I Like It:
Extremely compact size
Runs using in-line power
Shock mounting
User-friendly
Review:
Up next, we'll be looking at the VideoMic GO from Rode, which is one of their smaller models, designed for those who are always on the go while recording.
For just under $70, this is the best cheap shotgun mic!
Weighing only 73 grams, you probably won't even feel the difference when you have this mic mounted on your camera.
Due to the small size of this model, you'll also find that this is one of the more affordable options that Rode sells, making it an excellent choice for beginners or those with smaller budgets.
While this mic may be small, it still features the Rycote Lyre integrated shock mount that Rode is known for.
As always, this mount prevents vibrations from making it to the mic, preventing any unwanted sounds from ruining your recording quality, and it will not sag or otherwise degrade, as with other mounts.
Another benefit to this model is that it doesn't need batteries to run, and even the smallest DSLRs will be able to provide enough power for it without a noticeable drop in battery life.
The in-line design means that this mic is on when you plug it in and off when you unplug it, resulting in no more wasted batteries.
While this microphone does suffer slightly when it comes to audio quality in comparison to full-size models, it isn't significant enough to negate the benefits of the smaller size and lower price.
All of these features come together to make this model one of the best DSLR shotgun mics for beginners, as well as one of the best compact mics overall.
Audio Test:
Drawbacks:
Lower quality than larger models
CLASSIC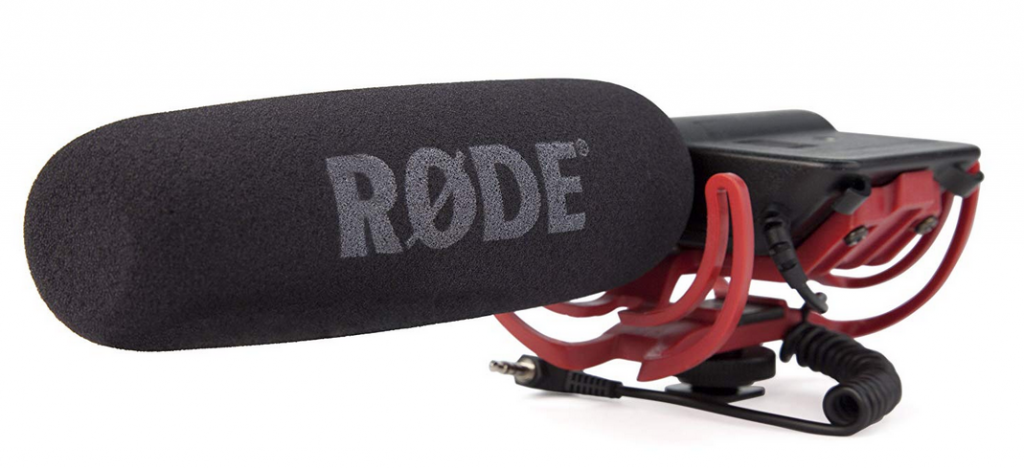 Why I Like It:
Shock mounting eliminates vibration
Enhanced subject focus
High-pass filter eliminates low-end noise
Sound attenuation available
Review:
At last, we've reached the mic that started it all: the original Rode VideoMic (or at least the latest iteration of it).
If you're looking for a basic shotgun mic that is reliable and reasonably priced, you won't find many products that can hope to compete with this one, though you may find a few more affordable options.
As with all of their other shotgun mics, Rode's VideoMic comes included with the Rycote Lyre shock mounting. This assembly is flexible enough to prevent vibrations from making their way through the camera to the microphone, but it is also resistant to permanent deformation and sagging.
One of the main benefits of a shotgun mic is directional sound recording, and that's still the case with the VideoMic. This model features a super-cardioid polar design that will work to eliminate sounds that are coming from the sides, and it will do so with most noises below a reasonable volume threshold.
The cold-shoe mount on this microphone is designed to be user-friendly, as it is easy to slip on and it also features a ⅜" thread so that it can fit on a stand or a boom. As with most other Rode products, this mic features exceptional build quality, and it comes included with a 10-year warranty.
While all of this would be more than enough to make for an excellent shotgun mic, you'll find that this model also comes equipped with a high-pass filter. This can be used to eliminate the sound of traffic or other ambient noises that can degrade the quality of a shot.
The original VideoMic features an excellent blend of reliability and performance, providing you with excellent value for money.
Audio Test:
Drawbacks:
MICRO
Why I Like It:
Extremely small design improves portability
Excellent sound quality for the size
Includes a furry windshield
No batteries needed
Shock mount
Review:
The last model we'll be looking at from Rode is the VideoMicro, which is also their smallest shotgun mic for DSLRs. This tiny microphone is designed to be as portable as possible, which also results in the least cumbersome shotgun mic we've yet to see.
While sound performance takes a hit compared to larger models, it is nowhere near as significant as you would expect. If you hear a recording of this mic, you may even be convinced that it came from a full-size model.
Another benefit to this microphone is that it is versatile, as it can be used indoors or outdoors without any issues. In fact, this model features a pickup that is better optimized for use indoors than Rode's larger shotgun mics.
On the other hand, if you would rather shoot outdoors, this microphone comes included with a furry windshield that will eliminate all but the strongest of breezes.
Even though this microphone is smaller than all of Rode's other models, it is still mounted on the Rycote Lyre shock mount. As in every other mic, this mount will isolate the mic from unwanted sounds that are caused by vibrations running through either the camera or the cable.
Speaking of the cable, this mic won't require batteries, as it will run off of power provided by your camera, ensuring that you won't have to run through batteries with every shoot.
In the end, you won't find many other compact shotgun mics with comparable performance to the VideoMicro, though it is a little more expensive than much of the competition.
Audio Test:
Drawbacks:
Rather pricey
Lower quality than full-size mics
BUDGET
Why I Like It:
More affordable than other options
Low-cut filter and adjustable sensitivity
TPU shock mount
Long recording range
Review:
For those of you who are looking for an affordable shotgun mic, the Comica CVM-V30 is one of the better choices out there. While many cheap shotgun mics will be so unreliable that you're better off saving your money, this model manages to combine reasonable performance with a relatively low price point.
While the main selling point of this microphone may be the affordable price point, it still comes equipped with a few features that make it more user-friendly. For example, this shotgun mic is provided with a low-cut filter so that you can eliminate droning ambient noises in your videos.
You can even adjust the sensitivity on this microphone, though the only option is -10 dB, which allows you to record louder events like motorsports and music performances. If you plan on recording outdoors, this microphone comes with a foam windshield as well as a furry one.
The shock mount that this mic comes with is made out of TPU, meaning that it won't sag or otherwise degrade, even after months of use, and you have the choice of either black or red. This model also features an impressive recording range, unlike many other affordable shotgun mic options which simply aren't sensitive enough.
The super-cardioid polar design of this microphone means that off-axis sounds are eliminated effectively, though they'll have to be relatively quiet. Louder noises manage to make it through the off-axis filtration, so if you want a mic with excellent isolation, you may want to look for another one.
When it comes to value for money, this is easily one of the best shotgun microphones you can find that's compatible with a DSLR.
Audio Test:
Drawbacks:
Build quality
Isolation performance
CHEAPEST
Why I Like It:
High-sensitivity microphone improves range
Guarded against EM interference
+10 dB adjustment
Low-frequency attenuation
Review:
The SGC-598 from TAKSTAR is another one of the more affordable options on this list, coming in at an even lower price point than the previous model from Comica. The lower price of this mic isn't due to inferior quality, but it is instead due to the smaller size of the mic, as this is a compact model.
This model is designed for reasonable performance for a model in its price range, and the designers seem to have accomplished their goal from our experience. Despite the price point, this shotgun mic for DSLR comes equipped with sensitivity and attenuation adjustment features which make recording easier.
We would recommend using the built-in +10 dB sensitivity adjustment and toning down the amplification on your camera, as that will reduce any buzzing or humming that may occur. The low-frequency attenuation on this microphone works as well as on any other model, eliminating background noise.
The mount is the single most noticeable weak spot on this microphone, as it features an overcomplicated design that doesn't work too well. While most vibration will be canceled out, shooting on the go can sometimes be a challenge because the reverberations will make their way to the microphone.
It can also be challenging to mount this microphone to your camera, as the baseplate may require some adjustment beforehand. If you've never used a shotgun microphone before, you may have some difficulty adjusting this model to fit on your device.
Aside from the issues with the mount, this microphone has few problems, which is rare for shotgun mics at this price point.
If you want a directional microphone for DSLR that is as affordable as possible without compromising build quality, you've found it.
Audio Test:
Drawbacks:
Unreliable mounting
Lack of additional features
CLASSIC
Pros:
A great choice for recording interviews.
Cancels out background sounds.
Ergonomic Design.
Review:
This list includes some of the options that are well-known amongst a lot of video loggers and professionals of this field for being made of the best quality.
If you need a shotgun Camera Microphone for Filmmaking, then this is one of the best choices for you
This option is a good choice overall, however, if you are one of the people that want shotgun camera microphones for recording interviews.
The reason behind this option being a good choice for recording the interviews is the fact that his microphone is a lavalier Microphone.
Lavalier microphones are also called (LAV) microphones and are known for the supreme sound quality that they are able to deliver on-board.
On the board, the performance and sound quality of the Lavalier Microphones remain unbeatable.
A lot of professional news channels and a lot of vloggers that have interview channels use Sennheiser XSW-D as their choice.
The reason behind this product is the choice for every professional of the related field is due to the fact that his product is defined by the top-quality performance that it is able to provide.
This microphone, when used for recording audios, records audio in the highest possible quality and also levels out more or less perfect levels straight out of the box.
This reduces the after work that is needed to fix the disturbances and to remove the additional sounds that are included in the audio that is recorded by this shotgun microphone.
The background noises are dropped to a minimum, even if the audios are recorded in a very noisy background.
However, you don't have to take our word for it; If you want visual proof of how good these shotgun microphones perform, see a video recorded and uploaded by it. Search for the Chanel Front Row on YouTube and see a video from them.
However, we do suggest that for better sound results, it is better to conceal the microphone to the person's chest. For this, it is recommended to use medical tape.
Cons:
Incompatible with Some Cameras.
BEST
Pros:
Compatible with a Lot of Cameras.
Feature a compact design.
Offers solid Performance.
Review:
Since we are on the topic of looking for the best shotgun camera microphones for filmmaking, then the list would be incomplete without suggesting this one.
This microphone is known for giving video loggers, content creators, filmmakers, voice-over artists, and podcasters the performance which they are going to be regarding very highly.
What makes this shotgun camera for microphones a good choice is a fact that this microphone does not need anything additional for it to be operated.
Since there is no need for the users to buy external adapters, the functionality it provides is a great one.
This microphone is known to be working with a lot of devices. These devices may include cameras, smartphones, tablets, portable recorders, and USB-equipped computers.
What makes this product the best one is the fact that this product features a lot of options that are found to be lacking in the other options that are available in the market.
These features include precious features such as providing focused directivity, continuous variable gain, digital switch tone controls, and an internal rechargeable battery, which can be charged via USB input.
This camera is known for giving an amazing performance. The performance benchmarks of this microphone are astonishingly good and give a tough competition to all the other listed options. The microphone is also known for having flexible functionality.
The design of this microphone is also made in such a way that it feels rather ergonomic and compact, which allows the users to carry it easily.
Cons:
Does Not work with Instagram Live.
DSLR Camera Microphone Buying Guide:
If you've never purchased a shotgun mic before, or if it has been a long time since you bought your last one, you may not know what features are the most crucial in one of them.
In this part of our guide, we're going to cover some of the most important aspects that can determine whether or not a shotgun mic is worth it.
Sound Quality:
Of course, the first thing that you're going to want to consider when choosing your shotgun mic is the quality of the sound that it records.
If you opt for a poor-quality shotgun mic, then you shouldn't be surprised if the audio comes out sounding just as muffled as if you had recorded it with your camera's onboard mic.
Unfortunately, it is often a challenge to tell whether or not a microphone is going to have good sound quality until you test it out yourself.
However, you'll find that some manufacturers will upload audio clips of sounds recorded with their microphones so that you can hear an example of what they are like.
Mount:
The mount that is used for your shotgun mic is another critical consideration, for a few different reasons.
First off, you'll want to be sure that the mount on the mic will be compatible with the camera you are using, though this is rarely a concern, as the majority of mounts will be universal.
A more pressing issue when it comes to the mount is the shock absorption it provides, as vibrations can move from the camera to the microphone and can be heard in the recording.
Most shotgun mics will come with a mount that helps isolate them from the vibrations in the camera.
Range:
Another key reason to use a shotgun mic is due to the enhanced recording range, though this isn't the case for all models.
Some cheaper shotgun mics will have poor long-range performance, so you have to be sure that the model you're looking at is ideal for your needs.
A microphone's sensitivity is responsible for its performance at longer ranges, and you'll find that more sensitive models tend to be more expensive.
There are also shotgun mics that come equipped with an adjustable sensitivity setting, allowing you to optimize them for specific recording conditions.
Off-Axis Rejection:
Yet another reason to buy a shotgun mic is that they are meant to record noise that comes from in front of them while rejecting noise that comes from the back and the sides.
This quality is known as off-axis rejection, and it is much sought-after in some of the best shotgun mics.
There are a few different things to consider when determining whether or not a microphone has effective off-axis rejection: the angle from which the sound is coming, the volume, and a bit more.
Of course, it is challenging to determine all of this without thorough tests, and it is also difficult to define in words how good a microphone is at isolating off-axis sounds.
Power Source:
The power source of your microphone is also crucial, and the ideal type will depend on your camera, the kind of films you'll be making, and your preferences.
The most common power source for shotgun mics is the disposable battery, and AAA and 9V cells are the preferred types.
There are also mics that come equipped with lithium-ion rechargeable batteries which can be used repeatedly and may end up saving you some money in the long run.
Finally, there are mics that draw their power from the camera itself through the audio cable.
While in-line powered microphones may slightly lower the battery life of your camera, you won't have to remember to turn off your microphone every time you unplug it. Forgetting that your mic is on can result in you wasting quite a few batteries.
The best shotgun microphones for DSLR cameras for video will often combine a couple or all of these power sources so that you can use the best one for the situation.
Frequently Asked Questions:
Conclusion!
At this point, you may be wondering which of these mics are the best video, and that depends on what you want out of your directional mic for video recording and your budget.
If you want a shotgun mic for DSLR with an onboard recorder, then you'll want the Shure VP83.
On the other hand, if you're looking for a microphone that is as compact and affordable as possible, then you'll love the TAKSTAR SGC-598.
We hope that this guide has helped you find the best shotgun video mic for your needs.