The best DSLR for video cameras are manufactured with the largest type of image sensors, giving you that detailed and sharp quality.
If you are looking to up your game and increase the quality of your photos and videos, then DSLR is most certainly a viable option.
At A Glance:

Our Top 10 DSLR Cameras for Video
With regards to DSLR camera manufacturers, the two biggest players in the market are Canon and Nikon.
Competition between these two heavyweights is fierce, which promotes bargains and helps keep prices low.
As with most products, this is especially true of the previous years' models, as newer cameras are introduced into the market.
But!
Is DSLRs Best For Video?
The bitter battle between DSLR and mirrorless cameras for video to rage on with a clear winner yet to be determined.
Before delineating the differences between the two and seeing how they stack up against each other, a quick recap of how the two work will assist you in better understanding the comparison.
Generally speaking, DSLRs utilize an identical design to the 35mm cameras of back in the day.
As light passes through the lens, it is reflected by a camera situated within the camera body up to a prism and into the viewfinder for a preview of the shot.
When the shutter button is depressed, it causes the mirror to flip up, opening the shutter and having the light strike the image sensor which obtains the captured image.
In contrast, a mirrorless camera has light passing through the lens and onto the image sensor, capturing an image preview that is displayed on the rear screen.
A few models offer a secondary screen situated within the electronic viewfinder (EVF) which you can place your eye onto.
When it comes to features and quality video production, DSLR cameras have a powerful and capable rival in mirrorless cameras.
Mirrorless vs DSLRs For Video:

When it comes to performance, both DSLR and mirrorless camera systems are pretty much neck and neck with each other.
The majority of the innovation is being driven by mirrorless cameras, which is forcing the DSLRs to keep pace by bringing their A-game to the table.
Let's see what's the best camera for YouTube:
SizeAutoFocus SpeedImage PreviewImage StabilizationImage QualityVideo QualityShooting SpeedPlaybackBattery LifeEquipment
Size & Weight Comparison:
To house both a mirror and a prism, DSLR cameras are larger than mirrorless cameras, often double the size in depth.
Of course, depending on the type of lens which is attached, the weights can be rather similar.
In comparison, it is easier to carry around a mirrorless camera and fit more accessories into a camera bag.
AutoFocus Speed:
With regards to the autofocus function, DSLRs utilize phase-detection technology, which rapidly measures the convergence of two light beams.
Up until recently, mirrorless cameras used another technique known as contrast detection.
This process uses the image sensor to detect the highest contrast, coinciding with focusing. In low light settings, phase detection is faster than contrast detection.
However, it is of note, that the newer model mirrorless cameras now use both phase and contrast detection sensors which are built into the image sensor. In essence, both technologies can be used to fine-tune the autofocus function.
In summary, the autofocus speed is very similar in both DSLRs and mirrorless cameras, as they are both very quick to complete this function.
Image Preview:
One of the more important features of a camera is to obtain an accurate preview of the images you are shooting. When using a DSLR camera, the optical viewfinder goes through the lens and displays exactly what the camera will capture.
A mirrorless camera will provide a preview of the image on the screen.
There are mirrorless camera models that offer an electronic viewfinder (EVF) which closely simulates the optical viewfinder.
When shooting outdoors inadequate lighting conditions, the preview screen of a mirrorless camera will closely resemble the final image resolution.
However, if the camera is struggling with low light or quick-moving subjects, the preview resolution will become degraded in a grainy, dull, and jerky manner.
In comparison, a DSLR camera reflects the light directly into your eye, which is more effective than the camera sensor at low light levels.
DSLRs also have the advantage of being able to copy a mirrorless camera by raising the mirror and displaying a live preview of the image (this is usually called live view mode).
You should be aware that the low-cost DSLRs focus slowly in this mode, as they utilize contrast detection which is slower to focus.
Mirrorless cameras that utilize and EVF can provide a preview of what the image will look like before you snap the picture.
An increase in aperture or shutter speed will result in a change of what is displayed through the EVF.
With a DSLR camera, you have to rely more on your experience and metering to predict the final image results.
The bottom line is if you are shooting in excellent lighting conditions, both DSLR and mirrorless cameras perform very well.
When using the camera in low light or other challenging conditions, a DSLR will be less challenging to deal with than a mirrorless camera.
Image Stabilization:
Obtaining a clear image requires not only the correct camera settings but also steady hands that keep the shot stabilized.
Blurry photos are created by shaky hands, with the effects being magnified if a longer shutter speed is used or there is a greater zoom in.
Both DSLRs and mirrorless cameras incorporate image stabilization systems, which are sensors that detect and measure camera movement and shift the lens or image sensor in the opposite direction of movement.
There are mirrorless cameras that can move the lens and sensor in a synchronized pattern, providing a higher amount of stability.
In essence, most modern cameras can handle a relatively small amount of camera shake, but cannot compensate for greater disruptions.
Newer model mirrorless cameras now offer 5-axis image stabilization, a feature that DSLR cameras do not yet provide.
All in all, there is no significant difference in image stabilization between the two camera types.
Image Quality:
DSLRs and mirrorless cameras can capture high-quality images with a similar resolution and noise, which is also known as graininess.
More sensitive chips are now being produced which adequately suppress the noise.
When sensors and image processors are of equal quality, both camera types are capable of securing excellent images.
Video Quality:
Generally speaking, the more expensive mirrorless cameras have on-chip focus sensors which make them more suitable for recording video.
DSLR cameras are unable to utilize phase detection with the mirror up when recording video, therefore, they have to use the contrast-detection focus method which is slower and less accurate.
This can cause blurring in the video while the camera hunts for the correct focus.
There are currently several DSLR and mirrorless cameras on the market which can capture 4Kor Ultra HD video, which offers up to four times the resolution of HD footage. 4K significantly improves the quality of the video.
DSLR cameras are preferred by many video professionals because they offer compatibility with a multitude of high-end lenses.
The autofocus function is less of a concern for professionals because they can focus in advance, as they know where their subjects will be situated.
Shooting Speed:
When it comes to fast shutter speeds and capturing a burst of images at a rapid pace, both DSLRs and mirrorless cameras perform extremely well.
The mirrorless models do provide an edge though, as the lack of a mirror makes it easier to take one image after another.
Simply put, the simpler mechanical construction of mirrorless cameras permits them to function at the higher shutter speed and ultimately shoot more photos per second.
Video and Image Playback:
Both the DSLR and mirrorless cameras typically have screens that measure approximately 3 inches to display images and playback video.
This can also be done through the HDMI output to a television. Many newer model cameras also include a Wi-Fi function for sending pictures to smartphones so they can be posted online.
Battery Life:
Comparing the two camera types, you can typically get more battery life from a DSLR camera since they can shoot without utilizing an electronic viewfinder or an LCD screen that consumes a great deal of power.
However, if you use the LCD screen to capture and preview images, this will use additional power as well. Both types of cameras offer removable battery options, allowing you to carry spare batteries as needed.
Lens and Accessory Options:
One of the more significant advantages of a DSLR camera over a mirrorless camera is that it provides you with a multitude of lens options that run the gamut from inexpensive to very expensive.
By contrast, mirrorless model cameras are more restricted and offer compatibility to only a small number of lenses from the camera manufacturer.
The variety of selections provided by DSLRs is clearly a benefit for the user.
Top 10 DSLRs for Video in [year]
Within the following section, we will provide a comprehensive buyer's guide review of the 9 best DSLR cameras for shooting video.
As we have seen, there are a vast array of features that are offered, especially by the higher-end DSLRs
WINNER
Quality = 98%
Affordability = 60%
Why I Like It:
Outstanding speed
Durable build
Comfortable ergonomics
Good low-light performance
4K recording at 60 fps
Used By YouTubers: Casey Neistat, Sawyerhartman and Sam Kolder
Review:
Canon's newest flagship model, it boasts a new 20.2MP full-frame CMOS sensor.
It utilizes Canon's Dual Pixel autofocus system, including an expanded 61-point autofocus system with 24% more coverage and a 360,000-pixel RGB+IR metering sensor.
It is one of the first Canon DSLRs which captures 4K video.
All in all, the EOS-1DX is a superbly constructed camera with a completely different sensor, which gives it plenty of power and speed.
Also, this design utilizes an on-chip analog to digital conversion which should improve the dynamic range of the sensor.
If you are a pro or an amateur, this is one camera that can produce sensational results.
UNDER $3000
Quality = 91%
Affordability = 75%
Why I Like It:
Full Frame Sensor
High ISO Capability
4K Video
Dual Pixel AF for Video
Used By YouTubers: Ben Brown, Roman Atwood and Alisha Marie
Review:
Arguably, the Canon EOS 5D series is probably one of the most recognizable camera lines for this digital age.
Looking almost identical to its predecessor, the EOS5D Mark IV appeals to all types of camera people, from enthusiasts to professionals.
This latest DSLR model has been the beneficiary of significant upgrades to its inner workings.
For instance, the higher resolution 30.4MP CMOS sensor uses the Digic 6+ processor and has dual-pixel autofocus as well.
Additional useful features include 4K video capture, a touchscreen, upgraded autofocus (AF) system, built-in Wi-Fi/NFC, and an interval timer and GPS.
The 5D Mark IV is a full-frame that can continuously focus in Live View during stills capture. It is very adept at sticking to the original subject of focus.
The Canon EOS 5DS Mark IV is a very versatile camera which makes for a reasonable choice if that is what you are looking for.
As described, it is loaded with numerous features which make it a very formidable DSLR camera.
If you are passionate about photography, it is a camera well worth looking into.
Drawbacks:
ITR subject tracking is lacking precision
HDMI-out limited to 1080p
Optimization of AF settings takes practice
UNDER $3000
Quality = 90%
Affordability = 75%
Why I Like It:
Advanced menu options
More focus point settings
More customizable options
Quiet mechanism
Reduction in noise
Review:
The Nikon D810 camera is a DSLR camera which has undergone a number of changes from its predecessor, the D800/E.
The D810's ISO 64 shows marked improvement in RAW dynamic range and contains an electronic front curtain shutter that provides sharper images in Mup mode.
The redesigned mirror mechanism takes the image-softening mirror slap down a notch, and the continuous AF algorithms have been reworked.
Under the hood, the D810 sports a 36.3 MP full-frame CMOS sensor with no AA filter. It can shoot a maximum of 5 fps shooting in FX mode and 7fps in DX.
The 3.2 inches 1,229 k-dot RGBW LCD screen incorporates customizable color.
It also allows for unlimited continuous shooting, whereas the previous limit was 100 frames.
There is also a 91,000-pixel RGB metering sensor for advanced subject tracking and metering.
A split-screen zoom display in live view allows for horizons to be leveled and there is a 51 point AF system. As you can see, this is a competent DSLR camera with a wealth of features.
This camera even features a new flat picture control mode which is geared for videographers who require a broader dynamic range.
If you are a fan of Nikon, this model will not disappoint.
Drawbacks:
Struggles in low-lit areas
Subpar quality images when there is movement
Heavier than other Nikon models
High battery power consumption
We also have a full guide on Nikon cameras for video, if Nikon is your favorite brand, check it out.
UNDER $2800
Quality = 88%
Affordability = 77%
Why I Like It:
Compact size for a full-frame SLR
Large optical viewfinder
Hi-re rear LCD screen
Fast autofocus
1080p video recording
High ISO performance
Used By YouTubers: Kian Lawley, Emma Blackery and Tyler Oakley
Review:
The Canon EOS 5D Mark III has a body which is based on the EOS 7D design and is endowed with a 22 MP full frame sensor and has a 61 point autofocus (AF) system.
The name 5D is deceiving, as this camera can be seen as a full-frame 7D with the same control layout, an extensive amount of customizability, and a 63 zone metering sensor.
There are additional features that include dual slots for CF and SD cards, a locking exposure mode dial, and a large depth of field preview button.
The camera's sensor offers a standard ISO range of 100-25,600, which is expandable to 50-102,800.
There is an 8-channel sensor readout that enables continuous shooting at 6 fps. Rated at 150,000 cycles, the shutter is relatively quiet.
The viewfinder has a coverage of a full 100%, and the 3.2″ LCD screen offers improvements with anti-reflection.
However, if you prefer a larger screen you can always purchase a field monitor for your camera.
When it comes to video, the EOS 5D Mark III incorporates the rear movie mode/live view switch.
The camera includes a built-in headphone socket for audio monitoring and touch-sensitive buttons which permits the recording parameters to be changed.
The video output resolution comes in at 1080p30 maximum with improved processing which minimizes artifacts.
Overall, this is a solid camera with a number of handy features and handles video production extremely well.
Drawbacks:
Slow focusing in live view and video modes
No built-in flash
Not compatible with EF-S lenses
No built-in Wi-Fi or GPS
Expensive compared to competitors
UNDER $2000
Quality = 84%
Affordability = 82%
Why I Like It:
Full frame 26MP image sensor
45-point autofocus system
Integrated Wi-Fi and GPS
Refined touchscreen control
Used By YouTubers: Casey Neistat and Nikki Blackketter
Review:
Aimed towards advanced amateurs and photography enthusiasts the Canon EOS 6D Mark II incorporates an all-new 26MP sensor with Dual Pixel technology for spot-on autofocus during shooting with live view.
It utilizes a 45-point autofocus system with a fully articulating touchscreen, built-in Wi-Fi, GPS capability, and a 6.5fps burst shooting.
There are some compromises that should be considered for the 6D Mark II camera. The larger sensor it incorporates is offset by a lesser quality autofocus system.
The camera does not support 4K video and has a shutter mechanism that maxes out at 1/4000 sec.
Given its more affordable price compared to the more loaded models, the 6D II is still a quality purchase with a host of useful features.
Being smaller and lighter in weight than a 5D IV, the articulating screen provides an advantage when working with strange angles.
To summarize, this is an affordable entry-level camera considering it utilizes full-frame Canon glass and increased depth-of-field control in comparison to similar priced smaller cameras with not quite as large APC-C sensors.
Drawbacks:
Small autofocus coverage area
Video limited to 1080p
No USB 3.0
No built-in flash
UNDER $1200
Quality = 80%
Affordability = 86%
Why I Like It:
Built-in Wi-Fi and NFC connectivity
Image stabilization
Articulating screen
1920 x 1080 max video resolution
Face detection focusing
25,600 msx ISO
Review:
Most accurately defined as a high-performance enthusiast-level DSLR camera, the Sony A77II Camera has excellent image quality, especially when shooting at lower ISOs.
With higher ISOs from RAW, the performance of burst-shooting is high grade, and single-shot autofocus (AF) is exceedingly fast.
It does falter somewhat when it comes to capturing moving subjects or fast action shots.
The A77II sports 24MP resolution and is coupled with a BIONZ X image processor with an ISO range of up to 25,600. It has a substantial 79 point autofocus system which covers approximately 40% of the frame.
Throw in the 12fps continuous burst mode with constant AF, and you have yourself a well-rounded DSLR camera, especially for sports and action photographers.
Drawbacks:
The low battery life of only 480 shots
No touchscreen
Heavy body weight of 647g
UNDER $1000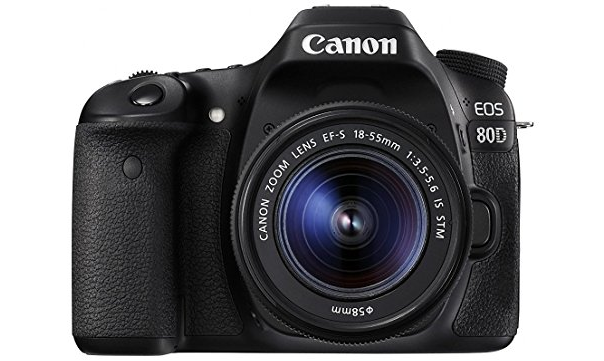 Quality = 79%
Affordability = 88%
Why I Like It:
Ease of use
Fast dual-pixel autofocus
Excellent continuous autofocus during movie capture
All 45 autofocus points are cross-type
Used By YouTubers: David Dobrik, Jenna Marbles and iDubbz
Review:
Showcasing a 24.2MP APS-C CMOS sensor, a 45-point cross-type AF system and a DIGIC 6 processor, the Canon EOS 80D is a solid enthusiast-level camera. When recording video or utilizing live view, the Dual Pixel CMOS AF is smooth, fast and reliable. The 80D camera can record 1080/60p video, has microphone and headphone sockets and Wi-Fi built in. Photos can be captured on a flip out and rotate 3-inch touchscreen LCD.
Probably the best part about the Canon EOS 80D is that it is effortless to use. It is capable of handling both still image and video capture, although image quality does lag behind compared to competitors. This camera is not recommended for action and sports shooting, as it would require more reliable subject tracking capabilities.
Drawbacks:
No 4K video support
Single SD card slot
Does not include a PC sync connection
Subject tracking when shooting through viewfinder gets easily confused
UNDER $600
Quality = 72%
Affordability = 94%
Why I Like It:
Fast AF system
Fantastic touchscreen
Built-in Wi-Fi
Articulating screen
1920 x 1080 max video resolution
Face detection focusing
12,800 maximum ISO
Review:
The Canon EOS Rebel T6i showcases an excellent 24.2MP APS-C CMOS sensor and is paired with a 7560 pixel RGB + IR metering sensor for more precise metering.
When the mirror is in the down position, the Rebel T6i utilizes a 19-point phase detection autofocus, which is quite an improvement from the 9-point AF system contained within the T5i.
The ISO has a range of 100-12800 and is expandable up to 25600.
Another major plus for this camera is the Wi-Fi with active NFC. With this, the camera can be remotely controlled from your smartphone and images can be easily transferred to your phone.
Although not terribly inexpensive, the T6i is an affordable DSLR camera with a solid reputation, when taking into account the Rebel predecessors.
If you do not require advanced functions, this camera is worth a good look.
Drawbacks:
Lacks image stabilization
The low battery life of only 440 shots
No autofocus micro-adjustment
Narrower AE Bracketing Range
No environmental sealing
UNDER $500
Quality = 70%
Affordability = 95%
Why I Like It:
Low retail price
Excellent burst mode
Kit lens has been reduced in size
Impressive detail captured in high-res
Review:
For an entry-level DSLR camera, the Nikon D3500 does hold its own. This little guy features a unique collapsible 18-55mm F3.5-5.6 VR II lens.
Although this camera may not have 4K video or serve up a curved LCD screen, it is part of Nikon's popular beginner DSLR line.
Even though it is situated at the bottom of the class, the D3500 does utilize a powerful 24MP APS-C sensor which yields outstanding image results.
You will have to compromise a little and settle for a fixed 3.0″ LCD and no built-in WiFi.
Also, this camera utilizes 1080/60p HD video, 5 fps continuous shooting, and a 700 shot battery life. The D3500 is available in black, grey, and red variations and has an affordable price compared to other pricier models.
The simplicity of use is another major selling point for this model for the more casual photographer.
UNDER 1,297
Why I Like It:
Great Battery Life.
In-Body Image Stabilization.
Fully Articulating Touch Screen.
High FPS Photos.
Review:
Last but not the least, this is one of the best cameras on this list. This camera does a very good job specifically when you want to take a 4K footage without requiring the whole rig.
This camera is one of the newer products on the market that have upended the $3K market price range of DSLRs and Video Cameras.
The biggest highlight however about this camera is the fact that it supports internal 10-bit 4K Recording.
This allows the users to be able to record to 4K frames without having to need an external recorder.
A lot of DSLR cameras have such requirements.
This camera goes a mile when it comes to proving that this is different than the other kinds of DSLR cameras.
Cameras coming with 4K capability are not the requirements of today, however. If you get a camera that shoots at FHD+ or 2K resolution, you are going to be fine.
But since technology evolves very fast, sooner or later, the 4K cameras will become the future of DSLR cameras for Videography.
This is why choosing this camera is a good choice as this camera is not going to get old anytime soon.
The results of this camera give a tough fight to the A7 III for its place on this list.
They are compared because they both came to the market in a period of a year and the price tag on both of them is nearly similar.
As a matter of fact, these both cameras are pretty good at offering high-quality results!
Considering all the things, this camera is a pretty good choice!
Why Use DSLRs for Video and Vlogging?

In recent years, professional photographers have seen an increased demand for video from their clients. Whether it is a promotional piece for YouTube or a training or sales video, creating a video is an excellent way to increase your workload.
This begs the question: is DSLR capable of producing quality video projects?
Although you will have to eventually invest in video-related accessories, with DSLR, you can get into video production with a modest initial investment.
First and foremost, you will need to determine if DSLR is the appropriate tool for your prospective video project.
On a general basis, if you are shooting numerous people moving around (as in a wedding scene), DSLR may not be your best option for a camera.
The reason is that the autofocus function on most DSLRs is choppy, slow, jerky, and noisy. Camcorders are a great option for that.
Additional features to consider with DSLR is that they do not come equipped with power zoom functions, and are therefore difficult to use when shooting footage that requires numerous in and out zooms.
It is also important to keep in mind; you get a sing clip recording time of 30 minutes or less with a DSLR.
As a result, DSLR is not ideal if you need to shoot longer video clips of well over half an hour.
For the reasons mentioned above, DSLR shines best when shooting static scenes where the subject's focal plane does not change a significant amount.
DSLR is also ideal when quick panning movements with the camera are not required and the subjects being clearly separated from the background is the desired outcome.
The next order of business when shooting video with your DSLR camera is to settle on a frame size and frame rate which will net the best results.
Many individuals prefer a 1920 x 1080 frame size which is taken at either 24 fps or 30 fps. These settings should provide you with a highly detailed video that can adequately be displayed on a large monitor.
If you plan on incorporating a significant amount of camera movement or spontaneous motion into your production, the 30 fps setting will provide a smoother look than when shooting at 24 fps.
Of course, you can amp that up to 60 fps at 1920 x 1080 (if the camera has this setting) for even better quality, but keep in mind you will need more memory cards and editing time will also increase substantially due to the much larger file size.
Another important aspect to consider when shooting DSLR video is to match shutter speed with the frame rate.
As a guideline, you can utilize a shutter speed of 1/50th if shooting at 24 fps, 1/60th for 30 fps, or 1/125th when shooting video at 60 fps.
Shutter speed can also be used for creating special effects that can be used to artistically enhance your project.
As an example, your video becomes more blurred and dreamy when shooting at slower shutter speed and sharper and more choppy at high shutter speed.
You can also move the camera to enhance these effects while shooting at these shutter speeds.
As we have seen, DSLR video excels where certain cinematic conditions are met.
If you are looking to create a short clip where camera motion is limited, DSLR can provide a crisp and detailed result.
And since DSLRs accept interchangeable lenses, you have the tools at your disposal for creating a compelling product.
Frequently Asked Questions!
Conclusion!
When looking into purchasing the best DSLR video cameras, there are many options to consider.
Now, having variety is a great thing, but with this much variety, a person is bound to get perplexed.
To help you prevent your mind from spinning and ultimately end up choosing the wrong product, we bring forth some of the best options that are available for you to consider.
However, to be able to choose the best DSLR camera for Video recording, there are certain factors you will have to know about.
If you are not aware of these highlighted factors, you might not be able to make the right choice since you won't know about things that will allow you to make a good decision.
As with anything, spending the big bucks will land you a full-featured camera with advanced functions.
It is essential to first think about your needs as a creator and then go from there.
This is an exciting time for video creators as new technological advancements offer up capabilities that were but a dream in days gone by.
Keeping up with the latest innovations is essential in making an appropriate purchasing decision.
Thanks for reading and leave below any questions or comments on the best DSLR for the video!