Want to get your music out there?
One of the best ways to do that is by making high-quality music videos.
At A Glance:

Our Top Cameras for Music Videos
In order to get film really good music videos, investing in a best music video camera is an absolute essential.
There are so many cameras available on the market and making an informed decision can be quite difficult, if you don't know what you are doing, you can easily buy a wrong camera.
We have reviewed 5 best cameras for music videos along with their pros and cons to help you to make an easy choice.
What Is Really Needed for Music Video

Criteria for buying a music camera is much different than for a vlogging camera or a live streaming camera
It may sound rather odd, however, to shoot a great music video, you don't really need to get good audio.
Usually, for a music video, the audio is added much later during the process of editing and it is synced during the post-production.
So, while buying your music video camera, apart from your budget, you should consider other aspects of the camera such as:
Image quality
Refined AF system
Greater focus accuracy
Compatibility with lenses
5 Best Cameras for Music Videos in [year]
Note:
Cameras on this list are meant for beginners, new artists and people who don't want to spend enormous amount of money on pro equipment.
But they will provide Full HD quality and features that are needed for a good music video production.
WINNER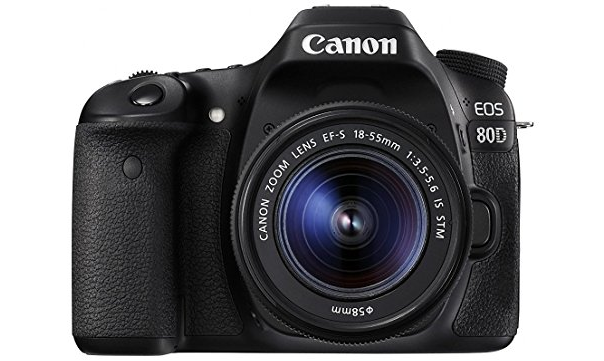 Quality = 90%
Affordability = 80%
Why I Like It:
Has a long battery life that lasts for around 960 shots.
Camera offers HDR and time lapse recording.
Offers both WiFi and NFC connectivity.
Features a mic port and external headphones.
Review:
The EOS 80D camera from Canon is our overall choice for best camera for shooting music videos.
Auto Focus: The camera features an upgraded AF system that offers better focus, especially when you're shooting fast-moving videos. The AF is extremely precise and allows you to shoot in any type of light conditions.
Viewfinder: The 80D features an Intelligent Viewfinder that gives 100% coverage which provides an extremely comprehensive and clear view, which allows you to compose your frame very easily.
Sensor: The 24.2-megapixel (APS-C) CMOS sensor of the camera allows you to capture high-res images (which is why it's #1 camera for makeup artists)
Transfer Files: The camera has an inbuilt WiFi2 connectivity, which enables you to operate the exposure settings by making use of a smartphone2 via the Cannon Camera Connect app.
LCD: The 80D is equipped with a 3-inch Vari-angle Touchscreen LCD of the camera allows you to shoot stills and videos from a variety of angles.
The camera also has other high-end features for movie making such as digital zooming, volume recording control, headphone terminal, etc.
The camera comes with 7 creative filters for Live View shooting and 5 filters for shooting videos.
The camera's Anti-flicker Shooting function helps to get clear visuals in dim light and flickering light conditions.
Music Video Example:
Features:
Camera Type: DSLR
Intelligent Viewfinder with 100 percent viewfinder coverage
All-cross-type, 45-point AF system
3-inch vari-angle Touchscreen LCD (with 270° vertical rotation and 175° of horizontal rotation) with a smudge-resistant coating
24.2MPS (APS-C) CMOS sensor
DIGIC 6 Image Processor
DR modes
Wireless connectivity
Anti-flicker Shooting function
Mechanical shutter system
Shutter Rating: 100,000 exposures
Shooting Speed: Up to around 7.0 fps
Full HD 60p videos
Time-Lapse Movie
ISO speed of up to 16,000 for still photography and 12,800 for videos
4 selection modes for AF area
Inbuilt WiFi2 connectivity and NFC
Digital zooming, volume recording control and headphone terminal
The Verdict:
The wide range of features of the Canon 80D makes it an overall best music video recording camera. It's also an great DSLR for music videos.
ACTION
Quality = 88%
Affordability = 93%
Why I Like It:
Rugged, waterproof and durable
Easy to operate
Lightweight and portable
Stabilized video and crystal-clear audio
Under $300
Review:
If you're looking for a small and sleek camera to shoot your music videos, then you can definitely consider the GoPro Hero 5.
Don't be fooled by its small size, the Hero 5 packs an impressive punch.
You can shoot excellent 4K videos and 12 MP photographs in various modes: single, time-lapse and burst mode.
Transfer Files: The QuikStories feature of the camera sends the footage to your phone automatically, where it gets transformed by the app into a fantastically edited video.
Body: The camera has a rugged design and is waterproof up to 10 meters (33 feet) and does not require an external protective case.
Display: The camera features a 2" touch display and you can preview your shots, play them back, trim your footage, modify settings on your Hero 5 camera.
Voice Control: Now, you can also control your camera handsfree by using the simple voice commands and with just a press of the shutter button you can switch on your camera and start the recording.
Mountable: It comes along with a bracket for mounting and you can mount it very easily to any kind of flat surface or your helmet without the need for any extra accessories.
Stabilization: The video stabilization of the camera allows you to shoot smooth videos whether you mount the camera or shoot with it in the handheld mode.
Now, you can get the perfect balance of convenience and performance thanks to the Hero 5's 4K video, touch display, voice control and waterproof design.
Music Video Example
Features:
Camera Type: Action
12 Megapixel photos and 4K videos in single, time-lapse and burst modes
Time-Lapse Intervals: 0.6 to 60 seconds
Durable design
Waterproof up to 10 m (33ft) without an external case
2-inch touchscreen display
QuikStories enabled
Voice control, handsfree operation
One-button control
Charger not included along with the camera
Drawbacks:
Charger not included.
Battery life is not very great.
The Verdic:
And, if you want a compact and conveniently packaged camera at quite an affordable price, then the GoPro Hero 5 is a fantastic action camera to buy. It's also good camera for filming sports.
UNDER $600
Quality = 84%
Affordability = 89%
Why I Like It:
The Vari-angle display allows you to shoot from just about any position you want.
Produces high-quality images.
Exciting features and inbuilt effects allows you to be extremely creative.
Excellent performance, even in low-light conditions.
Affordably priced when compared to other cameras in the category.
Review:
With the ultra-high resolution of the camera and the Vari-angle display which swivels to practically any position, it allows you to shoot from any perspective you want.
The inbuilt HDR allows you to get great shots of things which have both very dark and bright areas.
The camera offers exciting features that allow you to be very creative such as the black and white mode, ability to isolate a single color, posterizing, miniaturizing, etc.
Details: The Nikon D5200 camera is equipped with a 24.1 Megapixels lens with a CMOS sensor that offers stunning images with vibrant colors and extremely sharp detailing.
Low Light: The performance is enhanced further by the ISO 100 to 6,400, which can be expanded to 25,600 if needed offering the versatility to capture excellent videos and photos even in low-light conditions.
Transfer Files: The Nikon D5200 gives you the option of adding a WU-1a wireless mobile adapter that allows you to transfer your images or videos via WiFi to your smart device and upload it on your social networks.
Movie Mode: The D-Movie mode of the camera is equipped with full-HD 1080p 60i that delivers smoother videos and both the AFs, subject-tracking and full-time servo work together and keep moving objects in focus and sharp.
Auto Focus: The face-priority AF can detect and track up to even 35 faces in a particular scene.
Microphone: The Nikon D5200 has an inbuilt stereo microphone, which can be controlled automatically or manually.
Music Video Example:
Features:
Camera Type: DSLR
24.1 Megapixels lens with a CMOS sensor
3-inch Vari-angle LCD screen
Intelligent Scene Recognition System
39-point dynamic area AF system along with 3D tracking
Full-time, contrast-detecting AF
5 fps continuous shooting
1080, 30 fps continuous video
ISO 100-6,400 (can be expanded to 25,600)
EXPEED 3 processing
WiFi and GPS compatible
Inbuilt HDR
Drawbacks:
The speed of the camera is on the lower side at around 5 fps i.e. it captures only 5 frames/ second, which is quite slow.
Poor battery life.
The Verdict:
Overall, the Nikon D5200 is an excellent camera whether you're shooting cinema-style films, peppy music videos or short clips, the camera is sure to take your work to the next level at an extremely "easy-on-the-pocket" price.
CHEAP
Quality = 84%
Affordability = 90%
Why I Like It:
Affordable price
Rugged and durable design
High-resolution images
Super compact and lightweight
Hybrid AF that offers excellent image quality
Review:
If you want a high-quality camera to shoot your music video, you can get one at quite an affordable price tag without breaking your bank.
This premium, high-quality mirrorless camera has a superfast recording speed of 11 fps. It's also amazing camera for photography and instagram, so you can use it for your social media.
The speed along with the autofocus tracking enables you to get excellent video and photo capture even when the subject is moving very fast.
Not to mention, the camera is extremely easy to use, compact and portable too.
The Alpha a6000 offers excellent detail and enlargements, thanks to the 24.3MP APS-C image sensor and the BIONZ X image processing feature ensures high-quality, realistic and true to life images with greater detail, richer tonal gradations and lower noise.
You can control the camera with your smart device via the PlayMemories Camera app and the images can be directly taken by the mobile device, edited and uploaded.
The BIONZ X processor and Exmos CMOS sensor enable you to get greater detail even in low light in the ISO range 100-25,000.
And, despite its small size, you can get complete control of the camera and access to its various functions.
The 2 dials located at the top and the control wheel allows you to select the camera settings and shooting modes very easily. And, apart from the "Fn button", the camera has 7 buttons that are customizable and you can assign 474 functions to these buttons.
You can shoot videos in full HD in 1080p, 24p or 60p or 60i frames. The OLED viewfinder offers a wide viewing angle, 100% frame coverage and improves visibility dramatically.
The camera features a 3-inch Xtra fine LCD display, which allows you to photograph from various angles.
The WhiteMagic technology increases the visibility of the images in bright daylight dramatically and the large display gives excellent images and videos.
Music Video Example:
Features:
Camera Type: Mirrorless
Recording Speed: 11 fps
24.3MP APS-C image sensor
BIONZ X image processor
ISO 100-25600
Inbuilt WiFi and NFC
3-inch Xtrafine LCD display
WhiteMagic technology
Compatible with Sony E Mount lenses
OLED electronic viewfinder with 14 million dots and 100% coverage
Drawbacks:
When used continuously, for maybe around 1-2 hours, it can get overheated.
The Verdict:
The Alpha a6000 camera is super compact and lightweight, almost half the weight and size of a regular DSLR and the interchangeable lenses of the Alpha a6000 makes it more versatile compared to any other camera in the market. This mirrorless camera is fantastic for everyday use and its excellent autofocus, great detail, vibrant color and picture clarity makes it one of the best cheap music video cameras.
PRO
Quality = 92%
Affordability = 73%
Why I Like It:
Professional HD quality.
3.5" touchscreen allows you to navigate easily through the various menus.
Portable and easy to carry anywhere you go.
Review:
The Canon VIXIA HF G30 is a huge jump in terms of the price compared to the other models on our list but it is worth it.
This is a professional YouTube camcorder and with this one, it's not just the superior quality, but a plethora of professional-grade features.
The camera is equipped with a 20x HD video lens and an 8-blade circular aperture that offers excellent HD video quality and a beautifully blurred background.
The Super-Range Optical Image Stabilization ensures that any camera shake is rectified immediately and the subjects are blur-free.
And, the HD CMOS Image Sensor works along with the DIGIC DV 4 Image Processor to get a large dynamic range and it also helps to reduce the noise.
The DIGI Processor also allows you to record in the AVCHD format (up to 28 Mpbs) and in the MP4 format (up to 35 Mpbs). It also offers slow and fast speed recording in the MP4 format.
The camera has inbuilt WiFi that allows you to share your music video files, send them to your PC or upload it to your social network channels via your smart devices.
The camera has a 3.5" OLED touch display panel that allows you to control the camcorder very easily.
The electronic viewfinder can be tilted up to 45o and the joystick allows you to adjust the focus, which allows you to capture the perfect picture with just the amount of depth that you're looking for.
The camera features the Grid Maker that allows you to compose your shots precisely and the Audio Scene Select feature offers 5 modes that adjust the settings depending on the recording situation.
It comes with a rechargeable lithium-ion battery that allows you to shoot for longer periods of time and also alerts you about the battery life remaining.
You can choose from 9 inbuilt adjustable filters that can give you various cinematic looks to your videos.
Features:
Camera Type: Camcorder
20x HD video lens
8-blade circular aperture
Manual focus ring
Optical image stabilization
DIGIC DV 4 Image Processor
Recording in AVCHD format (up to 28Mpbs) and in the MP4 format (up to 35Mpbs)
24p Progressive Mode (24 fps)
Fast- and slow-motion recording (40% slower or 250% faster speed)
3.5" OLED touch display panel
Focus Assist
Cinema-look filters
Inbuilt dual-band WiFi
Dual SD Memory Card Slots
Comes with a rechargeable lithium-ion battery
Drawbacks:
Quite expensive.
No internal storage.
The Verdict:
The versatility of the camera, the features, flexibility in image quality, display options, speedy and easy operation, all of these make Canon VIXIA HF G30 best camcorder for music videos.
Music Video Camera Buying Guide:
When you are buying a camera to shoot your music videos, your decision of the best camera should be based on your requirements, skill level, plans for the future and budget.
Apart from this, a few other factors to consider before buying a camera are:
FPS (Frames Per Second):
Choose a camera with a high FPS, as higher the FPS, the greater the details of the video.
For commercial content such as music videos, it is a good idea to use a camera that supports at least 30 FPS+.
Auto Focus (AF):
AF is an excellent and extremely handy feature that saves a lot of time.
However, if you want to get the highest image quality, then it is a good idea to choose a camera that has manual controls in addition to AF.
ISO Rating:
Opt for a camera that has an expandable ISO rating as this allows you to upgrade if you want to record in low-light conditions.
Conclusion!
Buying a camera to shoot your music video can be a challenging decision, especially with the variety of cameras, models and brands available.
We hope that our review will help you make the choice of buying the best camera for music video much easier and that it will help you go viral on YouTube!
If you have any questions, hit me up down in the comments.
Thanks for reading! 🙂