Although a DSLR or a mirrorless camera might seem to be the default choice for YouTubers and vloggers, you would be surprised how many of them use a point-and-shoot camera for video.
At A Glance:

Our Top 7 Best Point and Shoot Cameras for Video
And to your surprise, Cutiepiemarzia, one of the most popular YouTubers out there, ended up switching from an advanced DSLR to a point and shoot, as she found the former too bulky and uncomfortable to use and carry around.
A large number of vloggers go for a compact camera when starting, given its advantages:
3 Advantages of a Point and Shoot for Video

In contrast to what we said above, let us also make it clear:
A point-and-shoot camera isn't the absolute best choice for video or vlogging.
Generally speaking, most people looking to vlog or record videos would be much better off with a DSLR or a good mirrorless camera.
But:
For many users, a point and shoot may be a great camera for YouTube filming.
And this is because of these three biggest advantages it offers over them:
Advantage #1
Advantage #2
Advantage #3
The Price:
While a good vlogging DSLR often costs a bomb, a mirrorless doesn't come cheap either.
And that's where a point-and-shoot camera comes in.
A good point and shoot with features and functionality are affordable.
The Size:
Many users choose a point and shoot for its compact size.
Needless to say, a bulky DSLR or even the relatively compact mirrorless can sometimes be too much to carry around, especially when traveling.
Point and Shoots are made to be extremely compact.
Many of them even fit into your pocket easily, making them the best small cameras for video.
Beginner Friendly:
If you're someone new to cameras or photography/videography in general, a DSLR can be very overwhelming.
While you may get used to it over time, you may not enjoy using it the way you would like using a point and shoot.
This is because even the most functional of point and shoots come with surprisingly simple controls and user interface, and make it much easier to shoot professional-quality videos.
In general, a point and shoot would turn out to be an ideal option for beginners, bloggers, and pretty much everyone on a budget.
List of Features to Focus On:
There are some important features to keep in mind when choosing the best compact camera for video or vlogging.
Let's take a quick look at them below:
Autofocus System.
Video Recording and Image Quality.
Low Light Performance.
Ease of Use.
Are Manual Controls Available?
What are the different shooting modes, continuous shooting?
Maximum aperture.
Responsiveness and shockproof.
Long zoom, zoom lens.
Flip Screen.
Battery Life.
Top 11 Compact Cameras for Video and Vlogging:
So now without further ado, let's cut right to the chase by reviewing the best compact cameras for video on the market.
WINNER
1.

Sony RX100 Mark V:

Best Point and Shoot for Video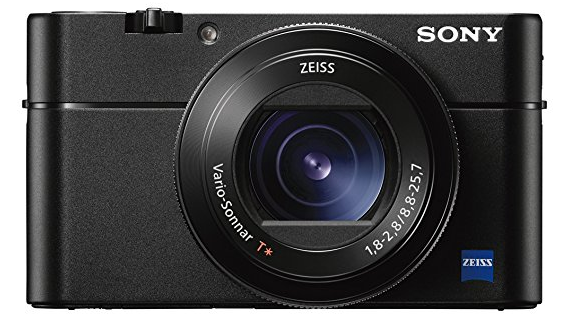 Quality = 93%
Affordability = 80%
Why I Like It:
Amazingly fast hybrid Autofocus that allows you to set the focus as fast as in just 0.05 seconds.
The AF system is surprisingly accurate as well, with as many as 315 Auto Focus points.
Extremely fast video recording with 24fps burst shooting.
4K video recording with no real limitations – you would have no loss of details or colors whatsoever.
Super slow-motion video mode – allows up to 960 fps shooting.
Used By YouTubers: Will Smith, Casey Holmes, and ChrisMD.
Review:
The Sony RX100 Mark V is one of the most popular points and shoots cameras for videos and vlogging for a reason. (It's also our favorite Sony vlogging camera)
It's an advanced video and vlogging machine packed into a super-compact body.
And that's precisely what makes it a great option for anyone that wants to record videos when traveling or on the go.
You would easily be able to produce professional-quality video content without carrying around bulky equipment.
When we say professional quality, we really mean it. The kind of video quality the RX100 Mark V offers as an extremely compact point-and-shoot camera would totally blow you away.
Now, while we covered the more technical features above, there's actually a lot more than this little beast brings to the table.
One of the things most videographers and vloggers would really love is full manual controls. Ranging from the aperture to the ISO or even the ND filter, there's pretty much nothing that you can't control according to your needs.
As a particular (vlogger) customer mentioned in their review, these features make the RX100 Mark V the best point-and-shoot camera for vlogging (or for recording videos in general for that matter).
The advanced 4K recording is far better than what you would expect from a point and shoot, allowing you to shoot at up to 30p 100mbps.
The 4K videos come out amazingly sharp, and the richness of colors and details is very real.
Even in 1080p, the quality is extremely clear with no distortion of any sort.
Further, you would also be able to shoot S-log, which is very hard to come by when going for a point-and-shoot camera.
Finally, the only major issues with this otherwise better-than-expected point and shoot camera is the disappointingly poor battery life when shooting in the super slow-motion mode, the complicated menu system (it can take a while to customize it to your liking and get used to it) and the camera is so compact that it can sometimes be hard to hold, especially when shooting for a long time.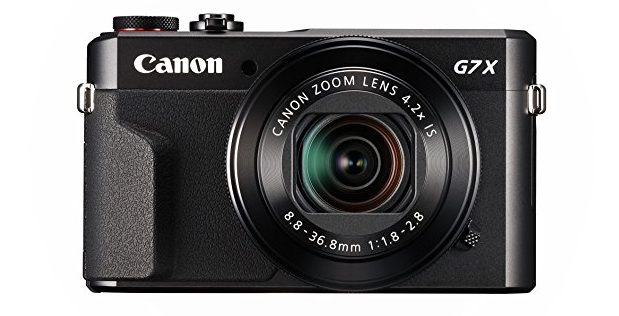 Quality = 89%
Affordability = 83%
Why I Like It:
The great quality lens delivers extremely sharp video content.
The autofocus is very accurate and fast.
The low-light shooting is incredibly good.
The super responsive touchscreen would take a lot of effort out of your usual recording.
It's very lightweight, portable, and easy to use for beginners.
Used By YouTubers: RomanAtwood, Dom Tracy, and Alex Wassabi.
Review:
This point and shoot camera are very similar to the Sony RX100 Mark V in the sense that it too is pretty much a complete videography or vlogging package, without the need for any expensive equipment to get professional quality results.
In fact, the G7 X Mark II is probably as close to a DSLR as a point and shoot can get.
It doesn't have the 4K recording, but that's probably the only not-so-DSLR thing about it.
Its f1.8 aperture is unexpectedly good and produces surprisingly sharp video content at 24MM.
The autofocus is just as good, and there's absolutely no lag whatsoever at most settings.
Sure, it can take a second to adjust itself properly during the night or when shooting in low light conditions, but it's still pretty accurate most of the time.
Talking about shooting in low light, it's hard to beat the G7 X Mark II on this front.
A customer that does a lot of YouTube videos said how they felt both absurd and surprised at the same time when they analyzed the low light shooting ability of the G7 X Mark II.
They said that even when shooting in a room that was almost pitch black, it managed to produce a video where it looked like the room was almost fully lit.
This is how good this camera is when shooting in low-light conditions.
If you're someone that's into vlogging or videos and tend to record most of your stuff in low light or during the night, don't waste another second and just go for the G7 X Mark II!
Another great feature for vloggers is the excellent touchscreen, which you don't get with the relatively expensive RX100 Mark V.
The touchscreen is very responsive, and you would be able to find or adjust pretty much everything you need to right from the screen itself.
Don't take the screen's ability to tilt lightly either – you will likely find yourself using it more often than you may think.
It also comes with lots of presets, making it easier for beginners to record a quality of content that's easily comparable to what the pros do using manual settings.
The G7 X Mark II is also incredibly lightweight and portable, yet packs a lot of punch in its compact but ergonomically well-designed body.
What Can be Improved:
You can find some noise when going beyond 1600 ISO.
The bokeh can get tricky when you're trying to blur out things that are very close to your subject.
The battery life could be much better.
No 4K recording, although this doesn't seem to affect the camera's ability to record great video content in any way.
Quality =86%
Affordability =84%
Why I Like It:
The fast, versatile f1.4 lens, coupled with solid image stabilization, helps ensures that every video you shoot with the LX10 comes out .great and without any distortion issues.
Responsive touchscreen that's easy to use to set the focus properly.
4K recording.
Great low light performance.
Flip-up screen.
Great audio quality even when shooting outdoor, especially if you get a windshield.
Review:
First things first, this point and shoot may not turn out to be a great option in general for vloggers and videographers, but if you can live with a couple of major flaws, then it may very well offer a better value than even the other two point and shoot cameras we discussed above.
One of the best things about it is the fast lens that can record great videos at a low ISO and smaller aperture.
But the fast lens isn't accompanied by any distortion or other similar issues, thanks to an excellent image stabilization system.
Another great thing is that two important features that are not available in some of the considerably pricier point and shoot options are included in the Lumix LX10: Touchscreen to focus and the 4K video recording.
The LX10's f1.4 lens is fast and works great in low-light conditions. It's versatile enough to deliver an impressive performance both indoor and outdoor, even in conditions where the natural light is on the lower side.
This kind of versatility is what allows the LX10 to be the preferred camera for many vloggers, who tend to shoot a diverse set of videos. That is if you can somehow learn to adjust to a couple of issues.
The biggest issue is the relatively poor autofocus system. Most users using the camera right out of the box find the AF system unimpressive.
However, that's because they use it right out of the box. With some tweaks to the settings based on your preferences, the AF system would improve to a great extent – perhaps still not be like what you get with the other cameras we reviewed above – but decent enough to help you shoot high-quality videos without much of a problem.
That said, a department in which the LX10 easily beats most of the top options is overheating. While even the best point-and-shoot cameras for videos experience overheating even shooting at 1080p or 4K, the LX10 can continuously shoot in rounds of 15 minutes without any overheating issues whatsoever.
What Can be Improved:
Poor autofocus system, but can be improved with some changes to the settings.
Not as compact as some of the other options, and there's no tilt-down screen – can be hard to hold at times.
ZOOM
Quality = 78%
Affordability = 88%
Why I Like It:
Large zoom range and no quality issues when shooting videos with zoom.
The videos come out great in 1080p quality at 60fps.
The colors and details in the videos are vivid and without any distortion.
The lens is really wide and comparable to the type you get with a DSLR.
The autofocus is fast and very functional.
Very easy to use with great automatic settings.
Review:
Let us tell you right off the bat that the DMC-FZ270 is only a perfect choice for you if you're a travel or adventure vlogger that needs to use the zoom frequently when shooting your videos. And that's simply because the zoom is what this point and shoot are pretty much all about.
The zoom is really large at 60x and will allow you to go further than you probably ever have with any camera, but without compromising on the quality of your videos. Yes, the videos come out surprisingly good even when you use the zoom to the fullest when shooting them. It allows you to shoot in full HD 1080p quality at an impressive 60fps.
The colors look vivid and the details are not blurred or distorted even in zoomed-in videos, and the overall performance is fairly good for the price.
The lens has 20mm wide angles and that would allow you to catch considerably more details than with most other point-and-shoot cameras. This is a feature that you usually only get with decent DSLRs, so it's definitely something worth considering especially if you think it would be useful for you.
The fast autofocus and the integrated EVF make the FZ270 a pretty neat videography system without having to spend too much on extra equipment.
Sure, you can do with a monopod to ensure the required stabilization when shooting videos with the zoom, but that's about it.
However, one of the best things about it is that despite the cheap price and no major compromise on the video quality, it's very beginner-friendly. The controls are easy and adjusting the settings to match your preferences would be a breeze.
What's more, if you don't want to mess with the settings, the automatic settings would have you covered while still getting great results.
What Can Be Improved:
Many better options if you don't need the zoom in your videos
Low light performance is disappointing [/su_expand]
CHEAP TRAVEL CAMERA
Quality = 76%
Affordability = 90%
Why I Like It:
Easy connectivity for transferring media
Speedy continuous recording
Great ergonomics
Accurate AF system in low light conditions
Review:
This is another great little point-and-shoot that packs a lot of power in a small body. However, it's also much cheaper than the other options we reviewed above.
And this is what makes it a great choice for beginners, especially the ones that are looking for something to accompany them while traveling.
The G9 X Mark II's compact size, responsive touchscreen, decent low light performance, and overall impressive video quality at 1080/60p make it a pretty good option for travel vloggers at this price point.
The controls are very easy and even a beginner would have no problem using the camera within a couple of hours. The large 1.0-inch sensor is definitely pretty impressive in this price range.
What can be improved:
It doesn't come with a viewfinder
The battery life isn't very good for a travel camera
It doesn't support 4K recording – it shouldn't be a surprise at this price point though
BUDGET
Quality = 73%
Affordability = 94%
Why I Like It:
Functional electronic viewfinder
Decent low light performance
Compact and lightweight pocket camera
Great zoom range with little to no blurriness issues; great quality images
Very easy and quick to connect with your smartphone or iPhone
Great video stabilization and an impressively accurate focus system
Review:
One of the things we really liked about this point and shoot is that despite being priced at the lower end of the price range for point and shoot cameras that work well for videos, it comes with some great features that you would otherwise only find in some of the much more expensive points and shoot cameras.
These include an electronic viewfinder that's surprisingly functional for the price, above-average low light performance, great zoom range, and seamless, easy connectivity with other devices, especially your smartphone.
A great plus is that it comes with a flip screen, another rare feature to find in this price range. Also, despite its small sensor, videos shot in low light come out great, with little to no noise or blur.
This is something worth noting especially given that the blurriness is of an acceptable level even when you're shooting a video in fully-zoomed mode. If you stick to a lower zoom range, you would be surprised how detailed and clear your videos turn out to be.
Finally, the 5-axis stabilization is an excellent feature for shooting professional-quality videos that look high-end production, which the DSCHX90V/B certainly does. A particular customer mentioned how they were shooting a video with fast-changing subjects and had also zoomed in, and yet this point and shoot managed to take a great video with no shakiness issues. Further, it also didn't keep performing an annoying focus search which many other point-and-shoot cameras do in this price range.
What can be improved:
Slow focus
The lens is of a considerably poorer quality compared to the other cameras we reviewed in this post
CHEAPEST
Quality = 70%
Affordability = 98%
Why I Like It:
40x zoom – good luck finding another point and shoot in this price range that can beat this zoom range!
Very easy to use with beginner-friendly menus
Large, responsive LCD screen
Good battery life
Review:
This is the cheapest option on our list, but a great one all the same for anyone on a budget.
Sure, it isn't exactly comparable to the best 2 or 3 options we have here on our list, but if you're just starting and need a point and shoot camera that's both simple to use and produces high-quality video content without a lot of fuss, then this is it.
Now, the videos shot using the SX720 would have a small amount of noise if you use the zoom, but that's perhaps the only thing you won't like about the video quality.
The video quality is otherwise excellent without zoom, and the image stabilization works great.
This also means that you would be able to record great quality videos without getting a tripod or any other equipment, which would truly allow you to get started on a tight budget without having to make any major compromises concerning the quality of your content.
You would also get full manual controls, something we would usually not expect at this price point.
Being able to have everything your way is a great thing when vlogging or making video content.
Overall it's a great camera for under $300.
Review:
If you want a long-range and if you want features such as autofocus and video, then this is the best option.
This product happens to be the fifth installment of its series and this is the fifth retro-styled compact camera designed by the company.
Just like its predecessors, this camera features a hybrid optical/electronic viewfinder, an SLR-sized image sensor, and a wide aperture prime lens.
This camera does have some valuable upgrades over the earlier versions, however.
From a long list of features, this camera comes with improvised optics, a superior viewfinder, weather protection, and a tilting LCD.
Considering this long list of features, this camera can be considered one of the best and a huge upgrade over the earlier versions of this camera.
This camera follows the same design pattern as the previous models of this design.
The looks of this camera are rather basic and look the same. This camera comes in two different colors, those being Black and silver.
The viewfinder of this camera is placed in the camera.
The camera is placed at the best location as it offers you the optimal place to opt between the optical or through-the-lens electronic view.
The lends of this camera is a fixed prime and offers a wide-angle view to some extent.
This camera also comes with dust and splash protection, making this the best option on the list.
Features:
Features a better lens.
Equipped with Dust and Splash Protection.
The LCD of this Point and Shoot Camera can be tilted.
Drawbacks:
This camera does not include optical and in-body stabilization.
Review:
If you are looking for cameras that are really fast and responsive and pack more power in smaller sizes at a smaller price, this is the best option on the list.
Before now, we have only seen 1-inch sensors in premium cameras. However, this camera breaks the tradition as it comes with a 1-inch image sensor.
This sensor size, when compared to an average point and shoot camera, happens to cover four times more surface area. Due to this, this camera can offer some solid stills.
This camera does a decent job when it comes to outdoor shoots, but where this camera really takes the lead is the low-light photography.
This camera offers the best picture quality in dim lights, making this one of the best options for indoor photography.
Since the sensor of this camera is a huge upgrade considering the size of this camera and considering the price tag, this camera offers some excellent photo results.
Other than the picture quality of this camera, this camera also features a rather unique small look than other cameras.
This camera also includes a big touch LCD screen to let the photographers pay attention to all the details.
Features:
Offers excellent pictures.
Comes with a Touch LCD.
Comes with a 1-inch Image Sensor.
Drawbacks:
Do not shoot videos on 60 FPS.
Review:
For people that like to take underwater shots, this is the perfect option! Considering the functionality and the design of this camera, this happens to be one of the sturdiest options on the list.
The manufacturer of this camera has been improving over time and has taken the lead over the other competitors in this niche.
This camera comes with a compact design which allows the users to be able to fit this camera within their pockets.
With the compact design, this camera also features an innovative lens that makes it a great choice for low-light photography.
This feature comes in handy when it comes to taking this camera for a swim!
This camera comes in two different color options, those being black and red.
Around the lenses of this camera, the manufacturer has added an accessory ring.
For people that want a wider angle on this camera, they will have to purchase flash accessories.
These accessories redirect the light around the lens and fill the shadows close by so the camera can offer more detailed and beautiful close-up shots.
Features:
Features a sturdy design.
A Waterproof option.
Comes with a Wide Aperture Lens.
Drawbacks:
Does not include a touch screen.
Review:
Last but not the least, this camera is one of the best options on the list and happens to be a massive upgrade over the other options but sits at a higher price tag.
This camera is a top-of-the-line product of the manufacturer and the price tag of this camera screams it out. Coming at a price tag of $1300, This camera comes with a lens that has 8x zoom.
This camera also comes with an autofocus feature that makes this one of the best options on the list.
Considering the price tag and the features, this is one of the most premium options on the list.
This camera is known for offering strong zoom power and sports a lens that fits a full-frame 24-200mm in terms of coverage.
This camera has a longer range than most cameras, but this camera is not good when it comes to shooting in bright scenarios as it is only able to pick up half the light.
However, this camera is definitely not the lightest or the compact camera on the market, but still sports a design that makes it easy for the users to easily fit it into their pockets.
The added complex optics and a sturdy construction explain the added weight.
The body of this camera has been made more from metal than plastic which makes holding it a lot difficult for the users.
To use this camera, you will need to purchase an add-on hand grip.
Features:
Comes with Immense Zoom.
Includes an Electronic Viewfinder.
Offers features such as eye detection for people and pets.
Drawbacks:
One of the most priced options on the list.
Best Point and Shoot Camera For Video – Buyer's Guide:

When it comes to choosing the best camera, there are some aspects that you must consider to be able to choose the best option available for you.
Now, for you to be able to whim out the best option for you, you must know about these features so that you can choose the best option for you.
Without knowing about these factors, it becomes nearly impossible for you to pick out the best option for yourself because you are in the dark about the features that make the cameras the best ones on the market.
When it comes to choosing the best cameras, different point-and-shoot cameras on the market vary per the needs of the users, ie.
For people that want to shoot in low light, they must choose a point-and-shoot camera with big-sized sensors.
And for the people that want to shoot over distance and want to take shots from afar, they should choose a camera that offers a lot of zoom on the market.
When you consider durability, there are also a lot of cameras that come with features such as waterproofing and tough casing.
These features come off as a necessity for people that go on outdoor shoots recently.
Nevertheless, choosing the best camera will also depend on your budget.
Generally, when we think about the best camera, cameras with 1 in, APS-C and full-frame sensors come to mind as they offer numerous benefits over the cameras that offer smaller sensors.
Bigger lenses are also a great option for people that want better image quality.
Other than that, there are other features to look out for as well. These features include LCD Screens that can be tilted per the user's choice.
This comes in handy for the time when you want to take difficult and creative shots in outdoor environments.
If you are looking for a camera that you can use outdoors or you can take on your holidays or for traveling adventures, the long-range cameras happen to be the best.
However, these cameras feature a narrower maximum aperture range which makes it difficult for the users to make use of the certain long-range camera in low light scenarios and for the scenarios where they are looking to create a shallow depth of field.
To conclude, if you want a camera that can shoot over long ranges, you should opt for cameras that come with a narrower aperture and a rather wide lens.
If you are looking to take indoor shots that involve taking shots in darker environments or if you are looking for a camera for low light photography, a camera with a smaller lens tends to get the job done better.
Consider the functionality you are trying to acquire from the camera so you can choose the best one for yourself.
Frequently Asked Questions!
Conclusion!
It's easy to see why the Sony RX100 Mark V is a clear winner in the best camera that is a compact category.
With a great AF system, extremely fast recording, super slow motion mode, and 4K recording, all packed into a super-compact body, it probably really can't get much better for a point-and-shoot camera designed for shooting videos.
If you would rather have a touchscreen over 4K recording, however, the Canon PowerShot G7 X Mark II may make more sense for you.
But if you want both of them, plus a decent low light performance, then the Panasonic Lumix LX10 would be right up your alley.
Be warned though, you will have to live with a not-so-impressive AF system.
If you're after something that's specifically designed for traveling, then either Panasonic LUMIX DMC-FZ70 or Canon PowerShot G9 X Mark II may turn out to be a great fit for your needs.
Finally, the Sony DSCHX90V/B is a great value-for-money bet, while the Canon PowerShot SX720 would one of the few decent options for vloggers or videographers on a very tight budget.