We can't really say that Sony is underrated, because it isn't.
Sony is dominating the mirrorless camera market and has some really good cameras in the compact market.
At A Glance:

Our Top 10 Sony Video Cameras for Vloggin
That is because they are successfully packaging amazing tech specs in a small camera body while keeping a reasonable price.
In today's guide, we will take a look at the top 5 Sony cameras for vlogging, but before that, let's see what exactly makes Sony's cameras good for video
Why Sony Is Amazing for Vloggers:
Sony cameras focus on catering to the needs of everyday users.
However:
The company has been looking for ways to integrate as many features for vlogging and content creators.
4 advantages of Sony over brands like Canon:
4K video quality in all mid-range and upper-rank cameras
Perform amazingly in low light, a7S II is known for being king of low light.
Have large sensors
Good depth of view
And some more you can check out here.
Top 5 Best Sony Vlogging Cameras

We ranked and reviewed them by what we think is the best value you get for the price and what the usual Vlogger/YouTuber would most benefit from.
Choose a camera based on what you need and the type of content you plan to create.
WINNER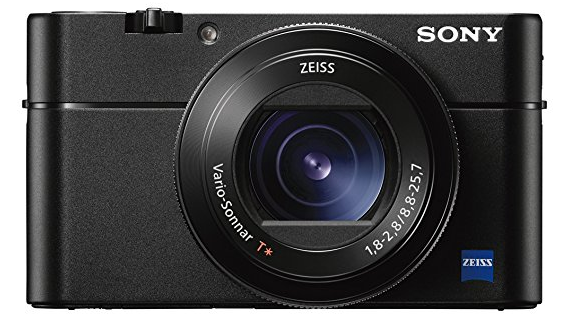 Quality = 92%
Affordability = 90%
Review:
The Sony RX100 V has been around for a couple of years, however, this does not mean that it is outdated.
The camera is a premium product that is capable of oversampled 4k video recording.
The sheer amount of technologies that Sony managed to integrate into it seems mind-boggling, considering the fact that it only measures 4 x 2.4 x 1.6 inches.
The camera seems to have been designed in order to cater to the needs of those who want to record and then quickly share on social media or transfer content.
Also, the 20.1 MP that the RX100 V offers is more than enough for any kind of vlogging content.
Features:
As far as the technology packed in the camera is concerned, Sony has managed to add features that vloggers will find invaluable:
High-speed AF – Having the camera lose focus while recording has plagued vloggers for a long time. Sony found a way to fix this often encountered problem by integrating an autofocus system that only requires 0.05 seconds to make everything crisp and clear, and 4k video recording into the camera;
Powerful Image Processing – An interesting aspect of the 4k recording tech used in the RX100 V is the fact that it can condense data extremely well, up to the point where a 4k video recording with it will be around 40% smaller than the size you would get with other cameras;
Slow-motion video recording function – It even comes with the ability to record video in slow-motion, at 960 fps, which is great for those looking to emphasize various scenes or to add a bit of drama to their content;
High-quality viewfinder – As with its predecessors, the manufacturer equipped the RX100 V with an OLED electronic viewfinder that features anti-reflective coating;
Advanced display – One thing that sets the camera apart from previous models is the fact that its LCD display can be tilted 180 degrees in order to allow the owner to record with more flexibility, without having to guess how the video will look;
Flip Screen – Most cameras in this price range do not come with a Tiltable display regardless of the fact that this is more than a quality-of-life feature;
Capture One Express – Although most vloggers choose Adobe products to edit their content, the software bundled with the RX100 V is a great alternative. The application also makes it extremely easy to record content while the camera is tethered to a PC or Mac.
Drawbacks:
No touchscreen – While the display is great in terms of quality and design, it does lack touchscreen functionality. This is something that we've come to expect from even cheaper products and it certainly makes using the camera more tedious;
Short 4k clips – The camera can only record 4k videos in 5-minute clips, which may affect the way in which many people create their content.
The Verdict:
In terms of value for money, RX100 V is the best Sony vlogging camera.
It packs great features in such a small and portable body.
PREMIUM
Quality = 97%
Affordability = 80%
Review:
Sony a7s II is our #1 choice for a vlogging camera.
Keeping to the Sony tradition of constantly looking for new ways to cater to the needs of their customers, the a7s II comes with a large number of features that are worthy of more expensive, top-of-the-line cameras.
This model features a supremely useful built-in image stabilization system.
Features:
As one would expect from a premium-quality camera, the a7s II comes with advanced features that were designed to cater to the needs of professionals:
Great battery life – Sony has improved on the battery life of other models, and have optimized the a7 III up to the point where one charge will last twice as long;
In-body image stabilization – The tech used in the camera is extremely precise, enabling owners to use any kind of lens without having to sacrifice image stabilization;
Hybrid AF – The AF system uses 693 phase-detection points as well as 425 contrast detection ones ensuring that even extremely fast, dynamic activities can be captured with high precision;
Dual card slots – Storage has always been a problem when recording, and the a7 III comes with a solution: two SD card slots, one of which is UHS-II compatible;
Great autofocus – The AF system is one of the fastest of any product currently on the market;
Long battery life – The NP-FZ100 battery that comes with the camera will last two times more than the NP-FZ50;
Extremely sharp 4k – The a7 III produces the sharpest 4k recordings of all Sony full-frame cameras;
Comfortable design – While the A7 III is a bit heavier than its predecessor, the extra weight actually works toward improving in-hand stability.
Drawbacks:
Not too rugged – The camera isn't extremely well insulated and will not fare well in bad weather;
Lacking full UHS-II compatibility – The camera does have two SD slots, however, the fact that only one is UHS-II compatible is definitely a drawback.
The Verdict:
Our choice for the best premium camera for video and vlogging, you can't get this kind of package in a mid-range camera.
There's also a very similar model Sony a7R II which is used by Markiplier.
UNDER $500
Quality = 84%
Affordability = 96%
Review:
The Sony A5100 is a clear evolution when compared to the models that came before it.
It can record 1080p and 720p video at the same time, it has a hybrid AF system, and it also features a touch-enabled 3-inch display that can be flipped up.
A5100 is for those who are just starting out and want to get a good camera that has a decent amount of features and does not break the bank.
Features:
Built-in flash – the A5100 comes with built-in GN4 flash;
Increased connectivity – There are apps on the stores of both Android and IOS devices that enable phones and tablets to connect directly to the camera in order to transfer data;
Quality display – The camera comes with a Flippable, 3-inch, touch-enabled LCD display that can rotate 180 degrees;
Bionz X – Sony has built this model using one of their powerful Bionz X image processors that offers increased speed and quality;
Continuous shooting – The A5100 is capable of 6 frames per second
Apps – There are apps for both IOS and Android to make connecting the camera to smart devices easier;
Full HD 1080p/720p – the camera can record high-quality clips in 1080p and 720p simultaneously;
Hybrid auto-focus system – The AF detects 179 phase points and 25 contrast points.
Drawbacks:
No remote control – While the camera can connect to smart devices, these cannot serve as remote controls;
No external EVF – There is no option to attach an external electronic viewfinder.
The Verdict:
Sony a5100 is an amazing starter camera, for under $500 you can't go wrong with it and it will provide your YouTube channel with great video content.
GREAT OVERALL
Quality = 93%
Affordability = 89%
Review:
The A6500 model from Sony is one of the more unique cameras on the market.
This is due to the fact that the manufacturers wanted to create a flagship camera that will be as affordable as a mid-range device.
While the A6500 does inherit many of the features found in its predecessor, the A6300, Sony beefed up the specs in order to cater to the needs of a new generation of vloggers (it was used by Casey Neistat at one point).
Features:
The A6500 may seem like a gimmicked A6300, but it has impressive technology for both video and photo (there's also the famous a600, which we reviewed cameras for makeup artists article).
Quality build – The body of the camera is made of a highly durable magnesium alloy and comes equipped with seals that keep the dust-out and make it weather-resistant;
Improved image processor – While the sensor is the same as in earlier models, Sony integrated a Bionz X that improves the camera's speed and performance;
Touchscreen display with Touch Focus – Touchscreen is the norm when it comes to current electronic devices, however, Sony has improved the usability of this now basic feature by giving the user the ability to instantly focus on a chosen point, or to drag focus on the display while using the camera's viewfinder;
5-axis image stabilization – The A6500 comes with in-body SteadyShot image stabilization;
Advanced 4k recording – Most cameras use pixel binning in order to record 4k. Sony chose to do things differently with the A6500, which records at around 6k and then uses oversampling in order to scale everything down to 4k, keeping every detail;
Solid construction – The magnesium alloy body and the seals that are placed around all of the buttons make the camera a good choice for vloggers who want an all-purpose camera that they can take anywhere and on almost any weather;
USB charging – The A6500 offers a lot of mobility when considering the fact that it can be charged through USB, from any portable charger.
Drawbacks:
Minimal controls – While the camera does have a touchscreen that makes navigating through its 35 menu tabs easy, its physical controls are fairly basic, and this lack of shortcuts can make it tedious to get what you want during recording sessions or photo shoots;
Poorly placed video record button – In order to press the video record button, the user must move his hand in a somewhat uncomfortable position.
The Verdict:
There are a lot of features that make the camera a worthy competitor to other models in its class, however, things like near-instantaneous shutter response and 5-axis in-body stabilization make recording and shooting great content extremely easy, making it a great choice for your YouTube channel.
CHEAPEST
Quality = 78%
Affordability = 98%
Review:
DSCHX90V is extremely small and lightweight build make it an interesting choice for vloggers who are always on the go or who want a camera that is more difficult to notice.
The camera comes with a 30x optical zoom feature, which is certainly appealing, however, making a model this small means that compromises had to be made.
One of the biggest disadvantages of the camera's size is the fact that all the physical buttons are extremely small and plasticky.
Features:
The DSCHX90V is one of the more affordable models offered by Sony, however, this does not mean that it is basic in any way:
Flip screen – Sony managed to keep the design of the camera small, while also integrating a 3-inch display that can flip up through 180 degrees;
30x zoom – The camera features lenses that are capable of 30x optical zoom, ensuring that the quality of an image will be unchanged regardless of magnification;
Pop-up electronic viewfinder – Sony integrated a high-quality electronic OLED VF that is brighter than the ones found in other cameras;
Multi-functional control ring – The user can assign one of several functions to the control ring in order to access features in the blink of an eye;
Wi-Fi and Bluetooth compatibility – The Sony DSCHX90V was built with ease of use in mind. Naturally, the ability to connect a phone or tablet to it and use it as a remote control is a welcome feature, especially for bloggers who want to be able to start or stop recording while the camera is in front of them;
Simple menus – The camera does not have a touchscreen display, but it does have a simple menu system that can be quickly navigated using the physical buttons.
Drawbacks:
Crammed buttons – It can be difficult to press the buttons due to the fact that they're placed too near to each other;
Low image quality at high ISO settings – The camera can take great stills, unfortunately, things rapidly change when the level of available light drops.
The Verdict:
For just under $400, DSCHX90V is the best cheap sony camera for vlogging that we would use.
If you need an even cheaper Sony, check out our best vlogging camera for under $200.
Review:
With Sony manufacturing products like RX-100, you cannot expect anything but top-class products from them.
This vlogging camera was specifically made to fulfill the needs of content creators such as vloggers.

This camera features a rather compact design. Despite offering a compact design, this Sony camera takes very high-quality pictures and videos.
This camera has also a lot to offer in terms of features.
This camera when unboxed comes right out and states "Made for Content Creators and Vloggers".
The design of this camera and the features that it comes with also acknowledge the statement further.
This sony camera includes features such as background defocus.
This guarantees smooth bokeh.
Among the huge list of features, this vlogging camera also comes with features such as a Product Showcase setting that allows the users to control the focus of the camera.
The soft skin effect included in this camera is also bound to make you look good.
This camera is bound to satisfy all the needs that a vlogger has!
Features a compact design.
Very lightweight.
Includes a lot of features that make it a good choice.
Drawbacks:
The grip on the camera is not very good without a sony vlogger accessory kit.
Review:
The Alpha series of Sony has been renowned with Vloggers and for this product, there aren't many exceptions.
This product comes with 4k Shooting support and also comes with support for S-log3 and S-log2.
This is more than enough for pleasing post-producers. This product also comes with 4K HDR for instant playback.
Sony's imaging edge mobile app also makes it possible for the users to be able to transfer images and videos from your camera to your phone.
Front-on Framing on this camera is also pretty simple as well.
This sony camera for vlogging comes with a flip-up touchscreen with an aspect ratio of 16:9.
An advanced autofocus feature is also a great option for giving out solid results.
However, there are not many connectivity options, just like the ancestral version of this Sony A6400.
This camera does not come with a headphone input port.
However, it allows you to plug in a microphone.
Great Autofocus features.
Bright Viewfinder.
Comes with amazing video shooting features.
Drawbacks:
In-body image stabilization is absent.
Review:
Last but not the least, this is one of the best options when it comes to considering a camera for vlogging.
Many vloggers may not be satisfied when they have a look at its specifications, and rightfully so.
The product specifications feel unambitious at the very least.
The performance benchmarks of this vlogging camera however are very good.
The various-angle screen comes in handy when it comes to taking stabilized shots.
The Autofocus system of this camera is also very good which makes this camera an excellent choice for shooting videos for vlogging.
This camera comes with a two-tone design, which is not one of the best designs.
To make up for many flaws that a user might notice in this camera, this camera comes with a 28-60mm retracting lens.
Featuring this lens, the design of this Sony camera is one of the most compact designs on this list.
Nevertheless, it is an ideal choice for fulfilling your vlogging needs.
Features:
Type: Mirrorless
Field of View: Interchangeable Lenses
Resolution: 24.2 MP.
Review:
Very much like every product that we see from Sony, This product happens to be one of the best cameras for Vlogging.
What makes this camera an amazing choice is a fact that it is very high quality.
This camera has received a lot of appraising for the looks it has. However, the looks of this camera are not the only special thing about it.
Apart from its look, this camera has some high-end features that draw the attention of anyone that is interested in buying a vlogging camera.
This camera comes with features such as in-body stabilization, HDR Video, and Real-Time Eye AF for video.
All of this happens to be some awesome stuff to look for in a vlogging camera.
Considering these features, this camera is going to make for a great choice when it comes to looking for a vlogging camera.

This camera includes many connectivity features.
These connectivity features ensure that you have the maximum level of connectivity as well as compatibility.
This camera includes In-Body Stabilization.
For a Vlogger, this feature comes in very handy as it accounts for more stabilized and better shots.
The microphone input in this camera allows the users to input a microphone.
Because of this, the users have the option to input the microphone into the device.
Drawbacks:
Many users have complained that they find the controls on this camera rather awkward.
Features:
Type: Mirrorless
Field of View: Interchangeable Lenses.
Resolution: 12.1 MP.
Review:
Coming with so many high-end features, this camera happens to be one of the best options on the list.
This video camera for vlogging includes many features such as a 759 point autofocus system, 4K UHD 2160p Video, 5-axis in-body image stabilization, a 12.1 MPExmor R sensor.
Anyone that knows a thing or two about cameras will know that these features make for an amazing choice.
Moreover, this camera further features a sturdy body.
Since it has a sturdy body, this camera is similar to its previous model in terms of design, size, and weight.
However, this camera does weigh slightly lesser than the previous model, even with the batteries included.
This camera has the capability to shoot 4K and can record at up to 120 FPS.
Such features make this product an amazing choice to consider.
This camera shoots video in 4K quality at 120 FPS.
These statistics are rather impressive and there are not many options that can shoot this impressively.
This Sony Video camera for vlogging comes with many connectivity features.
Due to many connectivity features, this camera happens to be one of the most compatible options.
This Camera happens to be one of the most lightweight options on the list.
Since this camera is lightweight, carrying it around is not going to be an issue.
Drawbacks:
The image stabilization feature of this camera is not as good as the other cameras on the list.
Sony Video Cameras For Vlogging –

Buyer's Guide:

There are some factors that you should be on the lookout for when you are considering buying a specific vlogging camera.
These aspects are mentioned below:
Make Sure That It comes With External Microphone Port:
This may not seem that much important, but believe us, this is one of the things that are going to make a huge impact on the results you are going to get.
Having an external microphone will allow you to be able to connect an external microphone.
This will allow you to be able to improve the sound quality of your vlogging videos.
When you ask professional vloggers, they will tell you that making sure that sound is clearly audible is one of the best ways to make your videos feel pro.
Flippable LCD Screen:
There are certain benefits to having a flippable LCD Screen.
A screen that can be flipped all the way up to the front will allow the users to be able to see themselves during they are filming their vlog.
This will allow the users to be able to make sure that they are having the ideal results and allows the users to check whether the framing is right, and the user or the object is in focus.
This feature comes in handy specifically for vlogging.
Effective AF System:
Having an AF system that allows the users to have effective tracking is one of the most important features.
This will come in handy when you are looking to record videos on the move, When you are moving, it will almost feel impossible to adjust the camera when you're filming.
The cameras with features like face and eye AF can prove to be a huge solution to remedy this problem.
The reason behind this playing to your advantage is that the camera will be specifically focusing on you even when you are moving.
4K Support:
Having a camera that allows you to be able to shoot good quality videos is a necessity if you are looking to create professional vlogs.
However, ensuring that your camera allows shooting in 4K results will future-proof your purchase.
Moreover, 4k Cameras allow you to crop and reframe your videos and still downgrade your output quality to FHD+.
For the reasons mentioned above, we think that cameras must offer 4k support.
Good Image Stabilization:
Most of the vloggers like to move around a lot. In vlogging, a person will want to capture all types of content and not just the videos.
This is why it is essential for you to have a camera that gives optimized results as output.
This will also allow the users to have more professional shooting results.
For these reasons, having a camera that offers good image stabilization is very important.
Frequently Asked Questions:
Conclusion!
Sony constantly manages to stay one step ahead of the competition in all price ranges and product categories.
And we can agree that Sony has some great cameras for video, YouTube, and vlogging.
The cameras that the manufacturer has released in the past are still considered to be some of the best that are commercially available, offering a lot of value for the price tag that they carry.
We also covered Nikon video cameras, so make sure to check them out if Sony isn't your thing.
If you have any questions or any contributions, feel free to comment below!