If you want to capture and share the exciting action of your favorite sport, you will need a video camera that can keep up 
To make your videos stunning and stand out, you need the right kind of camera to capture all the action, as well as a bit of practice to edit together an engaging highlight video.
In today's article, we cover the 10 best video cameras for filming sports. Before diving in, let's take a look at the most useful camera features for each sport:
Types of Sports:
Many video cameras can be used to film different types of sports.
For instance, you can use a DSLR to film practically anything including extreme sports.
However, DSLR cameras can only film for 30 minutes at a single stretch, after which you need to press the record button again.
Here is a list of some of the sports and cameras ideal for these sports:
Basketball: Since the sport has a lot of movement and action, it is best to use a good DSLR with good AF. A camcorder like the Canon Vixia would be a good budget option.
Football: You can either film in the stationary mode by using a DSLR or use a camcorder if you're filming from the sidelines or you're in the stands. The Canon Vixia is a good budget camcorder for filming football games.
Baseball: Filming baseball action is the least stressful, as you are likely to be stationary most of the time and require to zoom in and out a bit. Any good quality camera with a good zoom along with a tripod will be ideal.
Outdoor, Extreme, Winter Sports: To film sports like skiing, snowboarding skateboarding, etc., the type of camera depends on whether you will be filming from far away or filming yourself. A high-quality DSLR with stationary filming options would be a good bet. However, if you want a first-person POV of yourself, you need an action camera like the GoPro Hero 5
Volleyball: If the game is indoors, then you can use the same camera as you would use for basketball; however, if you need an outdoor camera, then you can use the same as you would use for baseball.
Hockey: Since the puck used in hockey is very small, the choice of a camera will really depend on the distance at which you will be filming. You can get a mirrorless or DSLR camera on a tripod or a camcorder with a good AF since hockey is a fast-paced game.
Golf: It is ideal to get a lightweight camera fixed on a tripod, as you will be carrying it with you from one hole to another. Choose a camera with a good zoom and detail that is ideal for stationary filming. A mirrorless camera would be ideal for capturing the small details you want.
Track and Field: Since most track and field events are held outdoors and sensitivity to sunlight is the major factor here, it's a good idea to get a DSLR. And the athletes will be running extremely fast, the camera should have a good AF, and going mirrorless is ideal.
Tennis: Since most of the filming is stationary, it is a good idea to get a solid DSLR or a good mirrorless camera. While you won't really be moving the camera much, you may want to zoom in at times and also film the ball in action.
Water Sports: For water sports like swimming, water polo, etc., although you may not be in the water, it may be a good idea to get a waterproof camera with a good AF, as locating individual athletes in the water may be difficult.
At A Glance: Our Top 3 Picks:
Top 10 Video Cameras for Recording Sports:
These are not professional cameras, but rather consumer cameras, all priced under $1000.
Image
Camera Model
Specs
Price

UNDER $250




GoPro Hero 5

Action Camera
4K/30 fps | 1080p/120 fps
Check Price

GREAT MIRRORLESS




Olyumpus OM-D E-M10

Mirrorless
1080/30 fps
Check Price

BEST 4K




Panasonic Lumix G85

Mirrorless
4K/30 fps
Check Price

Sony Alpha a6000

Mirrorless
1080/60p
Check Price

Canon VIXIA HF R800

Camcorder
1080p Full HD
Check Price

Canon PowerShot SX720 HS

Point and Shoot
1080/60p
Check Price

Canon EOS 7D Mark II

20.2 MP CMOS sensor
and ISO 100-16000.
Check Price

Sony FDRAX53/B

Shoots 4K Videos
Check Price

Nikon D5 DSLR

3.2" 2.36m-Dot
Touchscreen LCD Monitor
Check Price

Canon EOS M6 Mark II

4K UHD 30P/ Full
HD 129P video
Check Price
Now, let's get started with the reviews:
  UNDER $250 
Quality = 83%
Affordability = 98%
Why I Like It:
Very simple to operate.
Rugged, waterproof, and durable.
Lightweight, compact, and portable.
The QuikStories feature allows you to get excellent edited videos of your footage.
Stabilized video and crystal-clear audio.
Voice control allows the hands-free use of the camera with simple voice commands.
The camera lets you preview your shots, play them back, modify your settings, and trim your footage.
Inexpensive.
The best option to film yourself playing sports.
Review:
If you're looking for a compact, sleek, reliable camera or to film yourself playing sports, then you need to consider the GoPro Hero 5.
Let the size of the camera not fool you, it has impressive features and allows you to shoot and share your videos practically from anywhere at all, whether on the mountain, at the beach or simply in your garden.
Camera quality is going to be better than any vlogging camera for $300, but it doesn't really work for general vlogging, just action (which can also be used to film music videos).
Video Quality: With the GoPro Hero 5, you can shoot both stunning 4K videos and 12-megapixel photos in several modes such as single, time-lapse, and burst modes.
Transfer Files: The camera has a QuikStories feature that allows you to send the video footage to your smartphone, where the app transforms it into a beautifully edited video and you can upload it to the cloud or your social media.
Durable: The GoPro Hero 5 has a rugged design and is waterproof up to 10 meters or 33 feet.
Touchscreen: The 2-inch touchscreen display of the camera allows you to preview, playback, modify your settings, trim the footage, etc.
Voice Control: The camera has voice control and you can use voice commands to control the camera hands-free.
Image Stabilization: The video stabilization feature allows you to get smooth videos whether you are shooting with the camera mounted or in the handheld mode.
Features:
Camera Type: Action Camera
12 MPS photos and 4K videos in single, time-lapse and burst modes
Time-Lapse Intervals: 0.6 to 60 seconds
Waterproof up to 10 meters (33 feet) without an external case
2-inch touchscreen display
QuikStories enabled
Voice control, hands-free operation
One-button control
Charger not included along with the camera
Drawbacks:
Battery life is not very great.
Charger not included.
Touchscreen display not very vibrant.
The Verdict:
Overall, the GoPro Hero 5 is a solid performer and offers a great combination of features, performance, and convenience.
It is the best camera by far to film yourself playing sports. If you want a great camera that is compact and is also not very pricey, then the GoPro Hero 5 is indeed a great sports action camera.
  GREAT MIRRORLESS 
Quality = 88%
Affordability = 94%
Why I Like It:
Lightweight and compact.
Small size but extremely comfortable to handle.
Easy to focus and shoot.
The image quality is very good.
Inbuilt WiFi is very convenient.
Review:
If you're looking for a video camera to shoot some fast-paced sporting action, then the Olympus E-M10 is a great camera to consider.
Not only is the camera very good-looking, but the EM-10 also has some excellent features.
The camera is equipped with the TruePic VII processor, inbuilt flash, a large electronic viewfinder, WiFi, etc.:
Lens: The camera features the professional-grade M Zuiko lens that offers excellent image quality and resolution.
Sensor: The 16-megapixels Live MOS sensor offers vibrant colors and fantastic resolution.
Image Stabilization: The 3-axis image stabilization helps you to get sharp video and images.
Build: The EM-10 has a compact design and the elegant body is made of metal. The camera is so sleek and portable that you can carry it conveniently wherever you go.
Extra: The inbuilt WiFi allows you to share the images conveniently and the camera has an inbuilt flash, several creative tools (12 art filters and 9 art effects) and a touchscreen LCD monitor that can be tilted.
Fast Shooting Images: The camera delivers high-speed sequential shooting and the high-speed AF technology enables you to capture all the high-speed action without missing a single shot.
Features:
Camera Type: Mirrorless for Videography
16-megapixels Live MOS sensor
TruePic VII processor
3-axis image stabilization
Inbuilt flash
High-speed continuous shooting at 8 fps
ISO 200 – 25600
3" tiltable LCD touchscreen
Electronic viewfinder having 100% coverage
Shooting in RAW and JPEG+RAW formats
Color Creator
Features 9 art effects and 12 art filters
Photo Story with zoom in and out theme
Movie and photo capture
Inbuilt WiFi
SD, SDXC, SDHC card slot
Drawbacks:
The camera is not waterproof.
Lacks mic input and accessory port.
Does not have 60fps video support.
The Verdict:
The Olympus EM-10 is indeed an excellent blend of functionality and design and is a great investment that is sure to last you several years.
  4K RESOLUTION 
Quality = 97%
Affordability = 85%
Why I Like It:
The camera has an excellent build quality and makes for easy handling.
Excellent image quality.
Rugged and suitable for use in any type of environment, thanks to the camera's weather-sealed design.
Fast and accurate AF.
Review:
If you're looking for a video camera that offers advanced features to shoot some serious sporting action, then the Panasonic Lumix G85 is an excellent choice.
The G85 is a mirrorless design that makes the camera extremely compact and lightweight and the traditional DSLR-style layout of the camera offers excellent handling. 
Image Stabilization: The camera is equipped with a dual image stabilizer that enables you to get sharp and clear images even if the subjects are moving very fast.
Body Quality: The camera has a weather-sealed, dust- and splash-proof body that makes it ideal for use in any type of environment and the grip has an ergonomic design that allows you to shoot with one hand.
Video Quality: The 5-axis gyro sensor increases the stability of the camera. The Lumix 4K Photo feature allows you to shoot video sequences up to 30 fps.
The Post Focus: Feature of the G85 lets you review an image and sharpen any specific area you wish and the New Focus Stacking allows you to choose many focal points in a single image.
The Light Speed AF: Along with Depth From Defocus (DFD) AF technology delivers accurate and fast AF performance.
Image Quality: The live viewfinder allows you to frame the shot and shoot anything in your shot and the 16 MPS MOS Sensor lets you capture sharper images. The IS system makes the G85 ideal for handheld shooting.
Features:
Type: Mirrorless
Resolution: 16 megapixels
Continuous Shooting Speed: 9 fps
3" touchscreen LCD display
4K video recording (30p or 24p)
Dual image stabilizer
Weather-sealed design (dust-proof and splash-proof)
Depth From Defocus (DFD) AF technology
Inbuilt WiFi
Drawbacks:
Battery life is quite poor.
The ISO range of the camera is limited.
The Verdict:
Overall, the Panasonic Lumix G85 offers a range of features, durable design, and excellent performance all at a bargain price making it the best "all-round" mirrorless video camera.
  LIGHTWEIGHT MIRRORLESS 
Quality = 91%
Affordability = 88%
Why I Like It:
Rugged and durable design.
Inexpensive price.
Delivers high-resolution images.
Lightweight and super-compact construction.
Hybrid AF delivers excellent image quality.
Review:
If you're looking for a top-quality video camera to shoot some fast-paced sporting action that is also inexpensive, then you can definitely consider buying the Sony Alpha a6000 DSLR camera.
The mirrorless camera offers an ultra-fast speed of recording of 11 fps.
The autofocus tracking, along with the speed allows you to get excellent videos and photos even if the subject is moving very fast.
The Sony Alpha a6000 is extremely compact, portable, and very easy to use.
The camera is equipped with the 24.3MP APS-C image sensor and BIONZ X image processing, which delivers excellent enlargements and details.
PlayMemories Camera app allows you to control your camera via your smartphone or tablet. You can also directly edit your images on your mobile device and upload them.
The Exmos CMOS sensor and BIONZ X processor of the camera allow you to get more detail even in low light conditions in the ISO range of 100-25,000.
Although the a6000 is compact and small in size, you can have full control of the camera and access all the functions and features very easily.
The control wheel and the 2 dials that are located on the top let you select the shooting modes and camera settings very easily.
The OLED viewfinder of the camera offers a wide viewing angle and 100% frame coverage thereby improving visibility significantly.
With the a6000, you can shoot videos in full HD in 1080p, 24p or 60p or 60i frames.
The camera has a 3" LCD display that allows you to shoot from various angles and the WhiteMagic technology increases the visibility of the images in bright daylight dramatically.
Features:
Camera Type: Mirrorless
Mirrorless DSLR camera
Recording Speed: 11 fps
BIONZ X image processor
24.3MP APS-C image sensor
ISO 100-25,600
3-inch Xtrafine LCD display
WhiteMagic technology
Inbuilt WiFi and NFC
OLED electronic viewfinder with 14 million dots and 100% coverage /su_list]
Drawbacks:
The camera can become overheated when used continuously for around 1-2 hours.
The Verdict:
The Alpha a6000 camera is compact, sleek, and lightweight and is almost half the size and weight of a regular DSLR and the interchangeable lenses of the a6000 make it quite versatile.
This mirrorless camera with its excellent autofocus, vibrant colors, picture clarity, and enhanced detail is one of the best cameras to capture some scintillating, fast-paced sports action.
  UNDER $300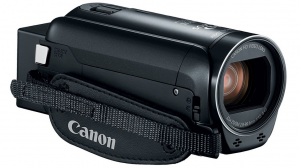 Quality = 98%
Affordability = 89%
Why I Like It:
Excellent quality, steady videos.
The Zoom Framing Assist feature of the camcorder keeps the moving objects which are far away in focus.
3" touchscreen LCD panel has a new interface that offers simple video viewing and easy navigation.
Review:
If you love outdoor sports and especially enjoy filming all the live-action, then the Canon VIXIA R800 is among the best, it can shoot all the fast-paced action, especially from a distance.
The camcorder is great for zooming in and out of the action and if you need to go back and forth very quickly. 
Zoom: The 57x Advanced Zoom allows you to shoot the subjects from a long range even if you're sitting very far away from all the sporting action and the camera offers full 1080p HD quality video.
The High Priority Mode: Gives your videos vibrant colors that you can see the minutest details of.
Stabilization: The SuperRange Image Stabilizer corrects any shake in the image and delivers sharp images.
Video Quality: The VIXIA R800 features a 3.28 MPS full-HD CMOS Image Sensor that allows you to shoot in 1920×1080 resolution and delivers HD video even in low-light conditions.
Image Quality: The DIGIC DV 4 Image Processor allows you to shoot brighter and noise-free images and you can record full-HD videos directly to the SD card, which is removable.
LCD: The camera has a clear LCD screen that is bright both indoors, as well as outside and the interface has simple and large icons and a very easy-to-navigate layout.
Slow Motion: The slow and fast motion features of the camera allow you to record the sporting action in slow motion, which can be great to check out your tennis swing or you can record in fast speed as well if you need to.
Extra: The camera also offers 5 cinematic-look filters that allow you to add some drama to your shots. The camera also has an Audio Scene Select that lets you choose between 5 audio modes while recording.
Battery: The VIXIA R800 is powered by a lithium-ion battery which can be recharged and allows you to shoot for long periods of time.
Features:
Camera Type: Camcorder
57x Advanced Zoom
SuperRange Optical Image Stabilizer
3.28 MPS Full-HD CMOS Image Sensor
Zoom Framing Assist
DIGIC DV 4 Image Processor (1920×1080 resolution images)
Record directly to SD memory card (removable)
3" touchscreen LCD panel
Drawbacks:
Does not have inbuilt WiFi.
Camcorder not sleek and design is quite outdated compared to the sleeker models.
The Verdict:
Overall, the VIXIA R800 is a great camcorder with excellent features and is budget-friendly too.
  CHEAP POINT AND SHOOT 
Quality = 75%
Affordability = 96%
Why I Like It:
Sleek and compact camera that can fit into your pocket comfortably.
Impressive zoom of 40x.
Good AF speeds.
The LCD screen is bright and sharp.
Review:
If you want a compact camera that is powerful too, then the Canon PowerShot SX720 HS is a great option to consider.
The camera has a 40x zoom lens, which is quite impressive and allows you to shoot sports action happening at a distance.
The camera is quite compact, which makes it a great travel companion and it's quite slim, enough that it can fit into your pocket easily.
The Canon PowerShot has a DIGIC 6 image processor that helps to boost the quality of both videos and photographs and it has a 20.3-megapixel CMOS sensor which delivers excellent performance and allows continuous shooting of 5.9 fps and 1080 or 60p, 30p, or 24p video shooting.
The Story Highlights feature of the SX720 HS compiles all your videos and images into a highlight reel along with special effects and music.
The camera is equipped with Intelligent Dynamic IS, which along with the 5-axis stabilization corrects any shakes and gives you shake-free and sharp images.
The 3" LCD screen has a high resolution that allows you to frame and review your shots carefully and the images can be viewed from a wide-angle too.
Apart from downloading your videos and photos to your PC via the Canon Image Gateway, you can download them to your smartphone too, which makes it easier to view and share.
The Creative Shot mode of the camera lets you create artistic images with the use of creative filters and effects.
The inbuilt WiFi and NFC connectivity let you share all your shots with your friends and family via your social media.
Features:
Camera Type: Point and Shoot
20.3 MPS CMOS Sensor
40x optical zoom
DIGIC 6 image processor
Inbuilt WiFi and NFC
Intelligent Dynamic IS
3" LCD touchscreen
Comes with a rechargeable lithium-ion battery
Drawbacks:
The image quality of the camera may not be very good if you are shooting in low light.
Price is slightly higher compared to other point-and-shoot-style cameras.
The buttons of the camera are too small in size and may not be comfortable to use.
The Verdict:
The compact size, features, and price tag of the Canon PowerShot SX720 HS make it a good buy for sports enthusiasts.
Quality = 72%
Affordability = 91%
Why I Like It:
Durable.
It has 20.2 MegaPixels which offers amazing video recording quality.
Has fantastically high ISO sensitivity around 1600 to 16000.
Can record from MP4 up to FULL HD VIDEOS 1080p/60.
Comes with a CANON EF-S mount.
It has an optical zoom of up to 7.5x.
Has 65 points autofocus selection.
Ideal for recording fast-moving subjects.
Acquired with the intelligent viewfinder.
Dual Digic 6 processors.
Review:
If you're looking for a camera that can do both still photography and video recording at an efficient rate to meet the amazing cannon 7D Mark II Digital SLR Camera, this 20.2 Megapixel camera offers you more than you can imagine.
What else you want to look for when the Canon 7D II offers you 65 points autofocus system.
With a phase detection sensor with which wisely improves the recording experience, which can be recorded by the camera in a Full HD 1080p/60 graphic format.
Design: Canon 7D Mark II has an up to compact tanked-shaped body heavier than its rivals.
With this, the camera is along coated with dust resistance and water resistance for unknown weather situations.
The magnesium alloy body provides a long life to the camera, along with a textured grip for the photographer for secure handling.
Shooting Rate: The camera provided with a 20.2 Megapixel and can record up to FHD Videos and is a reliable choice for recording sports with its APS-C format best in its kind.
Image Quality: With its 20.2 Megapixel sensor, the camera is an ideal choice for dealing with photography in all types of scenarios.
Video Quality: The camera can capture up to FHD videos in a 1080p recording format.
Performance: There are no issues with its autofocus system which performs perfectly well with every type of lighting condition.
Extra Features: The camera is equipped with the best in its kind APS-C format DSLRs with various features for outstanding images and several customization options.
Features:
Camera Type: DSLR.
10ftps video recording.
ergonomic design.
Vast customization features.
20.2 Megapixels.
1080p Video recording.
65 points autofocus.
Stable video recording.
Drawbacks:
No wifi compatibility.
No Touchscreen.
The Verdict:
Overall, the Canon 7D II has all the worthy features a DSLR must include and it won't let you down in any condition where you're recording sports or doing still photography.
Quality = 65%
Affordability = 85%
Why I Like It:
Durable.
Portable.
4K XAVC-S recording with 16.6MP.
Light-weight.
Compact construction.
Amazing Quality Steady Videos.
3-inch touch screen LCD panel.
Reliable quality zooming.
Review:
If you're in a search of a portable camcorder that facilities you with everything reliable for your video recording including sports.
You can call it a blessing for taking every breathtaking moment in your camcorder's eye with no inconvenience.
Sony FDRAX53/B Camcorder satisfies you with its 4k recording options for great and stunning video quality.
Alongside this camcorder, you're provided with a new upgraded Zeiss lens for optimal quality video recording, furthermore equipped with an inbuilt microphone for smooth audio recording.
The Sony FDRAX53/B provides you a 3-inch Touchscreen LCD (tilt-able). For smooth recording with 0.24 color EVF as well for capturing 120fpts formats.
Another worth mentioning feature of this 4k camcorder is that it comes with stabilization properties for your stable video recordings. Further enhanced with a 20x optical zoom provided by the Zeiss Vario Sonnar lens.
This camcorder is preferred for anyone who has an interest in recording sports because of the advanced stabilization technology and autofocus properties the device can catch up with the fastest-moving object.
Another worth mentioning feature of the camcorder is that it comes with WIFI and NFC connectivity, and lets you control the camcorder with any smartphone. You can even live stream while you record.
Zoom: The Sony FDRAX53/B comes with a 20x optical zoom option for recording far away videos and has a 40x Zoom option for still photography presented by Zeiss Vario Sonnar T* lens.
Stabilization: they equip the camcorder with intelligent video stabilization for recording the best videos in 4K quality.
Portability: The Sony FDRAX53/B is portable and lightweight can be easily carried.
Sensor: Sony FDRAX53/B comes with an Exmor R CMOS sensor that is newly developed for taking sharp and clear images and video recordings under any lighting condition.
Extra Features: The camcorder is equipped with inbuilt WIFI and NFC and can be operated via any smartphone, even can be used for live streaming.
Features:
4K UHD Recordings 24/30p.
16.6 Megapixel.
Exmor R CMOS sensor.
20x Optical zoom for recording video.
Video Stabilization introduced.
40x Zoom for still images.
Supports high-speed recording of 120fps.
Innovative fast Intelligent autofocus.
3-inch Touchscreen LCD with 0.24" color EVF.
WIFI + NFC connectivity.
The Verdict:
Sony's FDRAX53/B is a reliable camcorder for anyone whos looking for portability and easy-to-carry vlogging cameras and you can invest in this magnificent device without getting broke as it is a budget-friendly device with tons of features inside.
Quality = 65%
Affordability = 82%
Why I Like It:
Durable.
Compact design.
Comes with a 153 points phase detection.
Has a 20.8 full-frame image sensor.
The camera offers 4K UHD video recording.
Comes with Expeed 5 Processor.
Has both focus types (AutoFocus + Manual Focus).
Offers professional-level photography, and video recording.
Review:
Nikon D5 DSLR can be one of the best cameras if equipped with a preferred lens for shooting images and recording videos.
It comes with a full-frame 20.8 sensor along with 153 points of phase detection.
The company's innovative minds have introduced all the most important features a DSLR should include for professional-level use.
You can record in the 4K UHD resolutions videos with no hassle.
Furthermore, the camera comes with Expeed 5 Processor and ISO capability from at least 100 to 102,400 and 12fps for continuous recording.
Another worth mentioning feature of the Nikon D5 is its touchscreen display for both recording and still photography.
If money no issue, we recommend you choose Nikon D5 for the best results.
Design: There are not many changes in the Nikon D5 as the company does not focus on the designs for putting ease to anyone using a Nikon camera in structure.
Performance: There is no comparison in the Nikon D5 camera performance it comes with Expeed 5 processors with ISO settings starting from 100  to 20,400
Shooting Rate: The D5 from Nikon is capable of continuously shooting up to 12fps with autofocus and auto-exposure.
And can shoot up to some raw images with the best-expected results in picture quality.
Durability: The camera is durable for every kind of weather situation with its rugged magnesium alloy body that provides efficiency in its built quality.
Features:
20.8 Megapixel  FX-format CMOS sensor.
Expeed 5 Image Processor.
Inbuilt WiFI.
Touchscreen.
180k RBG Pixel.
Supports 12-bit raw files and 14-bit S-format.
4K UHD Video recording at 30fps.
153 phase-detection system.
ISO from 100 to 20400.
12fps shooting with AF/AE.
The Verdict:
If money is not an issue for you, Nikon D5 is the most recommended choice for you with all of its amazing specs that are worth mentioning. Will make fall in love with the result from the Nikon D5
Quality = 60%
Affordability = 80%
Why I Like It:
Durable.
Portable.
Comes with 32.5 MP.
Image Stabilization Digital 5-Axis (Video Only).
Resolution up to 6960×4640.
Records in MP4 + H.264.
Review:
Canon EOS M6 Mark II mirrorless camera is preferable for anyone who's looking for a camera portable and durable for recording sports.
It offers amazing features and comes with a digital 5-Axis recording capability.
With its 32.5 MP CMOS sensor, this compact camera can shoot videos in 4K quality and is efficient for taking a burst of RAW formats at up to 30fps with its autofocus tracking.
Overall, the camera can provide up to 14fps recording capabilities.
Furthermore, the screen features a 3-inch touch screen that can flip up to 180°.
Features:
32.5 MP CMOS Sensor.
UHD 4K video Recording at 30fps /25fps.
USB 2.0 + type C connector.
Inbuilt viewfinder.
WiFi + Bluetooth.
Portable.
Durable.
The Verdict:
This camera is a preferred choice for a traveling person who likes to vlog,
It offers some outclass specs in a compact body with the ability to shoot 4K videos without any hassle and cropping issues.
How to Choose the Best Video Camera For Sports? - Buying Guide:
When you're buying a video camera to film sports, you should consider:
Video Resolution:
The camera must definitely have a 1080p resolution, although these days, 4K ultra-resolution is becoming more popular and affordable too.
To get high-quality visuals, it is not recommended that you go any lower in terms of the resolution.
Types of Cameras:
DSLR:
A DSLR camera is among the most popular cameras and irrespective of the sport you're planning to film, getting a DSLR is a great idea.
DSLRs are the most versatile video cameras for filming sports and they are great for taking photographs too. The biggest advantage of DSLRs is that you can change lenses as required.
However, if you need to move the camera a lot, you may find a DSLR cumbersome and they also allow only 30 minutes of filming at a time.
Mirrorless Camera:
These cameras are becoming quite popular, especially since the technology is becoming more affordable.
Mirrorless cameras are great when you want to capture finer details of the game such as small balls and other objects.
Mirrorless cameras also record only for 30 minutes at a time and you need to be around to press the record button again.
Camcorders:
These are much easier to hold and handle compared to DSLRs; however, in the last few years camcorders have become less popular.
Professional Grade Camcorders: These can be carried over your shoulder or placed on a tripod. These cameras deliver excellent cinematic quality videos; however, they are quite pricey,
Point and Shoot: They are like regular digital cameras and are not very common. Not many of these point-and-shoot cameras can shoot video and if they do, they do not shoot 1080p.
Action Cams:
Action cameras like GoPro and other types of POV cameras have become extremely popular in recent years and are fantastic for filming stunning point-of-view videos for many different kinds of sports.
Accessories:
Apart from the video camera itself, you will require some accessories when you're filming sports.
If you plan to use a tripod or leave it on the field to film the entire game or practice session, then you will need a rugged and durable tripod.
And, if you travel a lot, you will need a sturdy carry case for both your camera and your tripod.
You will need other accessories such as lenses for your mirrorless and DSLR cameras, external microphones if you want to capture the audio as well, mounts for your action cams, etc.
And, finally, you will need video editing software to organize and put together the various clips and videos that you have shot.
Budget:
This is probably the most important factor when buying your camera, considering that it is a long-term investment.
Video cameras are available in all kinds and there is a wide range of options that you can choose from.
There are high-end expensive models if you want to go big that will give you unparalleled visuals. But, if you're tight on your budget, there are still many viable options that you can choose from.
Best Video Camera for Filming Yourself Playing Sports:
If you are looking to film yourself playing sports, either from a third-person or first-person POV, then you must consider the logistics and additional equipment to set up your camera to do so.
For example, if you are playing hockey and you want to film yourself from a third-person POV, you will first need to figure out where you should place the camera.
You could place the camera on a tripod outside the hockey rink but think of the equipment you would need to carry with you to the game. Not to mention the risk of it being stolen.
Another option is to have someone film you from the stands, but if you are alone, how comfortable would you be in asking and trusting a stranger to film?
A great solution would be to use a GoPro camera and suction it to the outside of the rink glass using accessories. This is something you cannot do with a DSLR or mirrorless.
If filming yourself playing sports is a must-have, you really only have one option: GoPro.
Make sure to get the necessary mounting accessories to allow the camera to be mounted where necessary.
Frequently Asked Questions:
Final Verdict!
Filming stunning action-packed sports videos is not very difficult if you have a high-quality video camera to shoot all the action.
Since buying a video camera is a long-term investment decision and an expensive one too, it is a good idea for you to do your homework and evaluate the various options available before making your final decision of which camera to buy.
But now would be the perfect time as any to start this new hobby, being that we are stuck home not doing much in this pandemic.