If you're thinking about starting a vlogging channel, you are one of the many.
That's not a surprise, given the fact that YouTube vloggers have become real celebs, with millions of subscribers on their channels and millions of dollars in their bank accounts!
Of course, becoming an influencer is far from being an easy job.
But, before you start, you need to be true to yourself: Do you want to become a vlogger?
Downsides of Starting a Vlog
Even though running a YouTube channel sounds like all-fun, it still requires a lot of hard work!
Here are some things that you need to be ready for if you plan to become a vlogger:
1. Each Video Takes Time To Make:
Creating useful video content is something that requires a lot of time and effort.
First of all, you need to think of what to discuss in the video to be attractive to your target audience.
Simply sitting in front of the computer and talking nonsense will not get you anywhere – you need a script.
Furthermore, when you're done filming the video, it doesn't mean that your job is over.
To make watchable, you will need to do a good editing job.
This includes everything from adding effects and transitions to cutting out the unnecessary bits. There is editing software you can get to help with this if you're in the dark.
2. Vlogging Requires Money
Anyone can create a video for YouTube.
All that's required is a laptop with a built-in webcam.
Even a smartphone would be enough to do the job.
But, to compete, you need proper equipment:
3. YouTube Users Can Be Very Harsh
If you don't handle criticism very well, becoming a YouTuber might not be your best career path.
The key to mean handling comments is simply not caring.
You should know that each YouTuber has received harsh comments in their career. The sooner you learn to ignore them, the better. Unfortunately, these kinds of comments can leave a deep wound in your soul.
Take a look at how this YouTuber deals with it:
Being confident about yourself and what you do can only help you advance in your YouTube career.
If you think you can handle the pressure and overcome all the obstacles, then there's no need to wait any longer:
#1: Choosing Your Niche:
To improve your chances of success, you need to make a plan.
The first thing you need to do is figure out what kind of vlog you want to have.
Do you want to be a professional vlogger, or running a YouTube channel would become more of a hobby?
If your ambitions are higher, then you need to do proper brainstorming.
Before creating your channel, you need to be sure of what topic you're going to deal with.
It's wise to focus on a single topic, rather than talking about many different subjects.
So, if you possess knowledge about makeup, create a beauty channel. If your passion is cinema, why not make videos in which you review new movies!
Once you've chosen your ideal vlog niche, it's time to do some research!
#2: Doing Proper Research:
The best thing you can do to ensure your YouTube channel's bright future is to make an elaborate plan.
But, to do that, you will need to do thorough research.
Learning More about Your Rivals
The first thing you'll have to do is to take a sneak peek at your competitors. If there are many vloggers focused on the same subject as you, it means that the viewers are interested in the topic. But it also means that the competition is fierce!
Thus, it is essential to do research and find a topic that users are interested in but which isn't dealt with by too many other vloggers. You can research by searching for the main keywords in your niche or by checking what's trending.
Learning More about Your Channel's' Main Topic
A good move would be to write down your ideas then search for each of them on YouTube. If the research results show you that many vloggers have already discussed the subject, it means it's going to be hard to break through, but if you can bring a unique perspective on that topic, go for it!
#3: Choosing the Best YouTube Name:
We already wrote a full guide on this, but here are some quick tips:
Choose a YouTube name that gives hints about your channel's main topic – By using the words that suggest your channel's case, you will let the viewers know what to expect. If you plan to run a cooking channel, its name should be something along the line of "Cooking with [YOUR NAME]."
Choose a catchy name – If your channel's name is catchy, the users will remember it easily. This way, even if they don't subscribe right away, they will know how to find you later.
Choose a name that no one else uses – This is probably the biggest problem as most of the cool-sounding names are already taken.
According to a Wired article, there were over 500 million YouTube channels in 2012. That number has probably grown quite a lot over the years, meaning that it won't be easy to find a unique channel name.
#4: Launch Your YouTube Channel!
When it comes to creating a channel, you have two options before you. One is to create a business channel, which can be run by several moderators at once. The other is to create a personal channel.
Of course, you need to choose the latter option! To create a personal channel on YouTube, here's what you need to do:
Step 1 – Sign in to YouTube (You can skip this step if you're already logged into your Google account)
Step 2 – Open YouTube and click on your profile icon in the top-right corner.
Step 3 – Choose "My Channel" from the drop-down menu.
Step 4 – A small window will appear before you, asking you to enter your YouTube name and agree to YouTube's Terms of Service.
Step 5 – Click the button, "Create a Channel."
Once the channel is created, it's time to add your logo and channel art.
#5: Take Care of the Logo and Channel Art:

By creating a brand out of your YouTube channel straight away, you will be able to leave a strong first impression on potential viewers.
If your channel looks nice and professional, it will tell the audience that you are serious about it.
All of this means that you will have to create a good logo and take care of the channel art. If you don't feel that you're up to it, you can ask professionals to help you out.
The good news is that many graphic designers work as freelancers at sites like Fiverr and UpWork, where you can hire them at very affordable rates.
If you decide to do it on your own, our advice is to use vector graphics editors like CorelDRAW or Adobe Illustrator. Alternatively, you can use a free online tool for logo design, such as Canva, which will provide you with free templates so that you will be able to make a logo in a matter of minutes.
You need to make sure that the dimensions of your logo image are 800 x 800 px. This way, you will ensure that it will look good, as the image renders 98 x 98 pixels.
When it comes to channel art, YouTube recommends uploading an image that's 2560 x 1440 px image in size, which can also be easily achieved with preset dimensions and templates in Canva's Youtube Banner Maker.
#6: Making Your First Video:
By creating a test-video, you will be able to learn more about your on-screen appearance. Examine it properly to see whether you need to make changes in your diction and tone and see whether the camera angle needs to be adjusted or some other changes need to be made.
The more videos you make, the better you will become in vlogging.
The good idea is to create different versions of the debut video so that you would be able to choose the very best one of them. On top of that, you can use bits and pieces from all the clips to create the best possible video.
In fact, you can make the video look amazing in post-production, even if the raw footage doesn't look that impressive:
#7: Video Editing:
If you've used filler words like "um," "uh," and similar, your videos won't look very professional.
In fact, these words could easily throw away the viewers from watching your videos.
Even if you use them in the video, you will be able to edit them out later without too much hustle.
You also need to tackle other issues, such as transmissions and effects. For example, it would be smart to film the footage from different angles and later put them together, making it much more dynamic.
Tips to Help You Stand Out From the Crowd
Whichever vlogging niche you pick, the competition may be big.
But, this doesn't mean that you should give up.
On the contrary, it only means that you need to be better than the rest!
Here's how:
Be Yourself – As there are so many channels out there, the users are always looking for something new. They don't want to watch the same kinds of videos all the time. So, feel free to add a personal touch to your videos, thus making them different from others.
Think Outside the Box – Forget about common sense. It's boring! The viewers are not looking for answers that they already know.
Keep a Down-to-Earth Attitude – You're not a celebrity, and your subscribers are not your groupies! That's why you need to treat them as equals if you want to keep them watching your videos.
YouTube Live – Furthermore, a good way to create a strong bond with your subscribers is to run live shows. If you do an ask-me-anything session from time to time, your viewers will start thinking of you as friends.
Stick to Your Posting Schedule – To gain your subscribers' confidence, you need to make sure to keep your promises. If you've announced the upload of a new video on a specific date, do your best to stick to it!
Frequently Asked Questions:
These are some of the most frequently asked questions (FAQs) that many people ask, and we have listed them for your help.
How Much Money Can You Make from Vlogging?
The amount of money depends upon the following factors.
Channel Content.
Channel Views.
The Number of Uploaded Videos.
YouTube partner program.
1. Channel Content
Good quality content attracts the attention of most people. If you post engaging content, then a large audience will watch your videos. This increases the number of views on your video.
The more engaging content you post, the more revenue will be generated.
2. Channel Views
The most important factor in earning from YouTube is the number of views. When your video hits 1000 views, you will get $2. With every more 1000 views, your revenue is multiplied.
The most amazing revenue of $1000 to $2000 is generated when you hit 1 million views. Quality content helps you to achieve this milestone. The better the content you post, the more money you earn.
If you have a large audience for your YouTube channel, start selling merchandise and using affiliate links. These tricks also help to earn more money.
3. The Number of Uploaded Videos:
The amount of revenue also depends on the number of videos a vlogger uploads. Here are the steps to calculate the revenue of a vlogger.
First, check the number of subscribers and divide it by 1000.
Then multiply the calculated number by 1.1.
Lastly, multiply the second step's answer with the number of videos that a vlogger uploads in a year.
This formula is not so accurate because there a many other factors on which the YouTube revenue depends.
4. YouTube Partner Program
The number of views is not the only source of earning money. Vloggers also earn money with the help of the YouTube partner program. You can get a partner program when you monetize your YouTube channel.
When your channel hits 1000 subscribers and has a watch time of 4000 hours, you can monetize it. Otherwise, the revenue only depends upon the views. By connecting your channel to AdSense, you can withdraw the money.
Here are the steps to monetize your YouTube Channel:
Sign in to your YouTube account to start the monetization process.
In the top right corner, click on your account icon.
Select the YouTube Studio option
Select the monetization option from other features in the left menu
Carefully read the terms and conditions of the YouTube Partner Program and click on Agree.
If you do not have an AdSense account, create one to connect to your YouTube channel. AdSense helps you to withdraw the money in easy ways.
Set the preferences of your monetization
After monetization of the channel, post quality content to gain audience and views.
Can I Start Vlogging with a Phone?
Yes, you can start vlogging with a phone. Here are some tips for you to start vlogging.
1. Use Landscape Mode:
If you want to start your vlogging experience with a mobile phone, you should use landscape mode because it is better than the portrait mode. Also, more area is captured, in which you can show multiple things.
In this way, you can keep your audience engaged with ease. For vlogging, it is not necessary to talk with the camera alone. You can include some of your friends to talk with. Also, add beautiful moments of your day to make the video interesting.
If you are giving tips on something, try to add its pictures. It helps to keep your audience engaged. Always use Portrait mode to capture pictures for better quality.
2. Learn Proper Video Editing:
The most important step in vlogging is video editing. Many bloggers shoot good vlogs but do not know how to edit it properly. This is a major drawback.
Good video editing skills can make an average shoot vlog a good one, and bad editing can convert a good vlog into a bad one. There is much software that you can use to edit a vlog on mobile.
But if you have a laptop or computer, you can edit video on them. If you make a funny video, do not forget to add a background voice to it. Also, try to add slow motion shoots in a video to grab the viewer's attention.
The best software that you can use includes filmora or Adobe premiere pro, or many more.
3. Add Timelapse to Videos:
With the help of Timelapse, you can show your long routine in less time. Also, it helps to make videos attractive. If you are traveling or doing some work that takes a long time that you can not show in the video, then show timelapse.
You do not need any additional equipment to record timelapse. All the latest mobile phones have this feature. But if your mobile does not provide this facility. Then download the Framelapse application from the play store.
To shoot timelapse, just place your mobile in a fixed location and add it to the video with the help of editing software at suitable places.
4. Make Attractive Thumbnails:
The thumbnail is the first thing that attracts viewers' attraction. Try to make an attractive thumbnail so that many people click on it to see your video.
You can design professional and attractive thumbnails with the help of canvas. Also, watch professionals video on how to make a good-looking thumbnail. The first thing that attracts attention is a good color scheme.
You can also use Font Lab mobile app to make a thumbnail. Try to make the thumbnail according to the title of the video.
5. Focus on Video Resolution:
Video resolution plays an important part in vlogging. To make an attractive video, you should focus on its resolution. Most of the beginners do not focus on proper video resolution.
Before you start vlogging, first learn about video resolution and have good editing skills. The most common mistake that bloggers make is to export videos in the wrong format.
If you record a 720p quality video, then export it in 720p resolution because if you export it in 1080p, it will damage the video. Moreover, always use WMV format to export videos instead of MP4 and AVI.
Because WMV will improve the video quality on YouTube.
Why is Vlogging so Popular?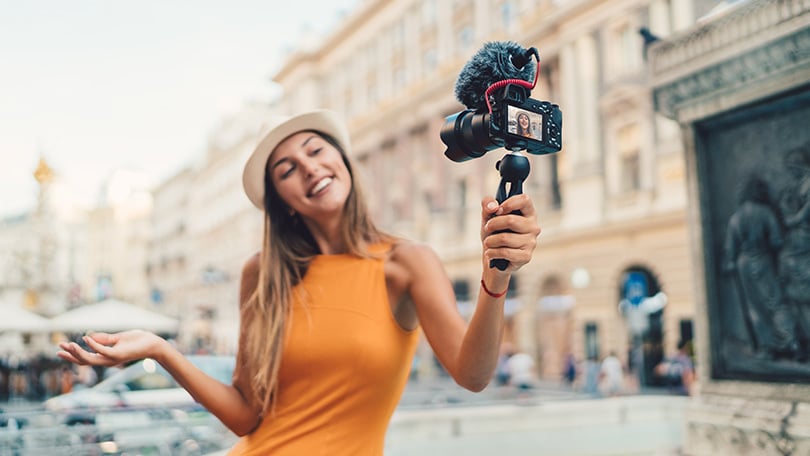 Here are some reasons due to which vlogging is popular
1. Connects People with the Different Parts of the World:
YouTube is a platform that connects you with different cultures and people. You can easily see them and know about them. Because vloggers show their daily routine in the video and also share some knowledge that keeps you engaged.
You can also review their video in the comment section.
2. Entertainment, Education, and more:
Many people make educational tutorials. By seeing the video, you can clear your doubts on a certain topic. Also, vlogging is a source of entertainment. Many vloggers do some crazy challenges and tasks to entertain you.
3. Easy to Start:
You do not need to do some special courses to start vlogging. You just need some good and crazy editing skills to keep the audience engaged. The other main thing in vlogging is a good camera and good resolution.
4. Relatable content:
All YouTube content creators show the things that happen in daily life. That's why you can relate to the videos. Sometimes you are happily embarrassed by the things that they show in the vlogs. Because somehow you can relate to it.
5. Powerful and big communities:
Vloggers make a big community with their fans and the people who have the same interests. These communities are the best that connect people from different locations in a single platform. You can also interact with the vlogger through comments sections.
6. Money:
The best thing about vlogging is making money by showing your daily routine. If you can generate good content that can engage people, you can also generate good revenue. This revenue is enough to fulfill your needs.
7. Connection is the key:
The main thing about vlogging is to make a connection that connects people. Many vloggers are successful in creating that connection. That's why vlogging is so popular in this era.
Wrapping It Up
The final advice we'll give you is probably the most valuable tip you can get: never give up.
We understand that stay motivated might not be that easy, especially if things don't go exactly as planned. Keep in mind that it will be a lot of work and that successful vloggers and bloggers are putting out high-quality videos on social media and other types of platforms to stay relevant constantly.
But, with enough determination, you're already ahead of others in starting your own vlog! We know that you're capable of making a great vlog channel!
After all, the best proof that you're motivated is that you've read this whole article thoroughly!