Imagine, for a second, that you are using a camera without flip screen.
At A Glance:

Our Top 3 Picks for Flip Screen Cameras:
Unless you're paying perfect attention, it's easy to misjudge your positioning and the angle of the camera.
You don't want to be someone who spends 30 minutes pouring everything that they have into a vlog, only to find out afterward that their face got chopped off and they have to re-film the entire thing while still trying to sound just as enthusiastic as they did on the first go around.
This problem would never have happened in the first place if they had been using a proper flip screen vlogging camera.
If You Are a Beginner; You NEED a Flip Screen:
A flip screen has one key advantage over all other types of vlogging cameras:
Instant Feedback
This means that while you're recording your vlog, you'll be able to see exactly what you look like, control the lighting, and produce a better video.
Aside from angles, the constant feedback also shows you how you look.
When you're filming, you want to convey positive energy to your viewers.
This means that you want to make sure that you're not frowning, grimacing, or staring off into the distance.
Best Vlogging Cameras With Flip Screen in [year]
There are hundreds of seemingly high-quality, affordable video cameras in consumer's eyes.
We know how frustrating that this can be, so to make your choice easier, we made this list for all the vloggers who need a camera with a flip screen.
Enjoy!
Canon Cameras with Flip Screen:
WINNER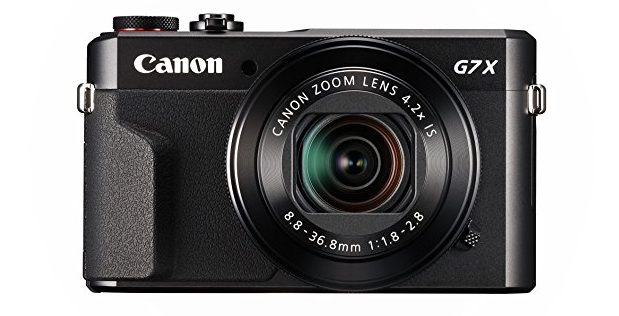 Quality = 93%
Affordability = 87%
Why I Like It:
Low noise at high ISO (crispy clean video)
Superior low-light performance
Used By Hundreds of YouTubers
Amazing Image Stabilization
Used By YouTubers: RomanAtwood, Dom Tracy and Alex Wassabi
Review:
Canon is one of the biggest names in the camera industry and their Powershot G7X quickly became one of the most popular personal vlogging cameras in the world.
It was a compact camera, simple to use, and offered amazing image and audio quality despite its humble appearance.
Due to the success of their original model, Canon decided that they would reward loyal customers and first-time shoppers alike with an upgraded and improved version: the Mark II.
It features everything that made the first model great with a few considerable upgrades:
Superb Image Stabilization: First, let's take a minute to talk about image stabilization. This is where the camera really surpassed all of our expectations. You could be walking briskly down the street while vlogging and still have a very smooth non-shaky video when you finish.
WiFi: It also has WiFi connectivity which means that you can quickly upload all of your photos and videos directly to your device without having to keep track of a bunch of cables or having to deal with slow USB transfer speeds.
Low Light: You can expand the ISO on the Mark II all the way up to 25,600. This is very high for such a small camera and when you combine this with noise reduction, you get a camera that functions very well in low-light conditions.
Battery Life: If you vlog a lot, then you'll also really appreciate the extended battery life on the Mark II. Canon claims that their new battery is 25% faster than the original G7X, and based on our preliminary testing, this is most definitely true.
One final feature that vloggers will really appreciate about this camera is the fact that it comes stock with time-lapse editing features.
If you spend a lot of time vlogging, then you know just how useful this is and how much time it can save you doing editing work on your PC.
Features:
Camera Type: Point and Shoot
DIGIC 7 Image Processor
Flip Screen
Canon HS system produces beautiful low-light videos
Rubber side-grip
Large 1-inch, 20.1 Megapixel sensor
Superior image stabilization
Drawbacks:
No external microphone input
No 4K
The Verdict:
Overall, this is our best choice for a regular person looking to start vlogging with a flip screen camera and documenting their journey in [year]!
UNDER $1000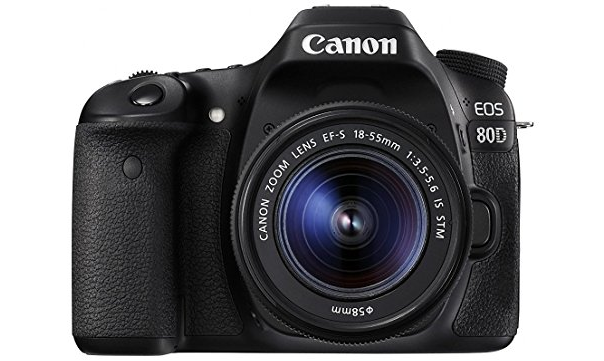 Quality = 96%
Affordability = 82%
Why I Like It:
Performs excellent in low-light situations
Great battery life
Custom auto focus
Used By YouTubers: David Dobrik, Jenna Marbles and iDubbz
Review:
If you're willing to sacrifice a little bit of size for a huge boost in functionality and features, then the Canon EOS 80D is a superb vlogging camera.
If you've been "making do" or "getting by" with a less than the satisfactory camera, then you owe it to yourself to check this bad boy out.
Video Quality: First, let's dig into the best feature of this camera; namely the fact that it can shoot full HDR videos. This means no more blurry, fuzzy, and generally low-quality vlog shoots. With this camera, you'll be able to get the same shots that you'd get in a high-end studio.
Great Sensor: This is due to the 24.2 Megapixel camera and the massive APS-C CMOS sensor which is the muscle behind the Canon EOS 80D. While this model can't shoot in 4K, it can shoot 1080p HD video at 60 frames-per-second, which is great on its own.
Auto Focus: The auto-focus system on the 80D is nothing short of mind-blowing. You can select from a wide array of built-in modes or create your own depending on the situation or environment that you'll be vlogging from.
To activate the auto-focus manually, all you need to do is tap on the touch screen. Canon's built-in Dual Pixel AF tech then splits all of the pixels on the focus area, divides the light in these pictures, and then readjusts focus to create a clear and crisp image. How's that for cutting-edge?
Low Light: Like the previous Canon we reviewed, this 80D also performs incredibly well in low-light situations. When it comes to shooting video, you can adjust the ISO level from 100 all the way up to 128,000. This is one of the reasons it's great for shooting music videos.
External Mic: To top everything off, the 80D even has a port so that you can use an external microphone. You can plug your mic right into the side, and there's even a handy mounting position on the top of the camera.
The only downside to this camera is the fact that it's fairly large.
This isn't a camera that you can fit in your pocket and go to the park with. If you plan on transporting this camera or using it outside of the house, be sure to pick up a camera bag to go along with it.
Features:
Camera Type: DSLR
45-point autofocus
Intelligent viewfinder
24.2 Megapixel CMOS sensor
DIGIC 6 image processor
External microphone port and mounting pad
Drawbacks:
Doesn't shoot 4K video
Not compact
The Verdict:
Canon EOS 80D is a staple choice for a DSLR for vlogging. Used by a big number of YouTube creators, it's a safe choice in [year].
Sony Cameras with Flip Screen:
UNDER $1100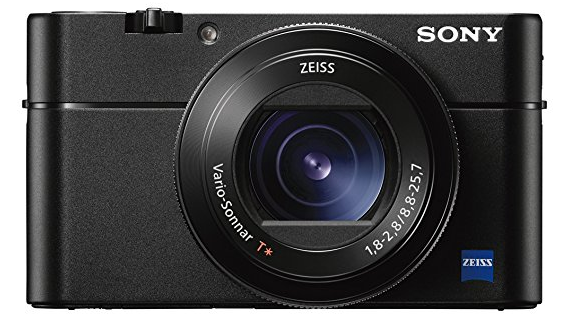 Quality = 97%
Affordability = 80%
Why I Like It:
4K Resolution
Hyper Fast Auto Focus
120 FPS in HD
Extremely Portable
Used By YouTubers: Will Smith, Casey Neistat and Cameron Dallas
Review:
As the latest member of Sony's Cybershot line-up, this model is a step above the rest.
First, let's talk about the 4K video.
It's obviously become far more popular in recent years, but it's usually found on the best cameras that are on the larger side. This camera weighs just over half a pound and can slide right into your pocket.
This means that no matter where you happen to be vlogging in the world, you'll be able to film ultra-high-definition video and share it with your followers.
If you're traveling the world and really want to put viewers in your shoes, then this is the way to do it.
Sony boasts that their RX100 has the world's fastest auto-focus speed at .05 seconds.
This is quicker than the blink of an eye, and even if few other cameras also have this feature, it's still pretty amazing. A quick-working auto-focus makes all of the difference when time is working against you.
Another great feature of the RX100 is the retractable OLED and electronic viewfinder.
It conveniently extends and retracts depending on your personal settings and the natural environment. It works with the Zeiss lens to reduce glare, cut exposure, and give real-life playback.
One really neat feature that some vloggers with Sony could really make use of is the photo capture from the video feature.
This allows you to go back into your video, select individual frames and turn them into pictures which you can use to populate your written blog, use as a thumbnail, or share on social media.
When you first purchase this product, you'll be able to select from a wide array of packages depending on your needs. If you pay an extra $100 for the vlogger bundle, you'll receive a custom handgrip that makes filming yourself easier than ever.
Features:
Camera Type: Point and Shoot
Shoots 4K video
Can shoot slow-motion videos
Electronic viewfinder
Hyper-fast auto-focus system
20.1 Megapixel, 1-inch sensor for high-definition quality
3.6x Optical Zoom
Drawbacks:
Expensive
Some say that the camera is too small (bad if you have large hands)
The Verdict:
If you've got a budget to spend on an extremely high-quality vlogging camera that can fit right in your pocket, then the RX100 is the perfect fit for your needs.
UNDER $500
Quality = 85%
Affordability = 98%
Why I Like It:
High-quality images and videos
Amazing auto-focus performance
Great low-light performance
Affordable
Used By YouTubers: Carli Bybel, Nicole Guerriero and Shameless Maya
Review:
Sony designed their a5100 to be smaller, lighter, and much more affordable than the average DSLR camera.
While the a5100 isn't specifically a DSLR camera, it has the same size, high-quality APS-C sensor which comes standard in larger DSLR cameras.
We really appreciate the lack of noise while filming in low-light conditions with this camera.
Even at a high ISO setting, the details are still stunningly clear and don't have that gritty texture that you would expect on most other vlogging cameras.
If you're an active blogger and you like to walk around while you film, then you'll be very impressed by the ultra-fast auto-focus on the a5100.
It has a wide-range 179-point phase-detection sensor that will keep track of the target area no matter how much it moves.
One additional feature that's really neat about this camera is that you can download third-party apps directly to the camera. These apps can then be used to visually edit your vlogs, transfer them to your smartphone, and upload them onto the internet without ever needing a computer.
Finally, the feature that really brings this camera home for us as one of the best vlogging cameras is that it has a convenient power zoom lever that you can use with one hand.
With the a5100, we were able to shoot a selfie-vlog with one hand while being able to seamlessly adjust the variable zoom level to ensure that we had the perfect shots.
Features:
Camera Type: Mirrorless
179-point auto-focus system
24 Megapixel APS-C sensor
Connects with smartphone
Records in full HD 1080p
Low noise at high ISO
Drawbacks:
Touch LCD screen isn't as responsive as some would like
No built-in microphone input
The Verdict:
Best Sony camera for beginners, for under $500, this camera is insanely good!
Panasonic Cameras with Flip Screen:
UNDER $1000
Quality = 92%
Affordability = 83%
Why I Like It:
Weather-proof
4K recording
Interchangeable lens options
WiFi connectivity
Review:
Panasonic isn't known for their cameras the way that Sony and Canon are, but their Lumix G85 is a really solid vlogging camera.
It has just about everything that you could ask for and is also fairly affordable when you compare it to its competitors.
The first feature worth mentioning is the 4K recording quality. Due to the fact that this is a fairly large mirrorless camera at 1.11 pounds, you would likely expect this.
Unlike most 4K-capable cameras, however, you can take this one virtually anywhere.
It is a sturdy camera that is built to be both splash-proof and dust-proof. This means that whether you're vlogging about motocross racing or vlogging by the ocean, your camera is safe.
Of course, you don't ever want to fully submerge this camera, but if it gets hit with a big splash of water, it will survive perfectly fine.
One really nice feature about the Panasonic Lumix G85 is the fact that there are so many different lens options available.
While the stock lens is perfect for most vlogging purposes, Panasonic offers almost 30 different lens which are interchangeable across their Lumix models.
Finally, this camera has an optional external microphone port along with a shoe which you can clamp most small shotgun-style microphones onto.
Features:
Camera Type: Mirrorless
Shoots 4K video
High ISO range and low-light performance
Features electronic view finder
External microphone port
Durable (water and dust resistant)
Drawbacks:
Low-light performance could be improved
Heavy/bulky
The Verdict:
When you combine all of these features together, you get the ultimate vlogging setup that you can take just about anywhere without fear of damage, or sacrificing video quality.
UNDER $800
Quality = 88%
Affordability = 86%
Why I Like It:
Electronic view finder works incredibly well
Shoots 4K video
Responsive touch screen
Easy to hold/grip
Room for accessories
Review:
It's half the price of many competing 4K-capable models but offers the same high-quality video and durable shell.
The Lumix G7 offers 24 compact lens options which you can use to give your viewers a new perspective every time that they tune into your latest vlog.
It also features Panasonic's cutting-edge "mirrorless" design which cuts down on the bulk while still offering HD video.
One really neat feature about this camera is its super-fast auto-focus speed and its ability to extra 4K photos out of 4K videos.
This means that you'll never have to worry about missing those once-in-a-lifetime moments due to slow focus times or shutter speeds.
While the G7 offers good low-light performance, it really shines when you're filming in the outdoors.
The built-in high-visibility viewfinder` reduces all of the annoying glare and allows you to film a high-quality vlog even in the middle of the midday sunlight.
Like several of the other cameras that we've reviewed in this article, the G7 offers WiFi connectivity and if you download the Panasonic Image App on your smartphone, you'll be able to directly upload your vlogs to your smartphone for easy social media sharing.
Finally, the thing that really makes this a fun camera is the sheer variety that you have when it comes to accessories down the line.
You can snap on external microphones, lighting attachments, and more in a matter of seconds to create the perfect mobile vlogging setup.
Features:
Camera Type: Mirrorless
Shoots 4K ultra high-definition video
Ultra-compact lens
High-quality DSLM
Integrated WiFi sharing
49-point auto-focus
Intuitive hand controls
High-visibility view finder
Drawbacks:
Slow processing speed when shooting 4K video
External buttons are a bit stiff
The Verdict:
If you want to shoot your next vlog in beautiful 4K without having to shell out an arm and a leg on more expensive models, then the Panasonic G7 is a great choice.
UNDER $600
Quality = 84%
Affordability = 99%
Why I Like It:
Incredibly affordable
4K Resolution
Good Low Light
120 FPS in Full HD Video
Review:
The Panasonic Lumix FZ300 is an absolute steal!
It lacks the sleek, attractive look of some of the other cameras that we've reviewed in this article, but for everything that it lacks in aesthetics, it more than makes up for when it comes to performance.
First, take a look at the LEICA lens.
It features an f/2.8 aperture brightness even when the zoom is at maximum (which is a whopping 24x). This allows you to add high-quality zoom shots to your vlog whenever you want, which is great if you're in a new environment.
One really unique feature about the FZ300 is the fact that it allows you to remotely control the camera via your smartphone as long as you have the app downloaded. This allows you to create seamless vlog shots without having to get up and down and constantly adjust the camera.
The free-angle touchscreen allows you to shoot videos at almost any angle that you could possibly come up with which could make for some interesting vlog shoots, especially if you're filming on-location in an outdoor environment.
Finally, this camera has some of the best low-light functionality that we've ever seen when compared with models that are 3 times as expensive.
This is due to the high-sensitivity MOS sensor which works with the built-in Venus Engine to create high-resolution video anywhere.
These two work together to diffract light, auto-adjust the ISO levels, and cut down on interference and noise
Features:
Camera Type: Point and Shoot
Rugged design
Shoots 4K video
25 – 600 millimeter zoom
Superb low-light performance
5-axis tilt correction
Free-angle touchscreen
Remote control available
Shoot at 120 frames-per-second in HD
Drawbacks:
No input for external microphones
Heavy for a point and shoot
The Verdict:
This camera is a monster, and if you're getting into vlogging for the first time or you're looking for a great upgrade, then you should definitely check it out.
Nikon Camera with Flip Screen:
UNDER $800
Quality = 86%
Affordability = 86%
Why I Like It:
Shoot vlogs at almost any angle with the vari-angle monitor
Affordable
Transfer videos directly to your smartphone
Shoots high-definition 1080p video
Review:
If you're looking for an affordable camera that can do it all, then the Nikon 1576 D5600 is a great option.
While this model can't shoot in 4K video, it's can shoot in 1080p all day long to give you consistent high-quality videos that are bound to make your vlog perfect.
Before we talk about the more technical specs of this model, let's start by mentioning their intuitive SmartBridge system.
While many cameras offer basic WiFi connectivity that does away with the need for cords, SmartBridge is something else entirely.
First, you'll need to download the SmartBridge app on your smartphone, and then you'll need to register your camera with it. Once you've done that, your camera will automatically upload your media directly to your device.
The vari-angle flip screen monitor is a real step above the competition as well.
You can flip it in a whole slew of different angles which will really help you to get the unique shot that you need for your next vlog to go viral.
Features:
Camera Type: DSLR
SnapBridge smartphone connectivity
Vari-Angle monitor
24.2 Megapixels
39-point autofocus
Adjustable ISO level 100 – 25,600
Built-in time-lapse functionality
Drawbacks:
Doesn't shoot 4K video
Bulky design
The Verdict:
Combine all features like 39-point auto-focus, high-level ISO variability for low-light performance, and the 24.2 Megapixel lens, and you're bound to shoot amazing vlogs.
Why I Like It:
Excellent video quality

Flip touch screen

Great battery life

Wi-Fi and NFC

External microphone jack
Review:
Canon 80 D consists of a 24.2mega pixel sensor and can offer a video quality of up to 1080p at 60 fps. Its built-in specifications include flipping touch screen, slow-motion recording, Wi-Fi to transfer files, shooting time-lapses, and many more. This Canon 80 D provides a comprehensive all-in-one package and hence fulfills every requirement of a professional vlogger.
One of its show-stealing features is that this vlogging camera is waterproof. Besides being dustproof, this camera is water-resistant too, so now you can shoot your videos outdoor with a little more freedom.
Canon 80 D consists of long-lasting battery life of around 960 shots, which is above average when compared to other DSLRs.
A microphone jack and a headphone jack come within the package to provide you with the best audio quality and enable you to monitor your audio in real-time.
The only drawback this device has is that it doesn't support a 4k resolution display and due to its heavyweight, it's difficult to carry this vlogging camera for a prolonged period.
But it's outstanding specs makes up for it and hence Canon 8D can be your best pick for vlogging.
Features:
Resolution: 24Megapixels
Sensor size: APS-C (22.5 x 15 mm)
Lens: Canon EF/EF-S
Storage: SD
ISO: 100-16000 (expands to 25600)
Max shutter speed: 1/8000 sec
Flash: up to 12.00 m (at ISO 100)
Self-timer: Yes (2 0r 10 secs, custom)
Wireless notes: Wi-Fi 802.11/b/g/n with NFC
USB: USB 2.0 ( 480 Mbit/sec)
Drawbacks:
Quite heavy

No 4K recording capability
Why I Like It:
Improved temporal noise in the video.

4K resolution provides premium video quality.

Contains Dual UHS-II card slots.

Settings can be saved to the card.

Comes with 6K Photo mode,

Comes with Auto ISO for manual movie shooting.
Review:
Panasonic Lumix GH5 consists of a 20.3 Megapixel Four-thirds sensor and is well known to shoot a great 4k video at 60 fps and 1080p video up to 180 fps.
Lumix G5 is the only cheapest camera to exist that provides the ability to record a slow-motion video in 4k resolution in excellent video results.
The best feature of Lumix G5 is that its specification includes a built-in-5-axis image stabilization option, this option is not available in other cameras and portable lenses for image stabilization can be very costly.
Coming with a rugged and sturdy body, which is sealed against the elements to handle every kind of mishap, especially while traveling.
Due to its 5 stops image stabilization and Autofocus system, Lumix GH5 can track subjects at 9fps and provides 225 focal points to enhance video quality while shooting a professional travel vlog.
The Panasonic Lumix GH5 is an videophile's dream, with offering a built in high speed Wifi along with NFC and bluetooth, this device can uplift your vlogging skills and you can surely do wonders with this camera.
Features:
Resolution:

20.3 Megapixels

Sensor size:

366.6mm2 (23.50mm x 15.60mm)

Lens:

Panasonic

Storage types:

SD/ SDHC/SDXC

ISO:

100-12800

Max shutter speed:

1/4000 sec

Flash range:

4.0 m / 13.1 ft (at ISO 100)

Self-timer:

2 0r 10 secs

Wireless:

Wi-Fi 802.

USB:

USB 2.0 ( 480 Mbit/sec)
Drawbacks:
Battery life is bad.

Autofocus hinders the video quality.

When shooting high frame rates the video quality decreases.
What We Took Into Consideration:

Cameras are a lot more complicated than they appear on the outside. These tiny little boxes are packed full of cutting-edge technology which is designed to turn your short videos into high-quality vlogs or short films.
You can also pair any of these cameras with a field monitor to give you an even larger viewing screen.
Auto-adjusting lens, image stabilizers, lightning-fast image processors, wireless connectivity, and microscopic high-fidelity microphones are just the tip of the iceberg.
Here are some of the key features which we took into consideration before recommending the following products.
Review some of the features that we discussed BELOW and take a few notes on your personal needs and requirements.
While you're reading through the reviews above, compare and contrast your notes with the camera to see how it matches up to your specific needs.
Low-Light Performance:
Chances are, you're going to be filming the majority of your vlogs from the comfort of your own home.
Unless you're sitting right in front of a large window on a sunny day, most indoor situations qualify as "low-light."
This makes it vital to choose a video camera that has the good low-light performance.
When a camera lacks this, the image processor automatically reduced the frames-per-second, lowers the resolutions, and creates image "noise" which looks very unprofessional.
A camera with good low-light performance will allow you to film with complete ease even in a dimly lit room. The lens will automatically adjust to filter in more light, thus brightening the image and maintaining crystal clear image quality.
Amount Of Noise Shown:
ISO controls the brightness of your videos and also greatly affects the amount of noise.
As you increase your ISO sensitivity, your photos will get brighter, and as you decrease them, they will begin to dim.
However, the more that you increase your ISO sensitivity to brighten the image, the more that it will take on a grainy texture.
This is what photographers refer to as noise.
To a certain extent, this is unavoidable. If you max-out your ISO sensitivity, you're going to have a noisy video. However, what you can control is the degree to which ISO sensitivity affects the noise.
In general, cameras with higher ISO sensitivity settings are far less likely to be grainy as long as you keep the ISO level within reasonable bounds (not maxing it out). This will not only create better low-light performance, but it will create smooth and seamless video quality.
Lens Aperture:
The lens aperture is essentially a measurement of the width of the lens. More specifically, it refers to the opening of the lens diaphragm.
This diaphragm is responsible for the amount of light that gets through to the image.
Adjusting your lens aperture can greatly affect field depth and the quality of your background. Lower aperture settings focus on the object in the forefront of the camera, while a higher aperture setting creates a crisp and clear background image.
Depending on where you're vlogging, you may want more or less of each. If you're going to be vlogging primarily in your bedroom, then a lower aperture is better.
If you're vlogging on-location out in the city, you'll likely want your viewers to see the background with a higher aperture.
The experienced vlogger needs a flip screen camera that has a highly-adjustable lens aperture. This allows them to shoot high-quality vlogs no matter where they happen to be.
Optical Image Stabilization:
Have you ever watched one of those films or videos where the whole screen just looks like it's shaking and it starts giving you a headache? That's because it was filmed by a video camera that had no optical image stabilization (OIS).
OIS helps to keep your image stable even if you're moving around. This is especially important if you're going to be holding your camera in your hand while you film.
It will reduce the natural shaking of your hands and even out the broader sweeping movements of your arms.
This is achieved through a process known as 5-axis image stabilization which constantly processes the image based on yaw and pitch, vertical and horizontal positioning, and camera roll.
After taking all of these into account the stabilizer works to create a steadier video.
Sensor Size:
The size of a camera's sensors ultimately decides the quality of the image. An 18 Megapixel video camera will never give you as high-quality of video as a 24 Megapixel DSLR-capable video camera.
The sensors control the amount of light that gets into the lens. This, in turn, means that the camera can produce higher-resolution videos without sacrificing overall quality.
Large sensors also do a better job of isolating objects and people without causing unwanted blurring.
Video cameras with larger sensors tend to be a bit clunkier and heavier, but this is often worth the sacrifice as it will give you far better video quality than you would get from a video camera with small sensors.
WiFi Connectivity:
While this feature may not be a necessity, it is certainly a very nice add-on which many modern cameras feature. Every time that you take a video, you'll be able to back them up as soon as you get a WiFi connection.
This means that even if you lose or damage your camera, you'll still have all of your old media safely saved online. Some cameras even offer the ability to automatically upload your videos directly to social media.
This is a great way to gain instant exposure and save time on the computer.
Microphone Location:
When you're in the middle of making a vlog it's very important to understand where all of the microphones are located on the camera.
The last thing that you want is to spend a bunch of time recording a vlog, only to discover that you can barely hear your own voice afterward.
Of course, different cameras will have their microphones in different locations depending.
The easiest way to identify them is to look around and find the small holes (usually the size of a pinhead).
For vlogging purposes, you want to make sure that you get a camera that has at least one front-facing microphone.
This means that while you are filming yourself, that your words will be clear.
In regards to flip screen cameras, this is especially important.
Most flip screen cameras may even have a microphone built directly into the screen to ensure high-fidelity sound.
Microphone Input:
While most video cameras have fairly advanced built-in mics, you may want something a little bit fancier for some purposes.
For instance, if you're recording in a loud environment with a lot of background noise, getting a proper vlogging microphone is a must!
Most compact video cameras simply don't have the space for this. However, if you can find a vlogging camera with an external input slot, it's a huge plus.
Types of Flip Screens:

A camera with a flip-screen offers you to record corners at angles that usually are difficult to be recorded by a non-moveable camera screen, and makes it a pretty important feature one should consider beforehand while buying a camera for vlogging.
Usually, there are 3 types of flip screens, It's recommended to pick your desired flip screen accordingly to perform vlogging efficiently.
The Fully Articulating Screen:
An articulating screen consists of a liquid-crystal display that can be adjusted and repositioned through a pivot. This type of screen is able to move in all directions.
This screen is known to be the most flexible type of flip screen you can ever have. However, the fully articulating flip screen is only available on the Canon EOS M 50.
The Flip Screen:
This type of screen is less flexible than a fully articulating screen and provides a flip rotation of 180 degrees limited to the direction of up and down only.
Additionally, if an external microphone with a hot shoe is attached to the camera, you won't be able to use the flip screen as it will be blocked by the microphone.
The flip screen is available on Sony a6400 and Sony a6600.
The Front-Facing screen:
The front-facing screen is known to be the least flexible type of screen as you're only able to view it as a fixed screen on the camera.
This screen is available on DJI pocket 2 and GoPro Hero9 camera.
What Type of Vlogging Can You Do?
If you are considering starting a youtube channel, then you can initially begin your career by making vlogs by picking up different themes.
There are many viable options you can pick as a theme for your Vlog but it's not an easy task to do. You should choose a theme that should be engaging and attract the audience towards your vlog.
Below are the five most interesting topics to kickstart your career.
Daily Vlogs:
Daily vlogs are the most viewed vlog and highly viewed videos on the internet these days. You try to engage your users by telling them how you spend your entire day.
Travel Vlogs:
Travel blogging is considered to be a very interesting and entertaining theme. If you love to travel, then it's advised to don't forget your camera while traveling somewhere.
As most people aren't gifted with enough resources to travel on their own, they can use your videos to see the world.
Educational Vlogs:
If you are good at studies, then you can help your viewers' life easier by sharing your notes and knowledge with them. School and college students are always searching for YouTube videos that can help them with their homework.
Musical Vlogs:
Music is a thing that makes people and nations unite. If you are fond of singing and God has gifted you with a beautiful voice, make a Music channel and bless the ears of your users.
Review based Vlogs:
If you are well aware of what's been trending in the world lately and can prove to the world that you're the right source they should approach whenever they feel the need to keep them updated about the proceedings of the modern world, then reviewing things could be a thing for you.
Frequently Asked Questions:
Conclusion!
One of the things which many bloggers fail to realize is how much the quality of their video affects the views, likes, and shares that they receive on their vlogs.
People today have become accustomed to seeing 1080p HD videos with clean, crisp images.
By providing them with anything less than this, you're automatically lowering your chances, and before long they'll click away to the next vlog that offers them something more visually impressive.
As shallow as it seems, this is the reality of online vlogging.
One of the best things that you can do to increase your reach is to upgrade your video quality, and the easiest way to do that is to check out any one of the cameras which we just reviewed.
They all have flip-out screens (some even have fully rotational screens), which allow you to film yourself with ease.
Depending on your personal filming needs, you may need other features such as external mic compatibility, enhanced zoom, or smartphone controls.
Happy Vlogging!