You can't just use any camera for vlogging.
Most cameras are made simply for photography, and only small part of them have good features for video.
At A Glance:

Our Top 10 Vlogging Cameras
In order to make vlogs of acceptable quality, you need a camera that has features to do so.
So we made it easy for you:
In this guide, we go over top 10 best vlogging cameras for every possible price point.
3 Types of Vlogging Cameras We Covered
Here's a quick list of the types of cameras we have covered:
Mirrorless Cameras
Point and Shoot Cameras
DSLRs
Mirrorless cameras have quickly become the favorite of a large number of vloggers out there.
This doesn't really come off as a surprise, given the kind of versatility they offer.
A good mirrorless is as capable as a DSLR, but without the bulkiness or complicated user experience of a DSLR, which is what makes it a great choice for professional vloggers that may not be skilled videographers.
Not all vloggers start with a professional DSLR.
If you're someone new to vlogging and just looking to test the waters, then you will likely want to go with a point and shoot camera.
They are super easy to use but functional, and if you choose a good one according to your needs, it can help you produce a lot of quality video content quickly.
Despite the emergence of mirrorless cameras, DSLRs show no signs of slowing down.
And that's simply because when it comes to professional photography or videography, DSLRs are just damn hard to beat.
They offer some of the most advanced features you can have in a vlogging camera, with some of them also coming with great video stabilization, an accurate, sophisticated autofocus system and many other features that make them a great choice for professional vlogging, especially unless you plan to travel extensively when recording your videos (as they can be a struggle to carry around).
We haven't covered action cameras, because we consider them to be an additonal equipment rather than something you use as your main camera.
We haven't covered camcorders, because we think they are outdated and the only reason you would use them is because you have specific needs, like for example indoor stabilized shooting.
Top 10 Cameras for Vlogging in [year]
If you are wondering what cameras do vloggers use, under each camera we added 3 YouTube who use that camera to vlog.
CHEAPEST
Quality = 75%
Affordability = 98%
Why I Like It
Compact, lightweight, and can easily fit into your pocket when traveling
Boots up fast and the overall speed, too, is pretty good
Records decent videos in 1080p HD quality, and they come out really good even when you're recording from a long distance
The focus is very good at this price, and the same goes for the lens
Review
This is the cheapest, but one of the most value-packed vlog cameras on our list.
It's a great budget option for vloggers that are just starting out, and wouldn't want to spend a lot just yet.
Despite being priced so cheap, the ELPH 360 comes with enough of pretty much everything for a compact, pocket-sized camera.
Sure, it isn't going to compete with a DSLR by any means, but for backpacking and travel vlogging, it's the best you can get for under $200.
It easily fits your pocket, is extremely lightweight, works great for doing long distance recordings (something your iPhone just wouldn't be able to) and is also very fast so you don't miss any special recording moments.
While we wouldn't expect a great focus at this price, it actually turns out to be surprising good with the ELPH 360. It can take a bit to catch up when you're recording something with lots of movements and changing subjects/elements, but most of the time you will be pleased with how it performs.
The lens, too, is pretty good for the price, and the 3-inch LCD screen is functional and paves the way for very easy viewing.
However, something you wouldn't expect at this price, but do get with the ELPH 360, is a great optical image stabilization.
So you wouldn't have to deal with those distortion issues and loss of detail when recording high-action videos as you would with most other cameras in this price range.
The controls are very easy, which is important for a travel or backpacking camera as you often wouldn't have the time to fumble through different menus when you want to record something interesting that might be gone in less than a minute.
The WiFi works great as well, which is again an important feature as it offers you the convenience you need when traveling.
It would be easy and quick to transfer the content to other devices, and you would be able to put it up on your channel faster as well, giving you more time to work on the content.
The battery life is decent too, but more importantly, there's an Eco mode that boosts the battery life by about 40%, and we are sure you know how useful that can be when traveling.
Camera Type: Point and Shoot
Drawbacks
Neither the lens or the sensor is going to be any match for that of a good DSLR
The low light performance isn't very impressive
If you'd like to see other options for under $200, check this guide out. And if you need a super cheap camera, check out best vlogging cameras under $100.
BUDGET
Quality = 79%
Affordability = 95%
Why I Like It
Great macro capability
The ease of use
The battery life is decent
Comes with an articulating screen, which is GREAT to have at this price and would come in very handy when traveling
Review
If you want a better level of functionality and performance than what the ELPH 360 offers but without compromising much on the portability of the camera, then the Canon PowerShot SX730 would be a good choice under $400. (If you need a even cheaper camera but with more quality then previous camera on this list, check out options for under $300)
It is fairly compact and lightweight, so would turn out to be just as good to carry around for travel vloggers.
However, its 1080p full HD videos at 30p comes out considerably better.
You also get selectable frame rates, and can opt for either 60p or 24p, depending on your needs, preferences, and the type of videos you're doing. However, on a general level, you likely wouldn't be disappointed with what the 1080/60p helps you achieve.
The dynamic IS 5-axis image stabilization is excellent – much better than that of the ELPH 360. It works really well when you're recording something when moving, or having to move the camera a lot to capture a running subject. You can expect almost no blurriness or noise even when recording these types of videos.
It also comes with a fast processor, and hence manages to offer a great speed. This again adds to its capability as a travel camera.
The processor also boasts something that Canon terms as MF Peaking, which is basically something that improves the focus quite a bit, and makes taking stunning footage much easier than it actually is.
And something that you can find many customers being particularly impressed with is the 40x zoom. Now, the 40x zoom is actually more like 20x, but it makes a HUGE difference.
Although the zoom isn't a very important feature to look for in a vlogging camera, it certainly matters when it comes to travel vlogging. This is because you often shoot videos from a long distance, and a great zoom can help take videos that are just as good, with great clarity and detail.
The SX730 takes extremely detailed videos even at full zoom, which is saying something, as most other cameras in this price range wouldn't be able to prevent the distortion from creeping in when shooting at full zoom.
Camera Type: Point and Shoot
Drawbacks
No raw mode
Doesn't allow shooting slow motion at higher frame rates
Doesn't support an external mic
BEST BANG FOR THE BUCK
Quality = 82%
Affordability = 92%
Why I Like It
Insane Quality for The Price
4K Video
Easy to learn
Good AutoFocus
Review
Are you on a budget but still really need 4K performance?
Honestly speaking, it's hard to believe what all you're getting at this price point with this hidden gem.
It's more like a budget vlog camera, but you likely wouldn't feel like you need a high-end one when using it. It just offers an amazing value at this price.
The G7 comes with an upgraded sensor that offers high ISO performance, the kind you wouldn't really expect at this price. The G7 also does raw, and it does it really well too.
The 4K video performance is top notch, and you wouldn't feel like you're shooting 4K on a $500 camera at all.
There are also lots of controls – the dials, buttons and levers. Again, they all combine to offer the kind of sophistication you would expect in a high-end DSLR, but you get that at a fraction of the price with the G7.
Despite the sophistication, however, the G7 is surprisingly easy to use, and the great grip allows for excellent handling experience.
The autofocus barely leaves anything to be desired as well, and is pretty fast and accurate. We are not just talking about quiet videos here, but even the ones packed with actions and lots of fast movements.
Of course, it has interchangeable lens and is pretty much a mirrorless camera; it offers DSLR-like capability and performance, but without the bulkiness and difficult handling of a DSLR.
The viewfinder is very well designed and offers great visibility. The tilting touchscreen is responsive as well, and greatly adds to the overall functionality.
All in all, you just can't beat the Panasonic Lumix G7 at this price.
Camera Type: Mirrorless
Drawbacks
The lens is not the best you can have, but replacing it with something better would improve the overall performance to a great extent
The build quality is good but the materials are made of plastic, although it doesn't look like there would be any durability issues with a bit of care
GREAT FOR YOUTUBE
Quality = 83%
Affordability = 90%
Why I Like It
Amazing for beginner YouTubers
Widely used in the beauty & makeup and vlogging videos
Very nice and smooth video
Great in low light for the price
Used By YouTubers: Carli Bybel, Nicole Guerriero and Shameless Maya
Review
The Sony a5100 is another great mirrorless camera for YouTubers and vloggers, and is priced well under $600.
If you can afford it, we would go as far to as this is the best vlogging camera for beginners.
The only thing you don't get with the a5100 that you do with the Lumix G7 is 4K recording, but it turns out to be a better option on pretty much all the other fronts.
The mirror flip-up screen works really well, especially for beauty vloggers that need to do a lot of self-talking videos. It allows them to get the perfect angle, light and focus, helping them produce highly professional quality videos at high-resolution even if they aren't very skilled at video recording.
This Sony vlogging camera is also heavier than the G7 but that's probably due to the fact that it comes with a much better quality lens, meaning that even its 1080p full HD recording would turn out to be 4K-ish.
The autofocus is as fast as it can get for the price, with as many as 179 AF points. The AF tracking also works well when doing continuous recording at up to 6fps. The AF system is also accurate enough to get the right subject even when there are multiple ones and they are moving quickly.
The low light performance is excellent – better than what you can get in this price range – thanks to an advanced Exmor CMOS sensor and great ISO range of 100 – 25000.
There's also a pop-up flash feature whenever it's too dark and you need a quick burst of light.
This feature doesn't help with the videos, but with the images that you may then use as thumbnails or to build your Instagram account.
You can also instantly share your work by transferring the videos to your phone using WiFi and NFC.
It also has some great additional features such as the "facial smoother" effect, that helps you get rid of any imperfections to give your footage a truly professional feel.
Finally, it's important to note that this camera is much more suitable for beginners than professionals, who might expect a more advanced performance.
Similarly, it's a perfect choice for beauty and makeup vloggers, but other vloggers might manage to find a better product.
Camera Type: Point and Shoot
Drawbacks
No 4K
Some users reported overheating although it's not common
VLOGGING BEST SELLER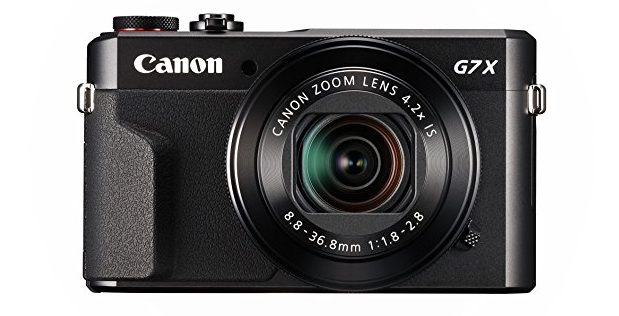 Quality = 85%
Affordability = 98%
Why I Like It
Very responsive touchscreen that tilts and is also very functional – allows you to access lots of features right from the screen
Lots of presets allow beginners to produce professional quality work without being forced to get familiar with manual controls
Nice and Clean Video Quality
Popular Amongst Vloggers
Used By YouTubers: RomanAtwood, Dom Tracy and Alex Wassabi
Review
Well, we just said for the Sony a5100 that it might not be a great fit for professionals, so here's something that certainly might be.
Some of the customers that bought the PowerShot G7X Mark II say they are into professional photography or videography, and have been very impressed with what it manages to offer. No wonder it is one of the most popular vlogging cameras with a flip screen.
However, the surprising thing is that despite the advanced performance and being almost a perfect alternative to a high-quality DSLR camera, it manages to be very portable, compact and lightweight.
Yes, you can fit it into your pocket too!
The f1.8 aperture turns out to be very sharp when working with a factor of 24MM.
The autofocus is the best among all the cameras we have reviewed so far on this list, and it's very snappy and perfectly seamless.
It does take like a second to set into action when shooting in low light though, but that's about it.
Other than that, the autofocus probably can't get any better in this price range.
Talking about low light, the G7X Mark II does some stunning work in low light conditions. It can certainly give some of its much pricier DSLR counterparts a run for their money as far as the low light performance is concerned.
This makes it a great all-round vlog camera as the low light performance is very important for most vloggers.
The ISO range is great, and there's little noise even when shooting at 1600 ISO, and even that can be dealt with some tweaks in the settings.
Camera Type: Point and Shoot
Drawbacks
The battery life is disappointingly limited (hindering its ability to be a great travel vlogging camera as well to some extent)
Adjusting the focus without touch focusing can be a bit challenging
GREAT MIRRORLESS
Quality = 89%
Affordability = 81%
Why I Like It
Super Smooth Video
4K Resolution
Amazing Details
Great Image Stabilization
Review
If you're after a truly advanced performance – including 4K recording – without compromising on other important factors, then the Panasonic Lumix G85 would hit the spot just right for you.
It's a mirrorless camera so it's not as bulky as a DSLR, but it's a Micro 4/3s (DSLM) camera which basically means a much more advanced technology.
The G85 offers 4K performance at both 30p and 24p, and you can do some amazing shooting in 4K at 30p.
On the other hand, the 1080/60p recording also works extremely well when you don't need the 4K. This gives you a lot of flexibility with respect to your video content, something most vloggers would really appreciate.
The dual IS is also one of the best features the Lumix G85 brings to the table. It does wonders to the quality of your videos, especially when it comes to the stability and maintaining the details and clarity.
The flexibility is further enhanced by two custom settings, which allow you to make your own shooting modes as well as save them for whenever you want to use them again. There are also other features that let you customize things further.
This would really help you find a particular type of settings that work best for your videos, which would also help in making videos that stand out from the others.
The G85 is also weather sealed, just like all the high-end DSLRs out there, but without costing as much as they do.
What this means is that the G85 would hold up just as well in all types of conditions, and you can expect it to last for a long, long time to come without encountering any durability issues.
The autofocus is great and the videos come out super smooth and clear even when shooting them while walking.
Finally, all these features and the Micro 4/3s performance helps the G85 take amazingly detailed videos, which is the reason even professional users are all praise for it.
Camera Type: Mirrorless
Drawbacks
It has a lot of options so taking time to learn everything might be a problem to some
SUPER POPULAR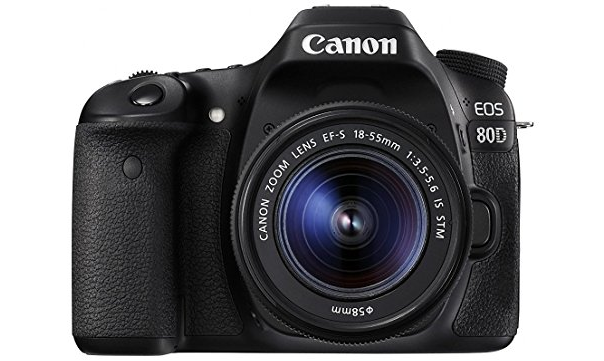 Quality = 92%
Affordability = 78%
Why I Like It
Rich Colors
Really Popular Amongst YouTubers
Best AutoFocus
Great Image Stabilization
Used By YouTubers: David Dobrik, Jenna Marbles and iDubbz
Review
So we finally we have an advanced DSLR camera that some of you may have been desperately waiting for.
While it doesn't do 4K, it takes super sharp videos in full HD 1080/60p. It retains the richness of colors really well, giving the videos a very realistic feel.
The autofocus is fantastic with 45 AF points covering the wide screen area the 80D offers.
It has a dual pixel autofocus system, and one of the best AF systems you would ever come across.
The face tracking works incredibly well unless you're wearing something like a hat or sunglasses, in which case it can get a little lost sometimes, but overall it's very snappy and accurate.
When coupled with the highly responsive touchscreen, it allows you to do some amazing focus pulls which makes your videos look even more professional.
The touchscreen is also articulating, and you can shoot from any angle you want, which would turn out to be an immensely useful feature for vloggers that shoot their own videos.
There are plenty of menus, but they are designed in a way as to not make it complicated for the beginners. The build quality is pretty good too.
Finally, something that vloggers miss a lot when using other cameras is a headphone jack, and the 80D does come with one. Now all the audio issues are going to be a thing of the past, and you would be able to monitor your audio in order to make sure your overall content comes out perfectly professional quality.
Camera Type: DSLR
Drawbacks
POCKETABLE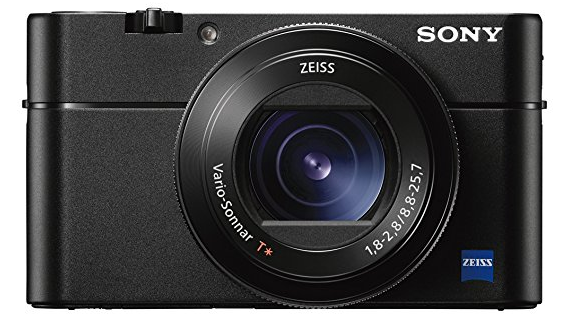 Quality = 91%
Affordability = 78%
Why I Like It
World's Fastest AutoFocus
Can fit in your pocket
4K Video
Best Video Quality in a Compact Camera
Used By YouTubers: Will Smith, Nadeshot and ChrisMD
Review
If you have a budget of $1000 but don't want to go for a DSLR (perhaps you're a travel vlogger), then the Sony DSC-RX100 V is exactly what you're looking for.
However, don't let that fool you into thinking that just because it's a point and shoot, it's super easy to use.
It's actually one of the more complicated-to-use point and shoot, but that's not necessarily a bad thing.
And that's simply because it comes with a huge amount of menus, which actually means lots of features and a great level of functionality.
The video quality is solid, perhaps the best you can find in a point and shoot, especially in this price range.
You get an innovative phase detection autofocus system with it, and there are 315 AF points offering a really wide coverage.
The AF system is very fast and accurate enough to track even small and fast-moving subjects without any issues. The RX100 V also supports fast, continuous shooting at up to 24fps, which is great for continuous shooting.
Unlike the 80D, however, the RX100 V also shoots 4K, and it really takes crisp clear, brilliant footage in 4K mode.
There's also a super slow motion mode that many vloggers would be pleased to have in a point and shoot.
The RX100 V also boasts an improved ISO performance, which greatly helps in producing professional quality videos.
The Sony DSC-RX100 V is also being offered as a package for just under $1000, and offers a great value at this price point.
This is because you kind of get a complete vlogging setup, including even a 12-inch fairly good quality tripod.
Camera Type: Point and Shoot
Drawbacks
Battery drains quickly when filming 4K
Not the most durable camera ever
FULL PACKAGE CAMERA
Quality = 96%
Affordability = 69%
Why I Like It
The screen is FULLY articulating, which just adds to the versatility further
Long battery life makes it an even more impressive choice for travel vloggers
Used By YouTubers: Cody Wanner, Mark Wiens and Jon Ollson
Review
But what if you're looking for a high-end, professional, advanced vlogging camera that would put your videos right up there with those of professional vloggers?
Then all the cameras we reviewed above might seem unappealing. But not the Lumix GH5.
There have been many professional vloggers (including travel vloggers) that have been using it and had great results using the GH5.
It's one of the few cameras on the market that can do 4K recording at 60p and 50p.
And the 4K videos it takes at 60p turn out to be amazingly detailed, sharp, and with just the right focus.
It can definitely make quite a difference when growing your channel as a YouTuber or vlogger, as long as your content is good.
Just like 4K at 60p, the recording quality is also unique in the sense that it also does 1080 full HD videos at 180p. This is something that offers a lot of versatility and allows you to have the perfect recording performance when shooting different types of videos.
The video stabilization is second to none in this price range, and a particular professional videographer that films wedding mentioned they could never shoot weddings before like they can with the GH5.
Camera Type: Mirrorless
Drawbacks
No RAW format but the 4:2:2 10-bit internal recording more than makes up for it
The low light performance could be slightly better
LOW LIGHT KING
Quality = 98%
Affordability = 60%
Why I Like It
Full Frame
Best Low Light Performance You Can Find
4K
Great Build Quality
Used By YouTubers: FaZe Rain, Logan Paul and Mark Dohner
Review
This is the best camera on our list, and probably the best vlogging camera money can buy.
It's a full-frame mirrorless camera, has interchangeable lens (which is obvious) and is one of the rare few cameras on the market to offer a full-frame recording performance, among tons of other features.
As a particular customer puts it, the a7S II is the most versatile camera ever made.
The sensor is as sensitive as it can probably get, and offers great shutter speeds as well as adds to the camera's low light performance.
And as far as the low light performance is concerned, then the manufacturer rightly puts it as "legendary." Putting it as anything less than that would be quite an understatement.
The combination of extra-large pixels that capture considerably more light than most other cameras, incredibly sensitive sensor and great shutter speed and an impressively high ISO makes the low light performance the best you would have ever seen in your life.
The customization is huge with the a7S II. It almost feels like the camera comes unlocked (with regards to the software), as it allows you to change pretty much everything to your liking. In fact, you can also install apps on it to take its overall capability to a whole new level.
Internal 4K recording in the full-frame format works like a dream. There's no sign of any kind of blurriness, noise or distortion, no matter the type of videos you're shooting and how demanding they are.
You also have the option of shooting 4K in 35mm, and the same goes for uncompressed, full HD 4:2:2. This is supported by a mind-blowing hybrid autofocus system with 169 AF points that pave the way for an extremely fast and precise AF experience.
Similarly, the overall video quality is further enhanced by the 5-axis in-body stabilization, that would turn out to be incredibly effective in keeping shakiness and other issues at bay and helping you produce professional quality video content, regardless of the lens you use.
There are so many more features that we just wouldn't be able to cover them all, so let us quickly mention some of the more important ones below.
Camera Type: Mirrorless
Drawbacks
Average battery life
Takes time to get used to menu and buttons
What is a Good Vlogging Camera?

While we have made the task of choosing the perfect vlogging camera way easier for you than it would have otherwise been, you may still be a little confused about which of the above 10 options you should be getting for your vlogging endeavors.
So we have decided to also walk you through the most important factors to consider when buying a vlog camera.
1.

Video Quality

The video quality is obviously the most important factor to consider when choosing a vlog camera.

However, it's not just about whether it can shoot 4K videos or not; although that's important, the lack of 4K recording definitely doesn't translate to a poor video quality.

Many of the cameras we reviewed above don't have 4K recording, but their 1080 full HD quality videos can be just as good.

Just make sure the 1080p quality is combined with a decent speed and there are no distortion issues or any loss of details, and you will be good to go.
2.

AutoFocus

Autofocus is a much more important feature for vlogging than videography in general.

And that's because when shooting vlogging videos, it's crucial to focus on the right subjects, as they are usually what the videos are all about.

A great autofocus system means that the camera won't lose track of the subject as they move or other elements are introduced in the videos.

This would help prevent any inconsistencies in the video quality, which is essential for recording professional quality videos for your channels.

Apart from that, an advanced AF system is also extremely fast, and doesn't lose any time in focusing on the right subject or elements.

This, too, is very important for the video to have a professional feel throughout, and avoiding distortion or noise from creeping into the video.
3.

Video Stabilization

Unless you plan to have a professional vlogging setup with an expensive tripod and lots of other accessories and equipment, it would be wise to not overlook the video stabilization.

This is especially true if you will not just be limiting yourself to self-speaking or indoor videos, but also shoot videos that have a lot of action or are more demanding.
4.

Low Light Performance

Another important feature that vloggers will really struggle without is low light performance.

If your vlogging camera takes great videos in bright daylight but fails to keep the noise and darkness out of the video in low light conditions, then it will be a little crippled as a vlogging camera.

As a vlogger, you may want to shoot many different types of videos, and low light conditions are almost unavoidable.

With a good low light performance where there's no noise in the videos and things are perfectly visible, you will really enjoy putting out professional quality videos in all types of conditions.
5.

Ease of Use

Vloggers may know how to produce great content, but they may not have the required advanced skills to use very specific settings to be able to record high quality videos or get the results they want.

And this quietly makes ease of use a seriously important feature to consider.

While we are not saying this means you should not consider a high-end DSLR at all, we simply mean that the menus and functions should be easy enough to use and control, and the settings should not be intimidating.
6.

Articulating Screen

While it's not the most important feature, we would be lying if we tell most vloggers wouldn't find it super useful.

An articulating screen can give you a lot of flexibility with respect to the shooting angles and ways of focusing on your subject.

This can certainly make a noticeable difference to your overall video quality.
7.

LCD Screen

The size of the LCD screen matters as well. The larger the screen, the bigger the viewing area, meaning that it will get much easier to take great videos.

A wider coverage can also greatly add to the overall functionality.

Similarly, if your budget allows, you would ideally want to go for a vlogging camera with a responsive touchscreen, as it would make it so much easier to manage the focus and control the camera when recording something.
8.

Shooting in RAW Format

Honestly speaking, many new vloggers wouldn't even have heard of this feature; however, professional vloggers may very well understand the importance of shooting in the RAW format.

For doing professional videos, shooting in the RAW format can turn out to be very useful for those that know what they are doing.
9.

ISO Range

The ISO range is another very important factor to keep in mind. The higher the ISO range, the better the level of versatility you would get. In addition to that, being able to shoot at a high ISO would also improve the low light performance.

However, a bigger ISO range should not be accompanied by distortion issues, or you would be back to square one.
10.

Audio Quality

Ignoring the audio quality and focusing only on the video quality doesn't make sense.

You also need to ensure the camera you're choosing is good at capturing audio as well, or you will struggle in engaging your viewers.

That, or you can look for a camera that comes with an external mic port or a headphone jack.
11.

Battery Life

If you're simply a makeup vlogger that will be shooting all their videos indoor, you don't need to sweat over a poor battery life.

However, for someone like a travel vlogger, the battery life can make a great deal of difference to their overall user experience.

It would allow them to have long recording sessions without being bothered by frequent demands for charging, which can actually be pretty annoying.
Choose Based on Your Budget and Needs
While this might sound obvious, it's actually something easier said than done. After all, vloggers that are new to vlogging may find it hard to identify their needs.
In that case, do some research about what you exactly plan to do; what type of videos you would be recording, and who your target audience would be.
Check out some successful competitors and get an idea of what they are doing; then try to figure out how you can do it better.
Once you get the answers to these things, it will get much easier to understand what type of video content you should be creating and how to go about creating it. And once that's done, come back to this list and choose the camera that fits the bill perfectly for you.
Choosing based on your budget is very simple of course.
However, we have a small piece of advice for you
Don't use your whole budget on camera body. You will need to buy a microphone, tripod and other stuff you might need. Check out tripods for vlogging.
Summing It All Up
We are sure by now you have a clear idea of what exactly you should be looking for. We haven't included any Nikon cameras in this guide, but if you are a Nikon fan, check this guide out.
Although there are many different choices, it's easy to figure out what's going to be the perfect vlogging camera for YOU and your needs if you carefully go through all the information we have shared above.
While the Sony a7S II would obviously be anyone's best bet for the most professional vlogging camera, the Panasonic Lumix GH5 would be right up your alley if a professional DSLR is what you're after.
Similarly, the two point and shoots we reviewed at the beginning of this post would make great choices for beginner vloggers on a tight budget with little to no video recording experience.
The mid-range mirrorless and DSLRs, on the other hand, are very balanced choices for vloggers looking for the best of both words: performance and affordability.
Whatever you choose, don't forget the fact that the camera can never have a bigger impact on your vlogging success than the quality of your vlogging content.