Youtube is one of the biggest and essential platforms of this era. If you want your business to grow at a higher rate then mastering youtube marketing and promotions can assist you greatly.
You need to know all the right analytics to perform better on this platform.
This can be easily done if you know the YouTube Analytics guide because it contains all the essential details that you will need to dominate the market.
Here is the deal!!!
In this review, we will provide you all kinds of assistance related to YouTube Analytics. It will happen because we will give you the perfect  YouTube Analytics guide.
You will get to know the essential metrics that play an important role in creating all the analytics on the Youtube platform.
Knowing the right benefits can be an amazing choice. It will give you an edge to promote your business and take it to the next level.
As Youtube is a famous platform and has some of the greatest user bases, you can easily build up your brand from the scratch and gain success.
let's get started…
We will head straight towards the best YouTube Analytics guide to have every detail that you are looking for.
We will give you a better chance of understanding YouTube Analytics and how you can use them for your benefit.
Before we dive further into the depths of the YouTube Analytics guide, you need to know how to use YouTube Analytics and what they are really for.
This will give a better perspective.
How to Use YouTube Analytics?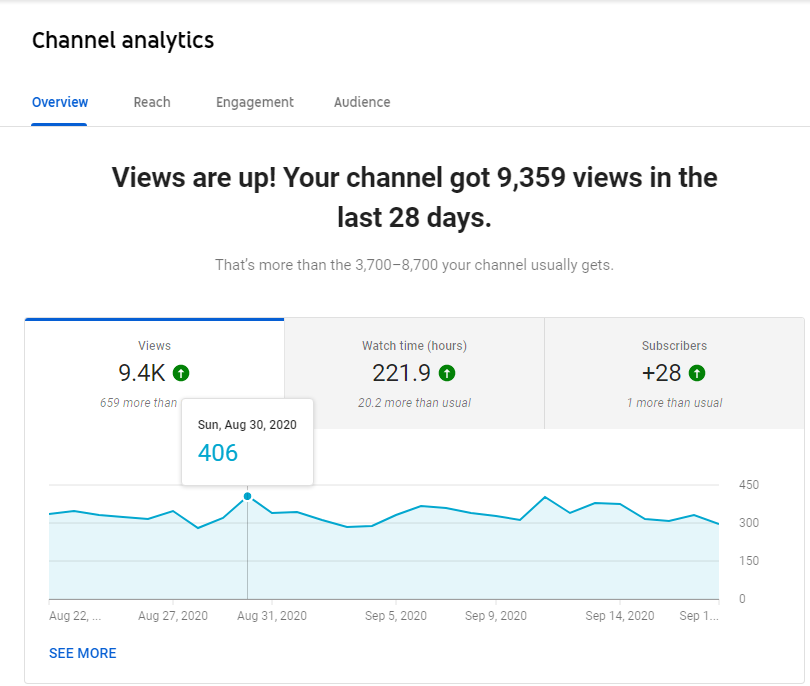 To understand YouTube Analytics and Metrics won't be much of a difficulty. But the actual challenge here is to find them in the first place.
Hence we are here with this YouTube Analytics Guide that will help you a lot.
Here's the deal!
You can dig into basic data around the YouTube channel and use the Analytics tool.
But hold up, you need to go through 1 simple step before continuing. Let's first discuss how to create a channel for your business on YouTube.
If you intend to create a channel then you will need a brand account. The reason for creating is that it allows you to assign various owners and managers to the channel.
These features make it pretty easy to handle the business account.
Hence to create a brand account, all you need is to follow up these easy steps:
If you have a YouTube account, log in there.

There is a profile icon on the top right side, click on it.

Next, click on Creator Studio and then to the cogwheel icon.

Now, here will be the Creator Studio dashboard. There you will see some basic analytics in the mid of your screen.

The menu with Analytics is at the left corner of this panel. Once you click on this option, it navigates you to the main

Analytics dashboard.
General Features of the YouTube Analytics Panel:
On the right side of every analytics page, the overview header has drop-down menus. In this section, for the data examined, you can easily narrow down the time.
Though you can change the settings according to your will the default settings show 28 days.
For specific geographical insights, filter it by country/continent depending on the analytics page.
To consume numbers you will find an Export report button in the top right. It allows you to export datasets as Excel or CSV text files.
It only gets better!
If you get confused by any option on YouTube, there will be a small grey question mark icon. Click on this icon so you can check out the tooltips.
YouTube Metrics: What to Measure to Improve Video Performance: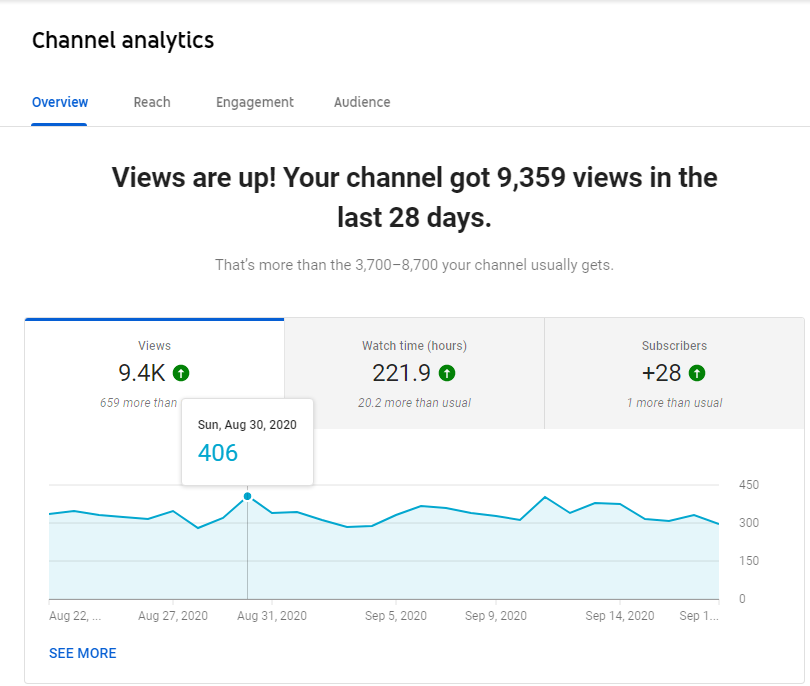 If you want to get a better understanding of video analytics features. Then YouTube Analytics Guider is the optimal choice to help you.
There are 3 major sections of these features listed below:
Watch time reports

Revenue reports

Interaction reports
We will start from watch time reports as they contain most of the stats like retention and watch time views.
Watch Time Reports:
Ever wondered how the data from your YouTube channel gets compiled? Well, the answer is a Watch time report that compiles it.
Then the individual video on your channel, engagement from YouTube's mobile apps.
Below we have jotted down the most important watch time analytics for you. Also, we listed all the questions they answered:
Watch time:

what is the number of videos I have? People watch these videos for how long?

Audience retention:

when do people interact with my content? When do people stop watching the videos? How much is the consistency in videos watched by people?

Demographics:

which are the countries my views coming from? Who's watching these videos?

Playback locations:

where are my videos actually played by people?

Traffic sources:

where do people discover these videos of mine?

Devices:

what is the percentage of views coming from mobile, desktop, or other devices?
This can be an important thing if you are going through the YouTube Analytics guide for better assistance.
The watch time reports help you know the engagement details of the viewers.
It will also enable you to drive your content quality higher and allow you to provide the viewers with the things that they want. 
Watch Time and Views:
Views and watch time might be on the same page yet both have independent stats. When a YouTube video is watched for at least 30 seconds or longer, then it earns 1 view.
The majority of us know that any video's success depends on the number of views.
Views are the key determining factor that can make or break it. But the fact is these views are merely a vanity metric from a marketing point of view.
In case you are not aware of the term vanity metric, let us help you. These are the number that actually doesn't matter and can be easily changed.
These don't have any direct correlation with business success nor an accurate method.
Here's the kicker!
The fact about well-optimized videos is that they have a higher organic number of views.
This points to a prominent ranking of the videos on YouTube's search pages. It can be an amazing thing for you if you want to be the best in your niche. 
Simply divide the watch time by total views, you can get the Average view duration. Here is the formula:
Watch time ÷ Views = Average View Duration
When talking about the statistics, the average view duration is important. Either you can measure it on the basis of per-video or as a whole the average time people spend on your channel.
A higher average view duration points to the fact that you have held the max attention of viewers. YouTube's algorithm will notice this and videos will strike higher in search pages.
Want to know the best part?
This can be your tool to boost the chances of your content appearing in the Suggested list. As the number of high retention rates on videos increases, the channel will rank higher.
Audience Retention:
If you want to track your viewer's engagement over time than using an audience retention report. Not only can you find the average view duration stats.
But you can have insights about your videos stacking up, or the videos best performing, etc. Based on the watched percentage, the Retention gets calculated.
The retention rate will be 50% if a minute long videos get watched for 30 seconds. There are two sorts of audience retention tracked by YouTube.
Either it is Absolute audience retention or Relative audience retention. Below the retention graph, you will see a list.
To switch between the videos you can click on them and scroll back up.
Absolute Audience Retention:
If you want to get an in-depth view on your YouTube Analytics then here's the deal!
The exact moments that are most watched in your videos and where most people tend to drop off. Absolute audience retention is responsible to show these moments.
Check the retention graph to determine the highlights of a high-performing video. In case you want to get a better know-how about engaging trends, this can help you out.
Also, pinpoints what the audience wants to see, guides content creation efforts.
It only gets better!
The same is the case for videos with the least retention or poor performance. The same graph can show you where the viewers stopped watching your videos.
Hence you can pinpoint the lagging parts and make necessary adjustments.
A lot of us don't actually know that urges you to focus on the first 15 seconds of the videos. These seconds contain the introductions having major drop-off rates.
Thus if any of you notices such lack of engagement in 15 seconds, follow these tips:
For the accurate reflection of the content, change the video description

Shorten or remove a lengthy introduction

Address the topic right away to grab more attention
Relative Audience Retention:
Relative audience retention is different from absolute audience retention. It focuses on the retention rates of your videos compared to other of the same length.
The best part about the comparison is that it only involved duration, not content. Though it is not a useful statistic as absolute audience retention.
Yet it allows you to compare the content of your videos with other videos on YouTube.
Demographics:
You can check out the demographics to find out about people who watch your videos. These can be gender, age, geographical location, etc.
When you get to know more about your audience it can help you with YouTube Analytics.
Also, you can make smart decisions for targeted marketing. Or this can be helpful to engage with marketers you previously didn't consider.
What's the bottom line?
If you are producing content expecting to find a certain demographic audience. Yet the results seem to vary your expectations then use this knowledge.
You can change your tone, your choice of words, and more things based on the new target audience. For winning more subscribers, you need to have appealing demographics.
As a result, your videos will be twice as popular among them compared to people who only pass through.
Playback Locations:
If you want to know about your videos and where are they played/watched. Playback locations is a feature that can help.
Either it's watched on YouTube or via another online source anywhere in the world. In case, you want to check out the traffic from the outside pages.
Here's the deal!
Below the graph will be a list, scroll down to that list. Then, click on Embedded in external websites and apps option.
It brings you a list of all the places within the selected data range where videos were watched. Once you find out all the places your videos are being watched.
You can not only optimize the ad spent in these locations. But also it will give you max reach for your money.
Also, this allows you to get insights into the browsing and watching habits of your audience. Thus you can work on new, innovative marketing plans and partnerships.
Traffic Sources:
Another important metric to enhance YouTube Analytics is traffic sources. To understand how people find your videos is an important factor.
Traffic sources help you to do so by clicking on each item of the graph. This will reveal all the specific information relevant to that particular category.
A viewer might search up your videos by a specific search term or a keyword. Or it can be the result of a traffic boost due to prominent featuring.
In short, all these questions are easily answered with these metrics. When you examine the traffic source data, you get a detailed look at the channel's reach.
This data can be the stats of paid traffic, organic traffic, etc.
Devices:
By devices, you get to know a lot about the percentage of users watching your videos. Either it can be via mobiles, desktop, smart TV, games console, or tablets.
Any of these devices out an impact not only on viewers but also on the content type they watch. Alongside, it also impacts the way people interact online.
Take a look at mobile users, always in a rush, prefers to watch on-the-go, inclined towards teensy videos. Whereas when we take a look at desktop users, they have more time.
What's the bottom line?
All you need to achieve here is a perfect balance between different devices. There are people of many kinds and each person has its own preference of devices.
The fastest pacing viewers are smart TV viewers with doubling numbers each year.
Interaction Reports:
Likes, comments, shares, dislikes, and subscribers. These are the major interaction metrics shared by the viewers.
If you directly want to understand the response of the viewers, these are your tools. Check out this data to find the best opportunities required.
And try to reach out and build more subscribers.
How to Improve Your YouTube Search Rankings?
If you leverage the takeaways from YouTube Analytics, this improves your YouTube SEO.
The best practice is to produce valuable, high-quality content that engages people. It can be in use with any sort of SEO, shared with friends.
Want to know the best part?
Here we have jotted down the best tips for improving the SEO. This will help you in ranking your video high on Search and Suggested videos pages.
Include Keywords in Your Video Description:
Here you can use Google's Keyword Planner, as it can be dual useful. You can find some relevant keywords and it let you perform competitive analysis.
Then pick up the keywords that are in use by other YouTubers in your niche.
These are often included in their video descriptions so choose the ones that make sense to you. Then there is another stunning feature to boost YouTube Analytics.
Tags can help you navigate with the appearance of your videos on organic search. The plus point is that you are allowed to add up to 500 words in your tags via YouTube.
Now, the only limitation here is to be in line with the topic of your video.
Follow the Rules:
One of the key rules to improve the SEO is; follow YouTube's guidelines on metadata. Now, to some people, this may not be a big deal but it actually is.
There is a whole range of other policies of YouTube for the content allowed to include in videos. The best part of these rules is that the majority are common ones and not hard to follow.
Upload Videos Regularly:
We all are aware of the fact that with every passing day YouTube's gaining popularity.
In fact, over time it became more common among the younger generation compared to TV.
Here's the deal!
On a predictable schedule, the impulse for content is still the same. Hence if you elevate an audience that always counts down for your next video.
Voila! You have earned rank on YouTube and are on the right track.
Benefits Of Youtube Analytics Guide:

1- Alteration Of Your Content:
This is one of the major benefits that the Youtube Analytics Guide provides you to gain better engagement from the audience.
They can help you in knowing the right type of content to create for your users. You can simply analyze which type of content gets higher engagement.
Use this information to grow your user base and gain a better and wider viewership. 
2- Helps in Optimization:
When you post videos on youtube, it is necessary that you know how to optimize the description of your videos and the whole name of it. 
This will give you a solid breakthrough in gaining more viewers for your content and your video will rank higher.
Use the Matrices given in the Youtube Analytics Guide to master this skill.   
3- Keyword Placement and Promotions:
Keywords are some of the essential things that can help you get a better reach on your youtube content.
The videos you post on YouTube can not find their way towards the audience if you do not have the right type of keywords associated with them.
They are the reason how you can rank higher in the search engine results too. 
Wrapping It All Up!
These are all the essential things that you should know scouring through the YouTube Analytics guide.
It has detail on every aspect that you need to know regarding the YouTube Analytics and how you can easily know every detail about it.
I am pretty sure that you will love all the information in this review.
The reason behind it is that all the information in this YouTube Analytics guide is well researched in every aspect.
This makes everything useful and authentic for users who want to gain better information.
All the pieces of content regarding the YouTube Analytics guide are listed in such a way that the readers can get to know anything right away.
The whole thing is perfectly organized and placed properly for your benefit.
We hope that after gaining all the information regarding the YouTube Analytics, you will be able to understand everything related to it.
But if there is still something which is left unclear then there is no need to worry about it. The good thing is that we are always here to help you and assist you properly.
You can ask us anything that you find difficult in this whole review. We will give you simple and effective solutions for the problems in the YouTube Analytics guide.
This will be done after analyzing all your queries and questions and making sure you will have the right solution for solving the problem.
We just want you to stay connected with tons of amazing and useful updates related to the topics you love.
Until then we sincerely wish you to have a remarkable experience with the YouTube Analytics guide.