YouTube video descriptions can improve your search rankings significantly, which, in turn, will bring you more views. If you've ever uploaded a video on YouTube, you know that the platform asks you to add a title, tags, and description to your video. As you know, the title is there to engage viewers into clicking your video within the search results.
But what is the purpose of the YouTube description?
It is true that the users can't see the description before opening the video, but this doesn't mean that descriptions aren't good for attracting new viewers.
Use This Killer YouTube Description Template To Get More Views
On the contrary! If written properly, YouTube video descriptions can improve your search rankings significantly, which, in turn, will bring you more views.
Your video description depicts the content of your video. So you must never compromise on the quality of your video description. We know that the video description is the last step to fill out before uploading a video, so usually many individuals do not pay much attention to this. And that is the reason their video doesn't get many views and fame.
Video description is very important for SEO potential. You must at least give 300 words of description to your intro video including the keywords and the phrases that are related to your industry your brand.
You must also try to add quotations and comments that give some information about the content of your video.
You must also give the link to the related content of your video. The domain Link to your site is added at the very top of the video. This is done so that the viewers don't have to go deeper for your content.
All these steps must be noticed for your intro video because these help a lot in guiding the viewers and making them happy with your first content. And when they will be happy, they will surely promote your content and with this, you can easily go viral.
Read on to learn the simple process of using a YouTube description template to write killer descriptions.
How To Write YouTube Video Descriptions for SEO?
The purpose of a YouTube video description is to provide the viewer with an overview of its content. But, descriptions are not only about providing useful information to the viewers! They're also about guiding the search engine onto the right patch.
YouTube video descriptions play a massive role in SEO, as they can provide the search engine with the details needed to direct the right viewers towards the video. By "right", we mean those viewers who have searched for a keyword that's closely related to the video's subject.
By using a proper video description, you're not just helping YouTube to guide the users towards the content they're looking for, but you're also boosting your rank on the search results page.
In fact, a well-written search-engine-optimized description can bring you literally millions of views on its own!
Of course, having your videos near to the top of the search results page does not necessarily mean you're going to get a lot of views.
It all depends on how popular the topic of the video is, that is, how many users are searching for the keywords that you've used.
That is why it is crucial to use the right keywords – those which are popular among YouTube users, but for which the competition isn't fierce. To do that, you will need help from a keyword planning tool!
Finding the Right Keywords
A good description can improve the discoverability of your YouTube video, but only if you do the job right. The most important aspect of that job is finding the right keywords. In order to find the keywords that fit the profile, you will have to use a certain kind of tool.
Although it's not ideal, Google Keyword Planner is commonly used by vloggers. The reason is that it's free of charge. The bad thing about it is that it's focused on keywords that the users are looking for on Google, not YouTube.
Still, the experience has shown that keyword trends are very similar in these two search engines. What this means is that if a term or a phrase is getting a lot of attention from Google users, the chance is that the same is happening on YouTube.
Another great thing about Google Keyword Planner is that it shows not only the range of the search volume for certain keywords but also the info about the competition.
So, in order to find the best keywords, you need to focus on those with a large number of monthly searches, whose competition is low!
This tool might be the only thing you need to do your keyword research, but if vlogging is a source of income for you, perhaps it would be wise to use a more advanced tool! Unfortunately, most such programs require paid subscriptions.
Know that some of these tools also offer a free trial, but they usually limit your options. For example, rather than showing you the exact search volume, they will just show a range.
How to Make the Best Video Description?
Once you're done with your quest for the ultimate keywords, it's time to start using them! The most important thing to remember is not to stuff the description with keywords and to format it well.
You can't simply copy/paste the keywords into the description box (which you can do with tags). Instead, the description needs to be readable, so that it would be useful for the users. What this means is that you will need a little bit of effort in order to slip the keywords into it.
Luckily, you have us to guide you through the whole process. So, let's start at the beginning!
First 160 characters!
The truth is that the video description won't show in YouTube's search results page. However, that rule doesn't apply to Google (nor some social media sites, as well).
Google will show a Meta description below each video shown on the search results page, in order to provide a short summary of the video. That is why the length of the Meta description is usually between 150 and 160 characters.
For the Meta description of YouTube videos, Google will use the first part of the video description. What this means is that the first ~160 characters of the description are the most important ones.
Not only does this part of the description need to provide the potential viewer with the info that will make them want to watch the video, but it also needs to contain the main keyword.
Put The Most Important Keyword Up Front!
Your main keyword is the one that best describes what your video is all about. For example, if you're reviewing the new iPhone in the video, your main keywords should be something along the lines of "iPhone review".
However, you must not forget to check the search volume of the keyword, as well as the competition. If these factors are not satisfying, it's okay if you stay away from that keyword.
Your most important keyword needs to be able to bring new viewers on its own.
Still, this doesn't mean that you should use one that's too far off from the video's subject. If you do that, the viewers will probably close the video, which will be a signal to the search engine to lower your ranking.
Make Use of All 5000 Characters!
YouTube allows you to write a description that's up to 5000 characters long. That's about 800 words, more or less. This means that you have plenty of room to include all the necessary info, not just about the video, but about your channel as well.
In order to make the description more SEO-friendly, you should also try to slip in a couple of keywords into the text. This way, you will have a chance to rank for more terms. It would be wise to use different keywords, not just the main one.
Still, make sure not to go overboard. In fact, the percentage of the perfect keywords is 1-2%. This means that if you're going to use up all the available space (800 words), the total number of keywords in the description should not be more than 16!
Tell The Viewers What To Expect From Your Video
You must guide the view that was very well about your video. In the video description, the viewers must be able to guess easily that what you are going to show him or her in that video.
But if you miss representing your videos then the viewers will stop watching your videos which will damage your reputation and search rankings. So avoid the relevant keywords.
You Must Write Like A Human
For this, you must know your audience very well. You must be well aware of your viewers. You must know which language your viewers will understand very easily.
So you must guide them in their respective language. For this, you do not have to be a wordsmith. Many writing resources are available to polish your skills.
Optimize for CTR
CTR stands for click-through-rate. The first two to three lines of your video description are shown and the search results. These lines are very important for your videos to the click-through rate.
So you must keep this snippet SEO friendly. The viewer must be compelled to click on your video after reading these first lines. If these lines are not worth compelling or worth fetching your audience, then the viewers will simply scroll down your video in the search results.
The social media links or YouTube channel links are not necessary at the beginning of your video description. You must keep these things in our mind to have a good video description.
Offer Value To The Viewers
You must always offer an obvious value in your description. You must try to tell the viewers the benefits after seeing your video and why they must subscribe to your channel.
Save Your Time with Default Descriptions:
If you are tired of copy and pasting the social media links and some other links in your video descriptions, then you can use the default descriptions. With this feature, the description will automatically add to every video you upload.
The Perfect YouTube Description Template
In order to create the perfect description, use this YouTube description template that has proven itself time after time:
Content description & main keyword – we advise you to make the first 160 characters unique for each description. After all, this is the part that sells the video.
In this part, you can add a call-to-action, urging the viewers to subscribe to your channel, watch more videos, or visit an external website. You can the same text in each description.
Information about the topic of your channel. You can use this part to write about the main niche of your channel. This means that you can use this part in every description.
This is where you can put all the extra details about the video, such as notes about making it, list of sources you used for information, relevant links, credits, and so on.
More about the author. This is another part that doesn't have to be unique in every description.
Surely, you don't have to follow the same pattern, but rather use the text above to get inspired for making your own template!
The thing is that 99% of videos don't have a good description, usually following 1-2 points from here at best.
Create Templates in Upload Defaults
As you've probably noticed, creating a good YouTube description requires quite a lot of time and effort. This can be a real problem for those who upload videos on a regular basis.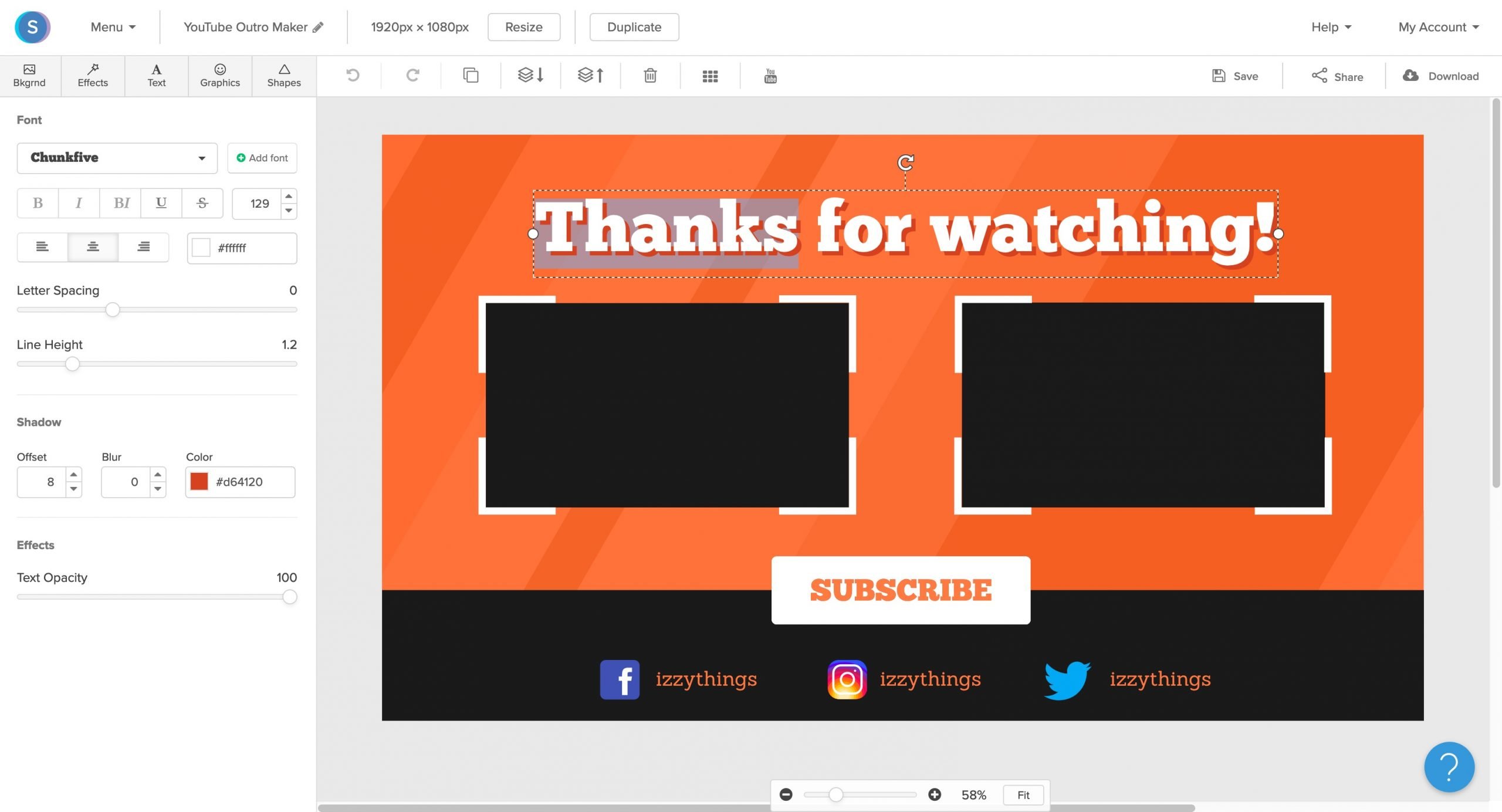 Luckily, there is a solution! Rather than spending your time writing each description separately, you can automate this process with YouTube description templates.
By creating upload defaults, you will tackle a big task. The program will fill in the data on its own, thus saving you a lot of time. Still, in order to make each description unique, continue to add details that are specific to the video in question.
In order to create a YouTube description template, you need to use YouTube's Creator Studio. Here's how step-by-step:
Step 1 – Go to the Creator Studio (click on your user image in the top-right corner and choose Creator Studio from the drop-down menu)
Step 2 – Click Channel
Step 3 – Choose the option Upload Defaults
Step 4 – Write a description template
Using a YouTube description template will automatically let search engines know what your videos are about. But in addition to that – a well written YouTube description will also make the users wanna watch your videos!