For making video content, many argue that audio quality might be even more important that video quality.
If you don't have clear audio then no one can know what your saying, which may cause you to loose subscribers on your youtube channel. Which is why it is very important to make sure you get a good microphone.
At A Glance:

Best Camera Microphone for YouTube and Vlogging
At A Glance:

Best Lavalier Microphones for Vlogging YouTube
At A Glance:

Best USB Microphones for YouTube
At A Glance:

Best Cameras without Mic Jack
You're going to want a microphone that you can pair with your camera if you plan on making top-quality videos.
There are various types of microphones on the market, and the kind that you use will depend on your needs, so we've compiled the top three options in four different categories.
We covered 12 best microphones for YouTubers and vloggers in 4 microphone types:
The Importance of Audio Quality:
Ensuring that your videos have excellent sound quality is a critical consideration and one that is often overlooked by both YouTubers and vloggers.
Far too many people focus on improving their video quality while using the same microphone for years on end or using an in-built camera microphone.
Audio quality is as important as video quality.
If you only focus on the video quality and leave the audio quality behind than you would not be a very successful Vlogger or a YouTuber because there is to keep and maintain the balance between audio quality and the video quality of the content or else you would face several problems which would cause you trouble at times.
You can be the most charismatic person in the world, but if you don't have a mic that can record your voice properly, then nobody will understand you.
Keep in mind that proper audio is about more than just buying the right microphone, as you'll also need to know how to edit it after it's been recorded.
3 Best Camera Microphones for YouTube and Vlogging:

If you record using a dedicated camera instead of a webcam or another device, you'll find that a camera microphone will be an excellent choice.
As you would expect from the name, camera mics are meant to be mounted directly to your camera, ensuring that you won't need a separate mount for it.
As the camera microphones respond better than most of the devices and recording your vocals with a camera microphone is always considered as a better choice there are these facts that are kept in notice while recording.
Because if there is any distortion in the audio while recording it would produce distraction while others listening to it causing you trouble at the end.
Camera microphones are referred to as shotgun mics because of their tubular appearance, and this is for functional reasons.
Shotgun mics are cardioid microphones that will only record what is directly in front of them, rejecting sounds that come from the sides and the back of the camera.
Since your camera will be facing you already, you'll find that camera mics are ideal for eliminating the ambient noise in your recording studio while maintaining the quality of your voice.
Keep in mind that there are many types of camera microphones, catering to customers of various budgets.
For example, you can find compact shotgun mics available for smaller cameras, but you can also find high-end models that are equipped with their own recorders.
You should also consider the power source of your camera mic, as there are some that will draw phantom power from the camera, while others use batteries.
This type of microphones are best combined with vlogging cameras.
BUDGET
Quality = 79%
Affordability = 95%
Why I Like It:
Compact size improves portability
Affordable
Sensitivity adjustment
Resistant to EM interference
Review:
This shotgun mic from TAKSTAR is the most affordable option in its category, but this doesn't mean that it's to be underestimated.
You'll find that this compact model is relatively capable, and it is much more reliable than other affordable shotgun mics, largely due to its excellent build quality.
As there are many reliable options to choose from, this is the least expensive one available on our list that would do all the work for you.
The microphone itself is a smaller model, meaning that it will be easier to fit into your equipment bag and that.
It will be suitable for smaller cameras as well as larger models so there is no reason not to purchase this item with your camera equipment as it is easy to carry as well.
Of course, as the design is a bit smaller, it is also less sensitive than more expensive models, though it makes up for it when it comes to rejecting off-axis sounds because you can always rely on the sound quality that is amplified with clarity which is recorded through this microphone.
Many affordable shotgun mics feature a cardioid pickup that will still detect a lot of noises to the sides of your target, though this model manages to reject quite a few of them.
Which makes this microphone better than its older ancestors as the company is still trying effortlessly to bring the advanced technology in use for their microphones.
While it will have difficulty rejecting louder sounds, the TAKSTAR SGC-598 is an excellent choice of shotgun microphone for anyone looking to save money while looking for the best outcome with a handful of bucks the consumers have to offer for this device.
Audio Test:
Drawbacks:
No battery included
Difficult to mount
MIDRANGE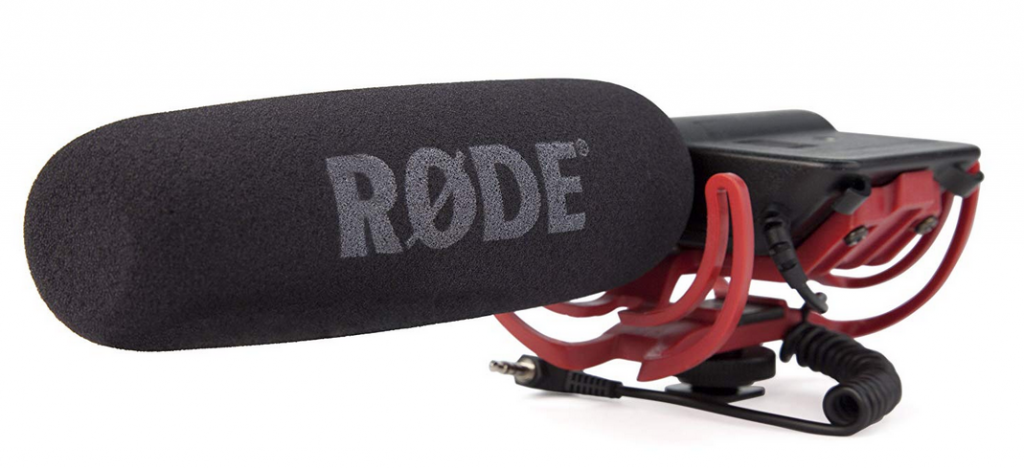 Quality = 79%
Affordability = 95%
Why I Like It:
Rycote Lyre shock mounting
Excellent build quality
10-year warranty
Impressive sound quality
Review:
The VideoMic from the Australian audio company Rode is an excellent choice of shotgun microphone because of its combination of impressive features and excellent quality.
Whereas this shotgun microphone comes at an affordable price and is much of a contact and easy to carry microphone you can carry in your equipment bag anywhere and everywhere with you.
As with every Rode shotgun mic, this model is equipped with the Rycote Lyre shock mount which decreases mechanical noise and vibrations which makes this microphone better than its older versions on detecting and clarifying the audio quality to the very best.
Unlike other mountings, the Lyre makes this microphone relatively easy to fit your camera, and it is designed not to sag or lose its shape.
This microphone comes with a 10-year warranty, and that much is clear to see in its build quality, as this microphone is built to last longer than the competition available in the market up till now.
The acoustic performance of this model is also highly impressive due to its rejection of many off-axis noises and its remarkable sensitivity. You are always allowed to rely on the audio quality recorded by this amazing microphone.
Even if you're recording at longer ranges, you'll find that the VideoMic's precise nature makes it an excellent choice for environments with too much ambient noise.
The inclusion of a high-pass filter means that this microphone is even more suited for the task, so if you're recording in public, this is an excellent choice to choose from whereas there are other expensive microphones that possess.
This type of quality but also are extremely expensive and they carry it as a disadvantage.
Audio Test:
Drawbacks:
A little pricey
Bulkier than comparable models
HIGH END
Quality = 79%
Affordability = 95%
Why I Like It:
Three gain options
Improved RF resistance
Supercardioid design ensures rejection of off-axis sounds
Rycote Lyre shock mount
Review:
Finally, our most impressive shotgun mic is the VP-83 from Shure, which is a pricey option that trades affordability for even better sound quality, whereas if you are here to have the finest shotgun microphone available from the market you would be happy to spend an extra penny for it.
This microphone provides you with lifelike audio for a lower price than many professional shotgun mics, some of which are up to five times its price.
A highly sensitive design means that this microphone is suitable for longer distances, though it is also versatile thanks to the inclusion of a three-option gain setting.
You can choose between -10 dB padding, 0 dB, and a +20 dB boost depending on whether you're further away or closer to the subject as there are easy choices for you beforehand to choose from.
This microphone will also resist RF emissions, ensuring that your recording isn't plagued with interference and other artifacts that can reduce the quality which is why this microphone lets you record your audio in the very best audio quality.
Along with its long-range performance, this microphone is capable of eliminating most off-axis sounds certainly making it a better option than any other microphone.
This model also comes equipped with the Rycote Lyre mount, which is arguably the best shotgun mic mount around thanks to its long-term resilience because the manufacturer has taken no step behind in the build quality.
While this microphone is a little larger and more expensive than competing options, it is certainly worth the extra money.
Audio Test:
Drawbacks:
High price
Comparatively low battery life
3 Best Lavalier Microphones for Vlogging and YouTube:

It is likely that you have seen a lavalier mic before, even if you don't know what the term means.
A lavalier is a small microphone that you clip on to your clothing, usually around your neck, so that you can use it hands-free. These mics are used by news anchors, talk show hosts, musicians, and more.
A lavalier microphone has the advantage when it comes to convenience, as you won't have to worry about a stand getting in between you and your computer.
Since you'll need both of your hands-frees when you're streaming so that you can use the mouse and keyboard, a lavalier mic is particularly useful.
Keep in mind that lavalier mics are much smaller than other models, so they will be less complex and may not come equipped with a wide range of features.
The vast majority of lavaliers use an omnidirectional polar pattern because their location may shift due to the angle of your clothing.
These kinds of microphones also have the advantage when it comes to a price point, as most lavaliers (even the high-end options) are more affordable than other types of mics.
Of course, the single most notable issue with a lavalier mic is the lack of versatility, as it can only really be used to record your own voice, but that is more than enough for a streamer.
BUDGET
Quality = 79%
Affordability = 95%
Why I Like It:
Compatible with a wide range of devices
Included accessories
Long cable allows for versatile positioning
Sound performance
Review:
For such an affordable price, you can't expect much from the XM-L lavalier mic, but you may be pleasantly surprised by this model as this great microphone hold some great specs which makes it in our list some of its great features starts with.
First off, it is compatible with smart devices, computers, and anything else with a 3.5 mm input, ensuring that you won't need to purchase countless cable splitters and dongles.
Being a lavalier mic, you'll need to position the XM-L somewhere on your body, and the inclusion of a longer cable makes this much simpler.
This microphone reduces your struggle with the stand at the very first which means you can easily and freely use both hands for performing different operations.
You won't have to struggle with your microphone hitching on your clothes or being stretched uncomfortably taut. It sits attached to your lapel. Unfortunately, this microphone faces some issues when it comes to reliability.
Aside from the less reliable design, this microphone likely provides you with the best value for money out of any lavalier option.
Audio Test:
Drawbacks:
Quality is as good as it gets for the price
MIDRANGE
Quality = 79%
Affordability = 95%
Why I Like It:
Included smartphone splitter
Affordable
Impressive build quality
Omnidirectional recording
Review:
Audio-Technica is one of the more popular audio companies, and their microphones are just as impressive as their headphones and turntables, as is evidenced by the ATR-3350IS.
This relatively affordable lavalier mic features superior recording quality when compared to other models in the same price range.
The smartphone splitter that comes included with this lavalier mic means that you can also use it with a smartphone or a smart device, allowing you to listen as you record.
As with most Audio-Technica products, this microphone features excellent build quality and reliable design. If you're tired of your lavalier mics repeatedly breaking on you, then you can rely on this model for a long time to come.
You'll also find that this microphone will be able to pick up your voice regardless of the direction in which it is positioned thanks to its omnidirectional pickup pattern.
Unfortunately, there are some minor issues, including the lack of a battery indicator light and the wire is a source of vibration, but these concerns are overshadowed by the mic's performance.
Audio Test:
Drawbacks:
No battery indicator
Wire causes noise
HIGH-END
Quality = 79%
Affordability = 95%
Why I Like It:
Reinforced cable improved durability
Professional-grade condenser
Comes included with a pop filter
Rode Rec app compatibility
Review:
If you're willing to pay extra for your new lavalier mic, then the smartLav+ from Rode is a high-quality offering that comes with a few helpful features.
If you've ever gotten your mic's cable snagged on something and it snapped, then the first thing you'll appreciate is this model's kevlar-reinforced wire.
As with most of Rode's other mics, this product features excellent build quality, with a durable clip that also doubles as a cable manager.
The use of a professional-grade condenser on this mic also means that it will be able to record sounds coming from any direction with an excellent degree of fidelity.
The pop filter that comes with this microphone ensures that your pronunciation isn't too aggressive on the listener's ears and also doubles as a windshield.
One of the most impressive features is this mic's compatibility with the Rode Rec app, allowing you to edit your work right after you record it.
While this microphone may be compatible with all iOS devices, it loses points for being unreliable when used with Androids.
Audio Test:
Drawbacks:
Not compatible with all Android devices
Pricey
3 Best USB Microphones for YouTube:
A microphone that runs on USB may seem like a strange idea to the layperson; why use a USB when there are tons of dedicated audio cables?
The simple answer that that question is that the USB is a universally-compatible connector, ensuring that your microphone will work with the widest range of devices, so it is better to rely on a USB microphone than on any other on the market.
Anything with a USB port (or anything that accepts a USB adaptor) will be able to use a USB microphone, with the significant benefit of not needing specialized drivers.
Since USB microphones don't need specific drivers, they'll be compatible with most audio editing programs. If you're looking for added compatibility with hardware and software, a USB microphone is an excellent choice.
Another advantage is that USB microphones tend to be more affordable than other types, while still coming equipped with a variety of features and high-quality components.
Keep in mind that the USB will also provide power for your microphone, so you won't need to worry about the batteries dying partway through your shoot.
One of the downsides to USB microphones is that they lack portability when compared to smaller variants.
BUDGET
Quality = 79%
Affordability = 95%
Why I Like It:
Ease of use
Durable design
Cardioid pickup eliminates off-axis noise
Included tripod stand
Review:
The Blue Snowball iCe model is an affordable USB microphone that is meant to be versatile and reliable, and it succeeds in both of these areas as the manufacturer has taken no setbacks while creating the Snowball iCe USB microphone.
The spherical design of this microphone means that it is much more durable than comparable models, allowing you to toss it in your bag directly without the need for a separate pouch.
This microphone comes included with a tripod stand, making it ideal for use on your desktop, which is one of the features that makes it more suitable for streamers. This is one of the best choice for any gamer who has to talk while their hands are busy on the keyboard or mouse.
The cardioid pattern of this microphone will only pick up your voice, and it will reject sounds coming from behind and around it.
One of the main advantages of the Blue Snowball iCe is that the microphone is incredibly easy to use.
If you're a beginner when it comes to using microphones, you'll find the plug-and-play functionality of this model refreshing, as it is compatible with all recording software and won't require drivers.
This model doesn't come equipped with a shock mount, but one can be purchased separately. Overall, this microphone offers immense value for money.
Audio Test:
Drawbacks:
No shock mount included
Bulky design
MIDRANGE
Quality = 79%
Affordability = 95%
Why I Like It:
Three condenser capsules ensure fidelity
Offers a choice of four recording patterns
Plug-and-play functionality improves user-friendliness
Adjustable desktop stand
Review:
The Blue Yeti is an impressive USB microphone that is as easy to use as most models of this type. All you have to do is plug in this microphone, and it should be ready for use.
This is one of the best microphones for YouTube and streamers because of its incredible degree of versatility, allowing for various types of videos.
The Yeti's versatility is made possible by the inclusion of three separate condenser capsules, all of which are optimized for a certain angle. These condensers allow you to use four different recording patterns, depending on where the sound will be coming from
cardioid, stereo, omnidirectional, and bidirectional.
The desktop stand is another feature that makes this microphone suited for streamers, as you can adjust the Yeti to get the perfect side-address angle.
Keep in mind that this microphone is also offered with bundles that are ideal for streamers, including one that comes with XSplit and OvrStream, and others that include games.
Despite the higher price tag, the Yeti's versatility makes it more than worth the money..
Audio Test:
Drawbacks:
The dial to switch among the modes is really tough to turn
HIGH-END
Quality = 79%
Affordability = 95%
Why I Like It:
Excellent build quality
Compatible with the majority of audio programs
Real-time headphone monitoring jack
Includes a desktop tripod stand
Review:
The NT-USB is a high-end USB mic that is offered by Rode, and the build quality is everything that you would expect from the renowned manufacturer.
While the NT-USB is admittedly pricier than many other USB microphones, it is an excellent choice for advanced streamers and beginners alike.
This microphone can be used by such a wide range of Youtubers and streamers because it uses a USB connection, improving its compatibility with hardware and software.
The cardioid design of the capsule results in the elimination of sounds behind and around the microphone, leading to a precise pickup pattern.
The inclusion of a tripod stand made for desktop use also makes this microphone a more attractive option for streamers, and the included pop filter improves the quality of your consonants.
There is even a no-latency headphone jack that allows you to monitor your voice as you record.
Unfortunately, this product may not be ideal if you're looking for a smaller microphone, as the NT-USB and the attached pop filter will take up quite a bit of space on your desk. Apart from the bulkiness, there are few notable downsides to this microphone.
Audio Test:
Drawbacks:
Expensive
Bulky design made larger by the pop filter
3 Recorders for Cameras Without Mic Jack:
The last type of microphone that we'll be covering is unique in that it is a standalone device that can record audio without the aid of another device.
Recorders have been around for a long time, and this kind of microphone is essentially a modernized version of an old-fashioned tape recorder.
The benefit of a recorder is that it can be used alongside a camera that doesn't come equipped with an audio input jack.
If you're unable to connect your microphone to your camera, you're going to need to record the audio and the video separately and then edit the audio track into the visuals in post.
Recorders tend to be compact and portable, ensuring that they won't take up too much space on your desk while you stream.
Keep in mind that a recorder will often feature inferior audio quality when compared to a dedicated microphone of the same price, mainly due to the added complexity of the recorder.
Some recorders are even equipped with their own LCD screens that you can use to navigate menus and adjust settings.
Keep in mind that many recorders will be fitted with both line-in and line-out jacks, allowing them to be used as traditional microphones if the need arises.
BUDGET
Quality = 79%
Affordability = 95%
Why I Like It:
Lightweight and compact design
Stereo microphones
Included MicroSD card
10-hour battery life
Can be used as a USB microphone
Review:
The ZH1 H1 from Zoom is the most affordable recorder-type microphone, though it is still relatively pricey compared to the low-end options in the other categories.
Regardless, this model comes included with a wide range of features that help make it approachable for beginner streamers and functional for veteran Youtubers.
The first thing you're likely to notice is how small, and lightweight this microphone with a recorder is. If you're on the go, you won't have a problem slipping this microphone into your pocket.
While it may seem like this model is made for portable use, you'll find that it is quite versatile.
While the ZH1 H1 features a 10-hour battery life, you can also plug it into an in-line power source like a camera or another device so that it can run for a longer time.
With this model, you aren't restricted to using it is a standalone product, as it has both input and output jacks.
This microphone even comes included with a 2 GB MicroSD card, but if you're doing the serious recording, you'll prefer a little bit more space. Overall, this product is well worth the money.
Audio Test:
Drawbacks:
Buttons feel loose
Needs a pop filter
MIDRANGE
Quality = 79%
Affordability = 95%
Why I Like It:
LCD screen simplifies operation
Battery life of 20 hours
Features four different recording modes
Variable pitch, playback speed, looping, and more
Review:
The H2n from Zoom is a little more expensive than the ZH1 H1, but it is also a lot more capable, coming equipped with five microphones.
Along with the expected X/Y stereo microphones, you'll find that this model also comes equipped with a forward-facing condenser, and two that face sideways, all mounted on top of each other.
The inclusion of all of these microphones means that the Zoom H2n has four different recording modes which can be used for all kinds of different scenarios:
MS stereo, X/Y stereo, 2-channel, or 4-channel. There are also quite a few controls on the recorder so that you can adjust your recordings.
For example, you'll be able to change the pitch or playback speed, add effects, normalize, divide, and so much more.
Couple this with a battery life of 20 hours, and you'll be able to record the sound for an entire stream without having to use a separate device.
While this microphone comes equipped with an LCD screen, it is still somewhat complicated, and you may require some experience if you're planning on getting the most out of it.
Audio Test:
Drawbacks:
High price
Not very beginner-friendly
HIGH END
Quality = 79%
Affordability = 95%
Why I Like It:
Back-lit LCD improves functionality
Rubberized housing is ergonomic and damage-resistant
Locking XLS connectors
High-quality X/Y microphones
Review:
The H4N PRO from Zoom is a high end handy recorder that allows you to record top-quality sound wherever you are.
While this device's portability won't be that much of a benefit to streamers, it offers exceptional sound quality for a product of its size, and its build quality is unmatched.
Thanks to the inclusion of high-end X/Y stereo microphones, this product can register an impressive sound range, all the way up to 140 dB.
You also have the choice between four-channel recording or stereo, depending on the kind of experience you would like to give your viewers.
Moving on to matters of convenience and user-friendliness, this model features a rubberized housing that has to functions: making the device more comfortable and improving its durability.
Equipped with a back-lit LCD, you won't have to worry about trying to navigate this mic's menus in the dark.
Unfortunately, this model suffers from a short battery life that ranges from six to ten hours depending on the quality of audio you're recording.
If you're willing to carry around some extra batteries, there aren't many mics with built-in recorders that can match this one.
Audio Test:
Drawbacks:
Expensive
Short battery life
YouTube Microphone – Buying Guide:
In this part of the guide, we're going to cover the things you should know so that you can find the best microphone for Youtube and vlogging.
We'll take a look at some of the most crucial features to search for in high-quality microphones, and we'll also go over polar patterns so that you can get a better understanding of them.
Compatibility:
When looking for the right microphone, the first thing that you'll always want to do is ensure that it will be compatible with your devices.
Depending on your streaming setup, you may find that you need a particular type of microphone, or maybe the model that you're looking at simply doesn't work on your computer.
The most compatible microphones tend to be USB cable models, but you'll also find that those with 3.5 mm audio jacks will work with most devices.
You should also ensure that the microphone you're looking at will work with the audio software that you use for editing, such as voiceovers.
Accessories:
There are a few different accessories that can come included with microphones, and some of them may end up being a necessity.
For example, a pop filter will clear up your plosive consonants so that your viewers don't have to hear a little explosion every time you pronounce a "p" or a "b."
You should also consider the stand that comes included with your microphone, as streamers will need a way to position it conveniently so that it doesn't block the camera or their view of the screen.
Other accessories include carry cases, remote controls, boom arm, splitters for your iphone, smartphones, and more.
Explanation of Microphone Polar Patterns:
A term that you may often hear when it comes to microphones is the polar pattern of a particular model, so let's briefly go over what they are and the kinds of patterns you'll encounter.
The polar pattern of a microphone put into simple terms, is the direction in which it registers sounds.
Polar patterns are defined from a top-down perspective, and they are often named after the shape they make when looking at them from this angle.
To give you an idea, the graph for an omnidirectional polar pattern will look like a circle, because it will record sound equally from all directions.
Omnidirectional microphones are usually used when you want to give the audience the feeling that they are immersed in the video.
On the other hand, a cardioid (coming from the Greek word for heart) polar pattern will be in the shape of a heart, as it will record less sensitive audio from the sides and none from the back.
There are also figure-eight polar patterns, which are also known as bidirectional microphones, best known for their use in interviews.
There are many other polar patterns out there, and there are even specialized subtypes like super cardioids and hyper-cardioid, and finding the right one is the key to eliminating unwanted ambient noise.
Advantages of Using an External Microphone:
You may be wondering why you should use an external microphone instead of the one that comes included with your camera.
While built-in camera microphones may be sufficient for amateur recording and family videos, you'll need a dedicated mic if you plan on recording and publishing videos with quality audio.
There are many disadvantages to the built-in microphones that you'll find on the vast majority of cameras.
While it is true that some cameras feature built-in microphones that are passable, the difference between one and a dedicated microphone is night and day.
Another advantage of external microphones is that you can use accessories with them.
If you want to eliminate the popping sound every time you pronounce a plosive consonant, all you're going to need is a pop filter.
You'll also be able to choose a microphone with the right polar pattern for your needs, as most inbuilt options are omnidirectional mics.
Isolating the microphone from your camera is another advantage, as the mechanisms inside of it can transmit vibrations to the microphone, resulting in unwanted sounds.
Most dedicated microphones will feature a shock mount that is resistant to these vibrations.
Why You Should Avoid Built-In Camera Microphones?
Vlogs are the best way to communicate with different people. You can tell your stories, share information, and create content to entertain people.
Using built-in microphones for vlogging is the first choice. They might think only this mic is enough to record a good video.
But trust me this is not a good option. It produces low-quality audio. They are omnidirectional which means they pick up sound from all directions.
So, if you are not in a calm place it will pick up all the background voices. These voices can make distortion and disturbs all your listeners.
They are very sensitive microphones as compared to others. Background voices will be louder if you don't keep the mic near you.
It gets worse:
If you make tech videos for YouTube by using a screen recorder, using a built-in mic is the worst option. Dell XPS laptops have built-in microphones near the fan vent.
So, if you have a Dell XPS laptop fan noise will also audible to the audience. Even if you type or use a mouse pad, keystrokes and touchpad scratch are also audible to them.
You should avoid built-in microphones for vlogging due to these drawbacks.
Types of Microphones:
To avoid built-in mics you can use external microphones for vlogging. It is easy to get external microphones.
They have reasonable prices and convenient for vlogging. There are some types of microphones for vlogging according to their features.
Condenser and Dynamic Microphones:
The acoustic sound is converted into electric signals in these microphones. Condenser microphones are made for the studio recording.
They capture elegant voices. They have some capability to capture background voices. But dynamic microphones ignore all the noise and focus on the louder one.
They are affordable microphones for vlogging. You can record your outdoor shots with ease. There are further two more types of Condenser mics.
Lavalier Microphone:
Many people use lavalier microphones for vlogging on YouTube. They are very small in size. To keep them near to your mouth you can clip them on your shirts.
They are Omnidirectional. It means they can capture all the voices but ignore the background noise. They are very convenient.
You can make a good impression on your audience by providing them better sound quality.
Shotgun Microphone:
Shotgun microphones are connected to DSLR. Most of the people think that they amplify sound but this is not true. They are used to capture sound from long distance.
Shotgun microphones are unidirectional. They only receive sound from the front direction. For a single person, these microphones are the best microphones for vlogging.
USB Microphone:
If you want efficient microphones for vlogging then you can use it. You can connect it with your PC, laptop, iPhone, to record videos. Establishing a connection with a USB microphone is easy.
There is a headset attached to it so you can also listen to the record voices at the same time. If you have a USB microphone there is no need to buy anything other things. You can start making videos with it.
How to Fix The Most Common Audio Issues:

1- Select Good Microphone:
Try to select unidirectional mics. It will help you to get a noise-free voice from the front direction only. You don't have to struggle a lot to remove background voices.
Always keep mic near to you. Your voice will be recorded loudly. These microphones for vlogging are compatible in every way.
2- Control a Noisy Room:
Empty places create more echo than filled ones. Try to fill your room with furniture if it is empty. Due to many objects in your room, less echo will be produced.
Always record your videos in a separate room to avoid background voices. You can also use omnidirectional microphones for vlogging that ignore background voices.
3- Control Wind Noise:
If you wanted to shoot an outdoor vlog, you must know how to handle wind noise. During shooting, when the wind hits your microphone it becomes noisy. Now, you can't record in this situation.
But here's the kicker:
You can use a windscreen. According to your camera or phone, you can buy it. It helps you to control the wind noises.
By using a windscreen, you can also use your built-in microphones for vlogging.
4- Microphone Stand:
It is important to use a stand if you are not an expert vlogger. You can mount your microphones for vlogging on the stand.
Now you can get close to it with ease. The more you get close to your microphone more clear and loud voice will be recorded.
5- Shock Mount:
A shock mount is used to protect your microphone from any damage. Its main functionality is to lessen unwanted voices.
Its also like a microphone stand but with more effective features. You can use it with all microphones for vlogging.
6- Pop Filter:
When you speak directly into the mic some air occurs between you and the mic. A pop filter helps in reducing this moving air.
It is a thin filter that is placed between the mic and you. If you use condenser microphones for vlogging, a pop filter will help you a lot.
7- Volume Levels:
Keep your volume at a normal level. Don't speak too low that no one can hear you. Also, don't speak too loud that your audience gets uncomfortable.
There is much software that displays your audio level. While speaking, you should check your volume level. It will help you to record good videos for YouTube.
Unidirectional microphones for vlogging makes it easy for you to maintain a sound level.
8- Use good Software:
Video editing is the last part. There are many paid and free software is available for this purpose. You can also, control your voice level and apply filters to create a good impression.
These filters can remove 100% of the background noises from the video. You can use all microphones for vlogging if you have good editing skills.
Conclusion!
We have covered shotgun mics, lavaliers, USB microphones, and recorders in the hope that you can find at least one product that is suitable for your needs.
Sound quality is a crucial matter and you can take advantage of this by choosing the best microphone for YouTube vlogging. Having clear audio is a must!
So get out there and start recording/ podcasting for your youtube channel.